Your choices and decisions have combined to create your entire life to this point. To transform your life in any way, you have to make new choices and new decisions that are more in alliance with who you really are and what you really want.
A key part of your life transformation is understanding and connecting with your own true self, appreciating yourself for who you are and having the confidence to be the person you really want to be. So today we are talking about your own self confidence.
The best way to gain self-confidence is to do what you are afraid to do. Author Unknown
So do you have an abundance of self confidence?
Often the only thing that stops you from becoming the person you want to be is your lack of confidence in yourself. This lack in self confidence limits you from taking advantage of opportunities and achieving what's possible. Without confidence you just won't be able to grab these opportunities as they come along.
Confidence is the all important factor you need to protect yourself from the slings and arrows of negativity. Without it fear and worry take control. I can assure you life is so much better when you live it with an air of confidence instead of fear and anxiety.
Self-Confidence is a quality that can be developed. As a child, in fact until the age of thirteen, I was a very quiet and shy boy, easily intimidated, and completely lacking in self confidence. By taking the time to really analyze my life, and make the necessary changes to put myself on the right path, I began to grow in confidence. I've found that the more confident I become, the greater the benefits I saw in all aspects of my life. Everything began to grow in leaps and bounds. Today I'm full of confidence. Totally believing in myself. I know what I'm good at. I'm confident about who I am. I know what my talents and abilities are. I have a personality where I know what I want and I know what I believe in, and that all makes me able to feel confident about myself.
Self confidence can be improved by working on the inside and strengthening your beliefs and inner sense of self and can also be developed externally by paying attention to your image, behaviour and how you project yourself in your outer world.
Confidence is a choice. You can choose to be more confident. When ever you feel insecure, uncertain, or powerless, remind yourself that you're in charge and you can choose how you feel. You can choose to feel self-assured, certain, decisive, and positive.
Here is a simple exercise to help improve your confidence very quickly. Close your eyes and breathe deeply, relaxing your body completely. As you relax and breathe slowly, feel your Confidence swell throughout your mind and body. Let this feeling flow until you feel your self becoming more powerful. . Now imagine yourself in a situation where you want to feel completely confident. Play the scene over and over again in your mind as you feel more and more empowered. As you open your eyes, set your intent to be able to call up this wonderful state of confidence whenever you desire.
The basis for all personal development is building your confidence and having a positive attitude as this really is the key to your success. Confidence is about trusting yourself, believing in yourself, knowing, loving and respecting yourself.
Self-confidence is the inner feeling of certainty. It is also the feeling that you are worthwhile and valuable. With confidence you will believe that you can meet life's challenges head on and beat them. Self-confidence gives you the fuel to create your dreams.
I've spent most of my life walking under that hovering cloud, jealousy, whose acid raindrops blurred my vision and burned holes in my heart.  Once I learned to use the umbrella of confidence, the skies cleared up for me and the sunshine called joy became my faithful companion.  ~Astrid Alauda
Score Your Way To Good Health - With Our Healthy Lifestyle Plan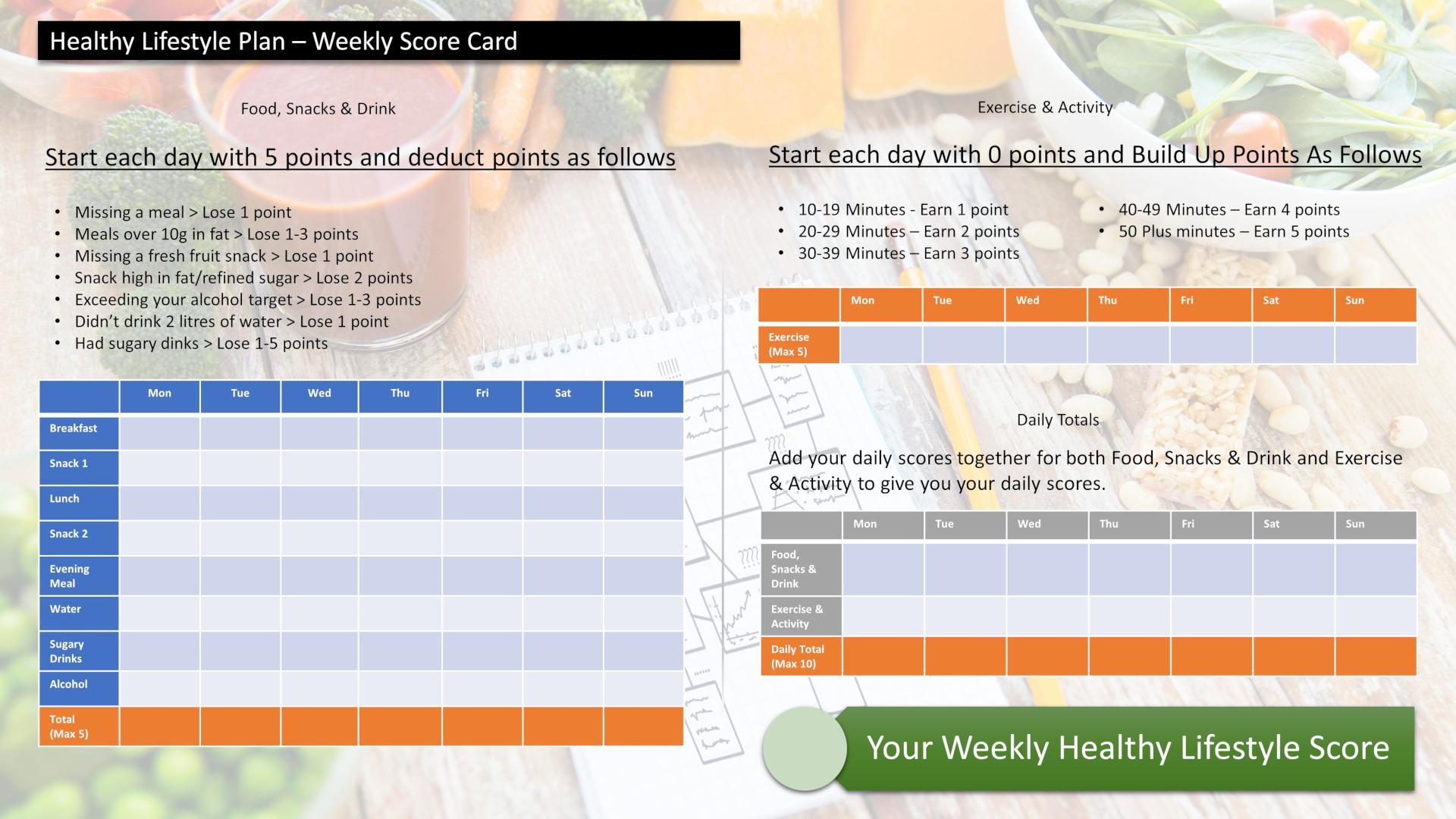 Score your way to good health with our healthy lifestyle plan and it's unique 70 point weekly scorecard!