Are you content both personally and professionally? Alternatively do you frequently struggle with feeling frustrated, inadequate or unhappy?
I want you to look at what you are doing. Take a long, hard look. Are you really putting it all in? Do you commit 100 percent emotionally, mentally and physically to what you do?
I encourage you to fully embrace and accept who you are, but realise that the outcome of your life very much depends on how much of yourself you put in to everything you do. My philosophy is to just give everything I do my very best.
Whatever you're doing in life, give it your all or give it up. Always give what you do your best shot. Don't waste any effort doing anything in half measures. To me life is about following your passion and taking every challenge head on, without hesitation.
You don't want some time in the future to look back with regret and wish to yourself that you'd tried a little harder. You want to know that you have given it your all and that there was nothing else you could have done. Of course life is full of trials and tribulations, struggles will be common place, challenges will come at you from all directions, but if you give everything that comes your way your all you are giving yourself the best opportunity to succeed in your life time.
As a coach, I meet with so many clients that come to me with so many questions, but so few answers. Yet when we look closely at their action plans they are always so lacking, so the answers are so obvious. I deal with so many bright people yet when looking at their own lives they seem to wear blinkers and can't see beyond the darkness. Yet with a little direction, and motivation, they go after their ambitions with a new vigor and a bright spotlight shining on their goal.
This week I have worked with a lady whose life seems to have come crumbling down around her. Her actions show that she has given up on everything, digging herself deeper and deeper into herself, hiding away from the truth of her situation, and doing nothing to resolve it.
"Now four men who were lepers were at the entrance of the city's gate; and they said to one another, Why do we sit here until we die…. So they arose." (2 Kings 7:3,5)
No matter how bad the problem is you may be facing today, no matter how far under the circumstances you may be, there is always a chance, always a way through, as long as you don't quit.
My advise to her in the situation she faces. Harsh, but real. Stop crying about things. Stop feeling sorry for yourself. That won't change anything! Stop sitting there doing nothing. Don't accept defeat. Stand up and show this world what you're really made of. And we all should heed this concept.
You know that your dreams deserve better than a half-hearted effort. Don't hold anything back. Give things your total commitment. Make every day count and live purposefully, live dynamically, live fully. Simply do your best every day.
Giving life your all is just that-giving everything you have to give, while putting your whole self into whatever it is you are doing. That is the only way to live. It is the only way to succeed. It is the way to fulfill your purpose in life.
You need to be challenging yourself every day! Let me assure you of one thing, you get out what you put in. Success will be created for you from the commitment you show to do your very best at everything you are doing.
The next time you hear yourself getting negative, self-denigrating yourself or self-sabotaging things, stop, consider the truth of your position. If you're not trying your best, do something about it, make the change. And if you are doing your best, celebrate. Enjoy the fact that you really are putting yourself on the line.
There are occasionally going to be days even moments when you do give your all but it still feels things aren't working out just right. That's just normal. Accept that you won't win every day. Sometimes all you can do is your best.
But just know your best is truly more than good enough!
So go ahead and give life all you've got.
Larry Lewis
Score Your Way To Good Health - With Our Healthy Lifestyle Plan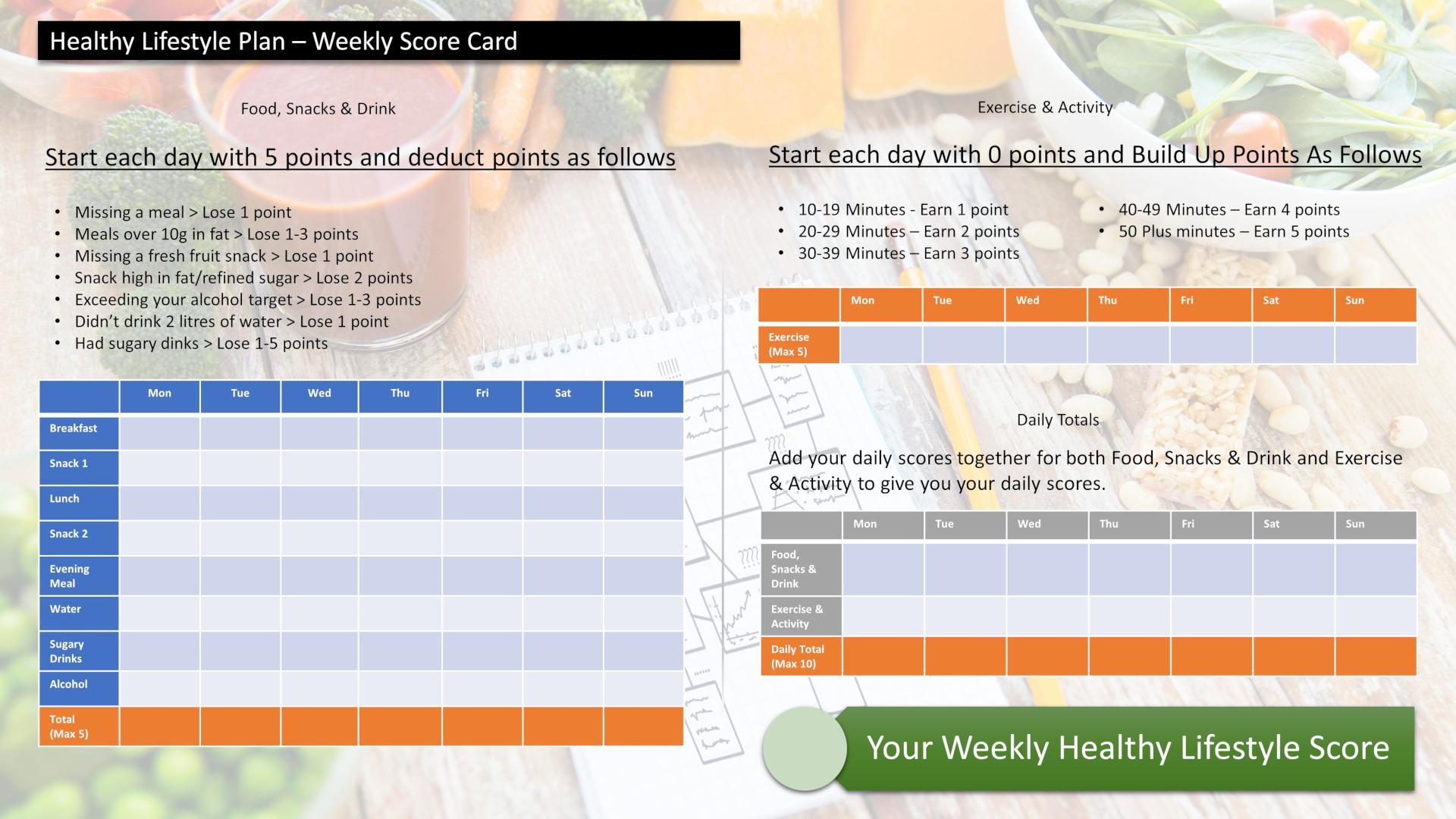 Score your way to good health with our healthy lifestyle plan and it's unique 70 point weekly scorecard!