This is a blog post written for a very good friend. I know him well. I care about him. I understand what he is going through, but I won't let him throw away what he has in front of him. He sits on the crest of a wave, about to achieve his long fought ambitions. Something in his personal life has hit him hard today, and all I want to do is pick him up, so he can run through the finish line.
I can see you sitting there with your head in your hands. Just looking at you I can feel the emotions that are running through you right now. Let those tears streaming down your face and the pain eating away inside of you be the release of this part of your life. You will never be able to understand what has happened, so don't waste your time trying.
When things go wrong, it's ok to spend about 10 minutes sitting around reeling in stunned disbelief. It's also ok to run through your mind to find things that you think might have caused this situation to happen. But then it's time to consider your options in as calm away as possible. Don't let this keep you down, where is it going to get you?
When crap stuff happens without any real rhyme or reason you cannot allow yourself to wallow in self pity. You cannot allow whatever the event is to derail you. Of course it's only human nature to allow an emotional reaction to bring you down. By all means let it play out, but don't allow this to go on for too long.
See, at the end of the day, it's about what you can do. You can only effect what you can control. And you can control your mind, and its thoughts. You've undoubtedly learnt over the years that self pity, feeling sorry for yourself, moping around gets you nowhere. You know that at some time 'this too shall pass,' so instead of allowing it to go on for a long time into the distant future, put a stop to it now!
Don't let a setback or disappointment stop you in your tracks. You are worth more than that. I know what she meant to you, but there is no going back. You can't do it to yourself again.
Listen, I know you are going to let everything fester in your head. Of course you're devastated right now. You feel like you've got nothing left to give. You just want to hide yourself away, close off your head so you don't have to think about it for another second, you just can't help yourself, or so you think. But you know at some point you're going to have to pick up the pieces, and move your life on, so why wait, just do it now.
Turn your head in a different direction. Get Up! Maybe getting knocked down this time can change your whole life for the better. See yourself entering a period of transition.
Now you have to call upon your physical, emotional and spiritual attitude. Empower yourself to get yourself up off the floor. You know staying down there is pointless. It will get you nowhere.
Pull yourself back up and put a happy face on until you can get it all together. Life is full of choices. Make your choice to refocus, find what it is that can drive you forward. You just have to choose to move forward, life is always going to throw difficulties your way, trials and tribulations, no matter who you are or what you do. Just take a lesson from it and move on, learning as you go.
Let these great words from the song 'Tubthumping' by Chumbawamba "I get knocked down, but I get up again. You're never going to keep me down," reverberate through your mind. Come on, now listen to the words.
Your life and what you make of it depends on how you respond to the challenges that come your way, it is what you do in response to them that determines the outcome of your life. Don't throw away what you have done, you have put in too much time and too much effort. You are worth far more than this.
My message to you is get yourself up, dust yourself down, and move on. Push your feelings, the hurt, the pain, the disbelief aside, and look at you and your choices, you will find some I promise. You must make a conscious effort to get yourself back on track immediately, no matter how difficult it is, because I know it's hard, but the alternative is far worse.
And don't waste any time beating yourself up over it. No matter what you've lost, if it's gone it's gone. It may not make sense now, and maybe it never will. But one day it won't really matter anyway. But instead of waiting and keeping yourself down start the transition right now. You owe it to yourself, and those that matter to you, yes, maybe even her. Get yourself back in the game, get to the top, you know it's your destiny.
Listen, there is a good chance that you'll stumble a few times trying to move on. But, if you keep picking yourself up, wiping yourself down, and letting yourself focus forward, not back, you will eventually move on to happier times. You know how hard you've worked, and how close you are to fulfilling your ambitions. You know how important success is to you. Are you really going to let this stop you in your tracks?
You better than most understand that when life knocks you down, you must quickly pick yourself up off the floor and get back into the game. You're a winner, and that is what winners always do. Yes, it's perfectly normal to feel the emotions you do right now, it makes you no less of a man. But you also know that getting up is 99% of overcoming any adversity placed in your path.
Anyway it's happened. There is absolutely nothing you can do about this situation. Time heals just remember that. So get back to living, back to following your dreams, again I say you know how much it means to you.
Lying there, moping and feeling sorry for yourself just isn't going to get you to the winners circle. Stand strong, find your centre, and keep moving forward, it's all you can do mate, and the end results after all will bring you unbelievable happiness. You know that!
Score Your Way To Good Health - With Our Healthy Lifestyle Plan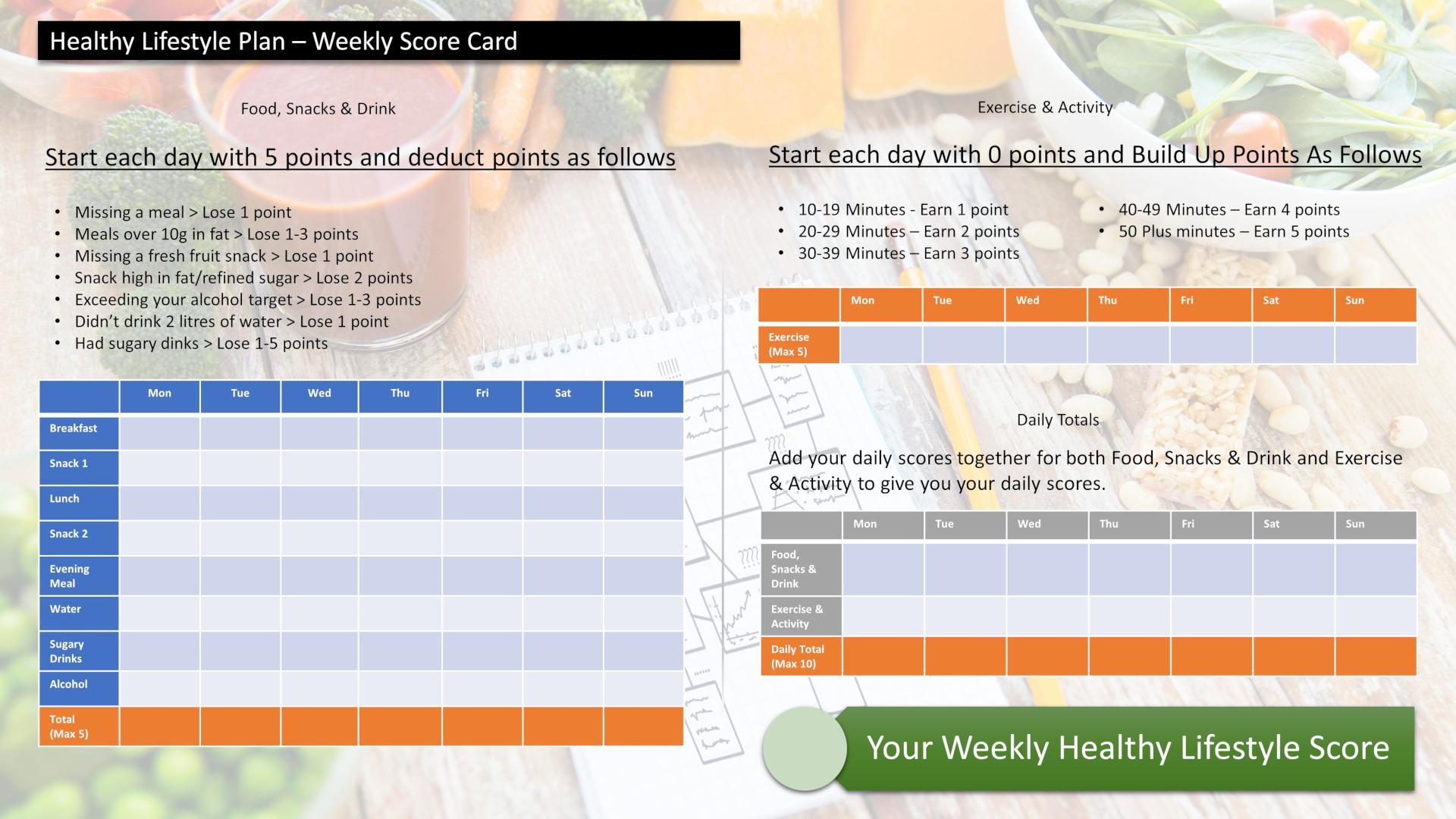 Score your way to good health with our healthy lifestyle plan and it's unique 70 point weekly scorecard!