Evolving, that is a key word in my life. Personal Development is a wonderful gift, it allows me to explore, learn and create on so many levels. Without it I wouldn't be the person I am today, and I doubt whether I would be enjoying my journey half as much as I am right now. Evolving your life is an essential part of personal growth.
Things keep evolving positively for me at present. The WOW factor definitely seems to be following by my side. If you are like me you love to grow. Your world is always expanding. It is always growing and you are always evolving if you choose to do so. It's our choices that will allow us to grow, expand, and progress in life and in business. We have to be pretty silly to choose not to.
What am I doing to grow and expand? Allowing my journey to progress unhindered and just see where it takes me. Of course I have plans, but each day seems to bring something new. We have set in motion a business here at this blog that seems to be taking a life and course of its own. I just have to go with the flow.
In the past few months I have met some amazing people. I have been a part of some inspirational and life changing events. The influence we all have on one another is greater than any of us probably realise possible. And I am so very grateful for each and every moment. What a combination of people that have now been brought together, not a mix one would imagine that would work so well, but well it does.
In our day in and day out routine we run into people who alter our path or change our lives maybe for a moment and possibly for a lifetime. On this journey of mine through life I have found there is so much good in this world and so many incredible people and through each of our own wisdom and support and perhaps our different views of this life we can make such a difference. Mere conversation can lift our spirit, and get us to step up and take action, and evolve more into who we want to be.
We should not be afraid to reach out and make connections. We should have our eyes wide open and our hearts ready to be touched by what is waiting to be found. My philosophy is to always see my glass as overflowing, not just half full, and you can be sure it's never half empty. Our lives only become truly meaningful when we dare to listen to and acknowledge all that each of us has to teach the other. When you make time for another, and see what they have to bring, then you find where their magic can add to what you have.
To achieve the level of success that you want in your life, you have to be willing to stretch, and keep stretching so you will evolve and you will grow. If we do not grow we are not being responsible for ourselves and the people around us. But learn that we are not meant to go through life on our own. We are meant to share and contribute with and to others. Only when you realise that you need to both give and take will things truly start evolving in the right way for you.
The world needs greatness, it needs leaders, with wisdom. But once you become a leader then your responsibilities multiply. If you accept these, then you have to do so with the right intentions. Then allow yourself to travel the road of personal evolution and greatness, and make the difference for you and those in your life.
Success like happiness can only be built by evolution. Over time, by making small steady, evolutionary improvements you will create massive changes. Your world will become brilliant.
"Daily ripples of superior performance add up over time to a tidal wave of outrageous success." – Robin Sharma
The internet is continually evolving. So is it any wonder that I as a blogger and internet entrepreneur have had to evolve at a fast pace. It is the speed of the internet's evolution that is enabling me to create a community of likeminded individuals to grow and connect together. As the tools and technologies that transform our work and communication evolve, so must the manner in which we use them. But this just shows how we as humans need to be in all parts of life. We have to evolve, we have to grow, and we are more than capable of doing so.
We just have to be willing to embark on our own journey and make the most of it, in ways that resonate with our personal needs.
As you evolve, I ask you to ensure of yourself one thing, to become a better listener, employer, friend, partner, spouse, sibling, and parent… become a better person.
I would encourage you to dream big, but start small. Don't expect to have the answer all at once.
But remember evolving takes time!
Score Your Way To Good Health - With Our Healthy Lifestyle Plan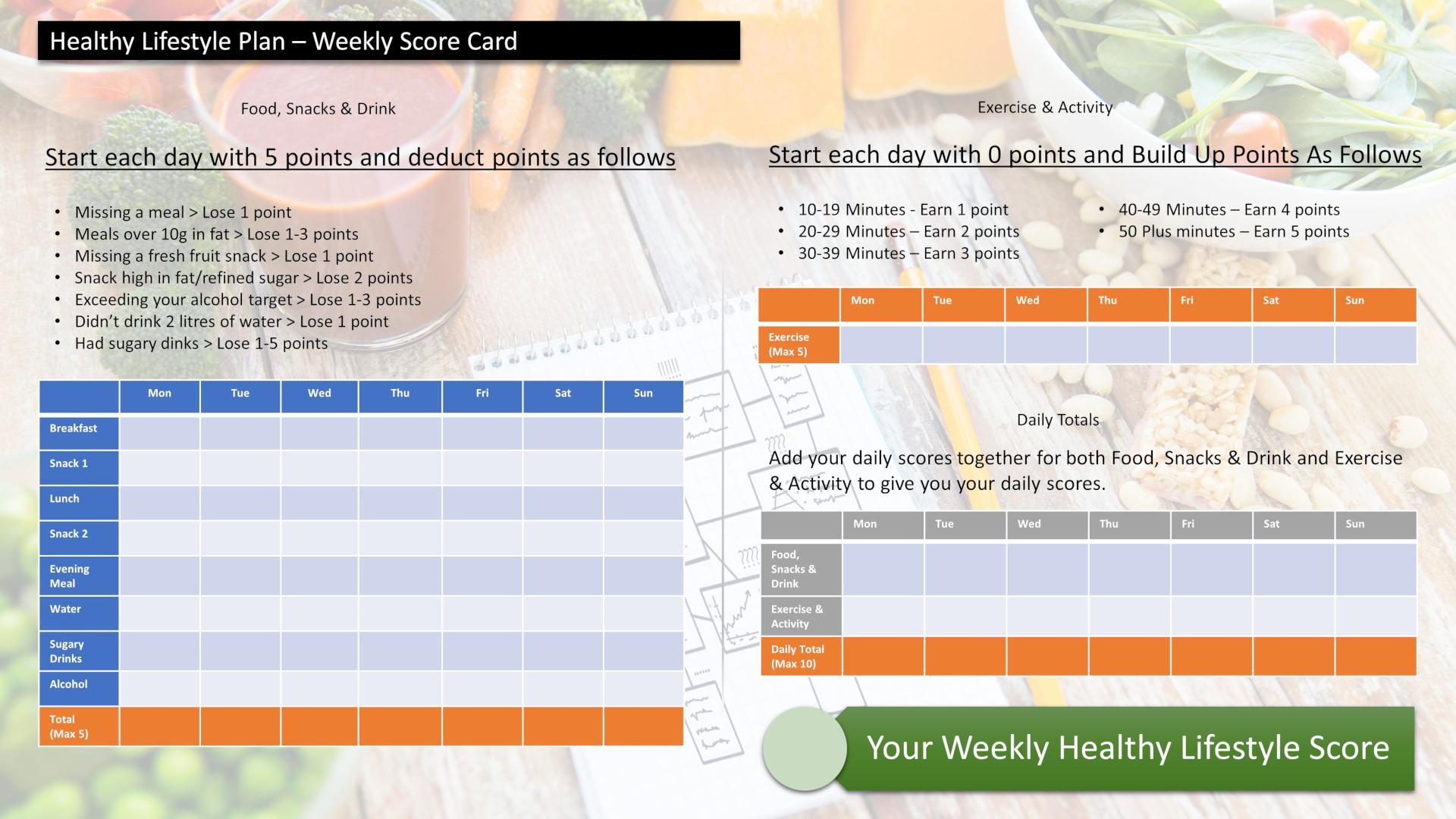 Score your way to good health with our healthy lifestyle plan and it's unique 70 point weekly scorecard!