I have one question for you: "Is the road you are now travelling and the way you are leading your life right now leading you to achieve your full potential?"
If you were to make no changes in the present course of your life, would you be happy with who you are and what you have become five years from now?
Many of you are probably still working on a vision for your future and the action plans that you need to follow to achieve your full potential. Some of you are challenged with some of the issues that life has handed you and may be struggling with how you can better prepare yourself for the future.
It has been said that one of the greatest tragedies of our time is that so many people live so far below their potential.
"This represents one of the great tragedies and wastes in life, because so much potential remains untapped, completely undeveloped and unused. Ineffective people live day after day with unused potential." Stephen R. Covey.
I spent some time yesterday with somebody who is trying to make really important decisions in his life. In doing this he is only looking at his current situation and circumstances. He finds himself facing a variety of predicaments in many areas of his life. He seems to be limiting himself to a very short term outlook, which in turn truly restricts his choices. He hasn't been able to pick himself up so that he can find the big picture. He is so familiar now with fire fighting, moving from one emergency to another. Life for him recently seems to consist of taking one step forward, then three back. He has lost his way. By asking him to describe where he wants to be in five years time, stopped him in his track, and is going to have a revitalising impact on what he does, and what he will achieve.
What is clear is that he currently isn't fulfilling his full potential. Now that he himself can see that, he can move forward towards it. Here are some signals that demonstrate that you are not living to the fullest potential right now (can you see any of these in yourself?):
You find yourself using phrases such as 'I wish I could', 'If only', 'I really ought to', 'I should do', 'As soon as '.
You feel like a victim, overwhelmed, overworked, undervalued and under-appreciated.
You look everywhere for answers, constantly seeking for' the magic solution', for the one single piece of information that is going to give you all the answers.
Your work is purely a means to keep a roof over your head and food on the table.
You don't have a clear sense of who you are or what you stand for.
You are more worried about being right than about being successful.
Before you go to sleep at night, you find yourself wishing you had spent your day doing something other than what you did.
You spend a lot of time doing things that keep your mind occupied, never having to think of your dreams or aspirations.
You feel an underlying sense of sadness when you look at your life
You say to yourself frequently, Life should be more than this
I want you to stop going through life doing what has to be done, giving up on your dreams and living an unfulfilling life. Let's look at some reasons why you may be living far below your potential:
Other responsibilities and commitments hold you back. You have commitments; you have responsibilities. Perhaps you have a family to take care of , a 9 to 5 job to put the bread on the table, bills to pay.
You don't know what you want out of life. Not knowing what you want makes it really hard to get there, because you don't know where"there" is.
You have got comfortable with your average life. Most people are more comfortable with old, familiar problems than going into a new direction and having to find new solutions. The average man is a conformist, accepting its always going to be this way.
You don't have the guts to go for it. You don't have the guts to stand up and be counted. You feel safer keeping your head down, and meandering through life.
Fear holds you back. Fear of weakness, fear of failure, and fear of who you are hold you back from becoming your best. So many people come to a point in their life when they realise that they have allowed fear of failing to keep them stagnant in life. They're wanting a better life, yet fearful of moving forward.
You are not confident in who you are or your abilities. Low self esteem can really hold you back from achieving what you want. Self-esteem is the degree to which you value and appreciate yourself.
A lazy life is easier. It's just easier not to have to put in all that hard work that fulfilling your potential would require.
In life, you often encounter naysayers and doubters. Sometimes your friends and family hold you back, out of their concerns for you, or themselves.
Sometimes its easier just to give up. Unfortunately many people have been accustomed to giving up as being okay.
Limited by your comfort zone. We sometimes can't step out of our comfort zones to take the risks that may bring success. You can't push yourself to do things you are uncomfortable doing under normal circumstances.
"Don't ask yourself what the world needs, ask yourself what makes you come alive. And then go and do that. Because what the world needs is people who are alive."- Howard Thurman
So, if you find yourself up against the same problems and issues today which you were facing years ago, it may be the right time to start looking at things differently. Insanity is defined as doing the same thing over and over again while expecting different results.
Regardless of your circumstances, now is the time to take responsibility for who you now are and what you want to become.
Cut out the distractions and the excuses as to why you can't do this or that. Stop wasting your time and resources in things that lead you away from improving your lives and developing your talents.
Have the courage to be different. Don't go through the motions so that only when you near the end of your life do you suddenly wake up and realise you aren't living up to your full potential. You really are powerful beyond measure. Unleash your full potential on this world and see what happens. It will become a better place for it. You will make more of a difference than you can ever imagine. Stop holding back!
Just do it. Be persistent and work hard.
"Only those who dare to fail greatly can ever achieve greatly." Robert F Kennedy
Score Your Way To Good Health - With Our Healthy Lifestyle Plan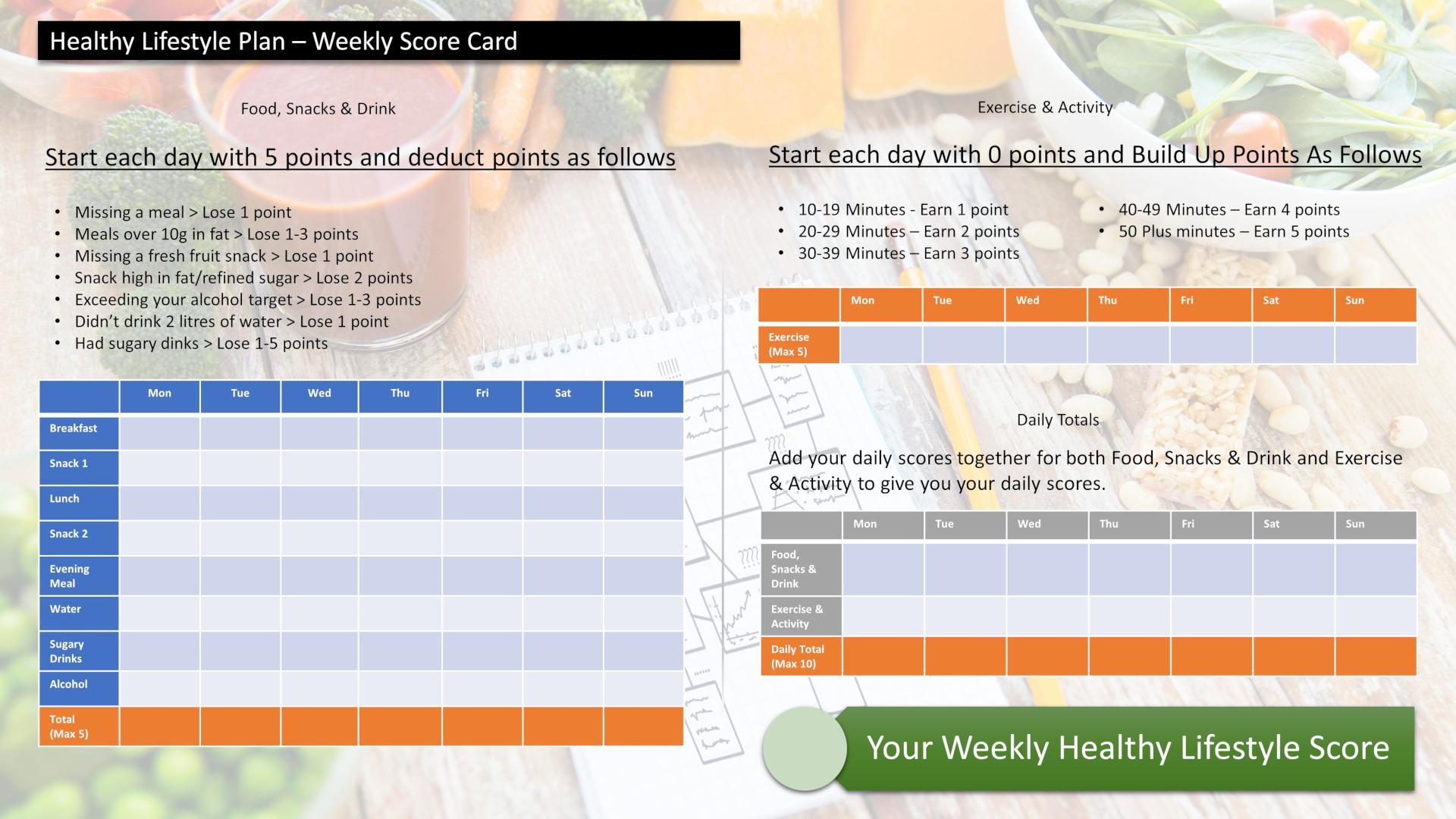 Score your way to good health with our healthy lifestyle plan and it's unique 70 point weekly scorecard!