"So many of our dreams at first seem impossible, then they seem improbable, and then, when we summon the will, they soon become inevitable." Christopher Reeve
Are you happy with your job? Some people work because they have to. Others truly love what they do. We all want to have a job that we love, something that would get us excited about getting up and going to work in the morning, right? Who doesn't want that? But this is often far from the reality we actually do experience.
One of the most powerful motivators in the world is to do a job that you truly love. So many people go to work every day to just make a living for themselves and their families, and never dare think of that dream job that could be out there waiting for them. It's up to you, if you are content and thankful for the job you have, then stay with it.
Waking up every day looking forward to the day ahead can make all the difference to your world. A job that thrills you, excites you and stimulates you really does get you out of bed with anticipation every morning. Can you imagine waking up day after day to the work you love to do? I know far too many people who have given up on their dreams and settled on doing just a job and hope one day to finally do what they love when they retire. They don't seem content at all.
Do you work like you don't need the money?
Are you happy with your work or does it just pay the bills?
Are you content with how you are spending your forty plus working hours a week?
Would you say you are driven by passion rather than duty?
Do you feel challenged and well rewarded?
Do you think you are creating something useful?
On a scale of one to ten, how satisfied are you with your career?
If you feel less than totally satisfied by your work, are you brave enough to make the change?
We are spending more and more time at work. If you are feeling stuck and disconnected in your working life, don't you think you have to reawaken your dreams?
Do you feel that you can make a change in your work life? Have you for a long time now harboured a dream to set up your own business, or change career path, but have not got up the courage. What's stopping you?
If you keep going in the same direction, you'll end up the way you're headed. So choose your direction now if you're not using your full potential. Or living with passion.
I want you to be successful, and following your passion is one of the key steps to getting there. The thing is, if you don't believe in what you're doing and you're simply in this for the money, you'll never be fulfilled.
"Do what you love." If you truly love what you're doing, you will work passionately, willingly and fearlessly.
Here is an exercise that will help you find out exactly where your passion lies on a career front. You know yourself the best.
1. What do you daydream about?
2. What would you be doing if you could be a kid again?
3. What motivates you? Inspires you? Makes you giddy-happy?
4. What are you passionate about?
5. What are your skills and interests?
6. What do you like to spend time doing?
7. What career do these answers make you think of?
Brainstorm right now, find out what it is that you would love to do. What carrer path do you wish to take? What is your dream job? If you already know what that is, that's brilliant! If not, then write every idea down that you come up with and investigate these ideas fully. Get creative. Explore every avenue of interest that you have and consider what it is that could get you excited and motivated every day.
So I write a blog, run a life coach business, manage a gym, and am building a wellness e-commerce shop. I make a difference to people's lives. So I get to write, talk, coach, teach, and support others. This makes my work exciting and rewarding, and brings a pride of performance. I work my passions.
So do you do your job for the money or does it give you fulfilment in life? Please drop me a comment, and let me know!
"The future may be made up of many factors but where it truly lies is in the hearts and minds of men. Your dedication should not be confined for your own gain, but unleashes your passion for our beloved country as well as for the integrity and humanity of mankind." Li Ka Shing
Score Your Way To Good Health - With Our Healthy Lifestyle Plan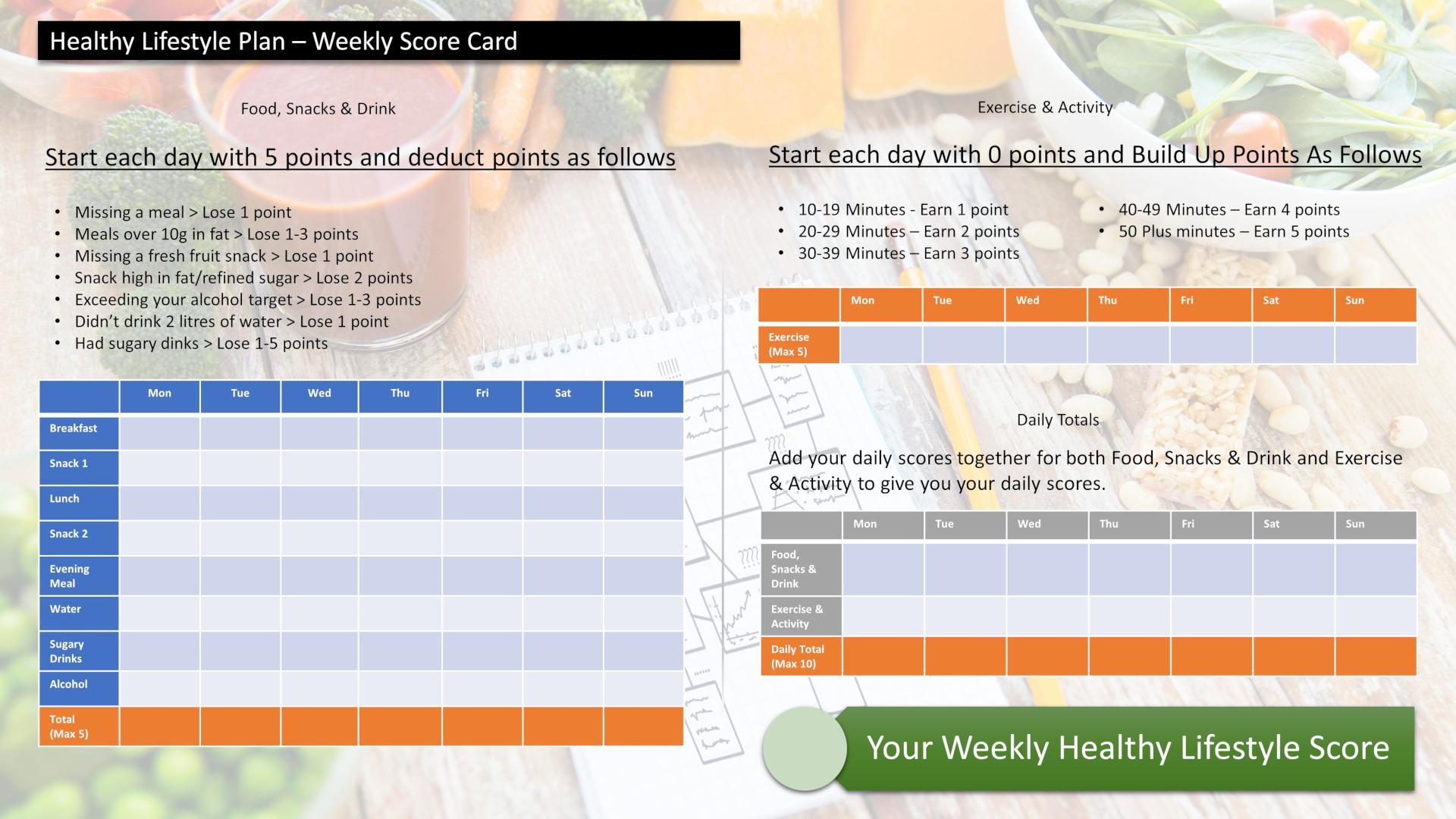 Score your way to good health with our healthy lifestyle plan and it's unique 70 point weekly scorecard!