I dedicate this post today to my good friend Christos Tziakos who asked me this week to define the term personal development, now this should be easy for me as it's a subject I write or coach on daily, but as I think about it I come to realise that the 'development of self' is a very individual thing, so means different things to different people. Most people's interest in personal development starts when they realise they want more from their life that what they are currently experiencing.
So this shows that if you're looking to define the term personal development your starting point must be that it's the conscious pursuit of personal growth by improving ourselves, who we are, what we do and what we think.
Wikipedia defines Personal development as all activities that improve awareness and identity, develop talents and potential, build human capital and facilitate employability, enhance quality of life and contribute to the realization of dreams and aspirations.
Personal Development is the most effective way to take control of our focus and concentrate on the important things, learning new tools and proven strategies to enhance our lives and the results we produce.
Life should be a journey of constant and never ending growth – an adventure, but throughout which you strive to better yourself and evolve as an individual. Recently I compared a personal development journey to the transformation of a caterpillar to a butterfly. It involves you taking personal responsibility for your role as the-creator of your life and developing in the best way possible your mental, emotional, physical and spiritual self. When you make the decision that you truly want to reach your potential, live your dreams and be the best you can be, you will commit with every breath to your very own personal development.
That's what I see my group 'The Reinvention University' helping people do. It's a course offering many tools to help others on their road to personal growth, particularly when they find themselves in a life of struggle. It is their individual personal development that will get them to move their life from where it is to where they want it to be.
When looking to define the term Personal Development in the dictionary it equates the process of personal development to personal change, growth, progress, advancement, and improvement. It's an evolutionary process toward personal excellence or a state of being outstanding.
I believe it is crucial we never stop learning and growing, and I am committed to continued lifelong learning. When we invest in our personal development we endeavour to be the best that we can be, and strive to achieve our full potential.
So maybe that's how I want to define the term Personal Development – an evolutionary process to enable a person to become the best they can be providing them the learning required to fulfil their potential on their journey through life.
What I can say with confidence is that when you invest in your personal development you take responsibility for your life, your circumstances and your happiness, you are making your personal growth a priority. I remember throughout my life my Dad telling me enjoy every day of your life but ensure you learn something new daily.
When you do take your personal development seriously, everything starts coming together in seemingly effortless manner – your relationships, your work, your home life, and your over-all sense of well-being. This doesn't mean that there aren't challenges and obstacles. There always are. It just means that you are better equipped to handle them.
Personal development means being able to understand that you are 100% responsible for your life, your finances, your relationships, your habits, your emotions, your career basically everything in your life.
It is understanding that you work from the inside out to achieve whatever it is you desire. Your thoughts feelings and actions work together to help you create the life you truly desire.
It is not a quick fix, it will not happen overnight. If done on a consistent basis, you will find your life changing and becoming what you only dreamed of. Personal Development will help you live life more consciously and give you the courage to pursue anything you desire.
Personal Development is a never ending process, and it is something we should aim to improve as we travel on our life journey.
Striving to design your perfect life and maintaining the discipline to develop in a positive way every day is how I wish to conclude this and define the term Personal Development.
Score Your Way To Good Health - With Our Healthy Lifestyle Plan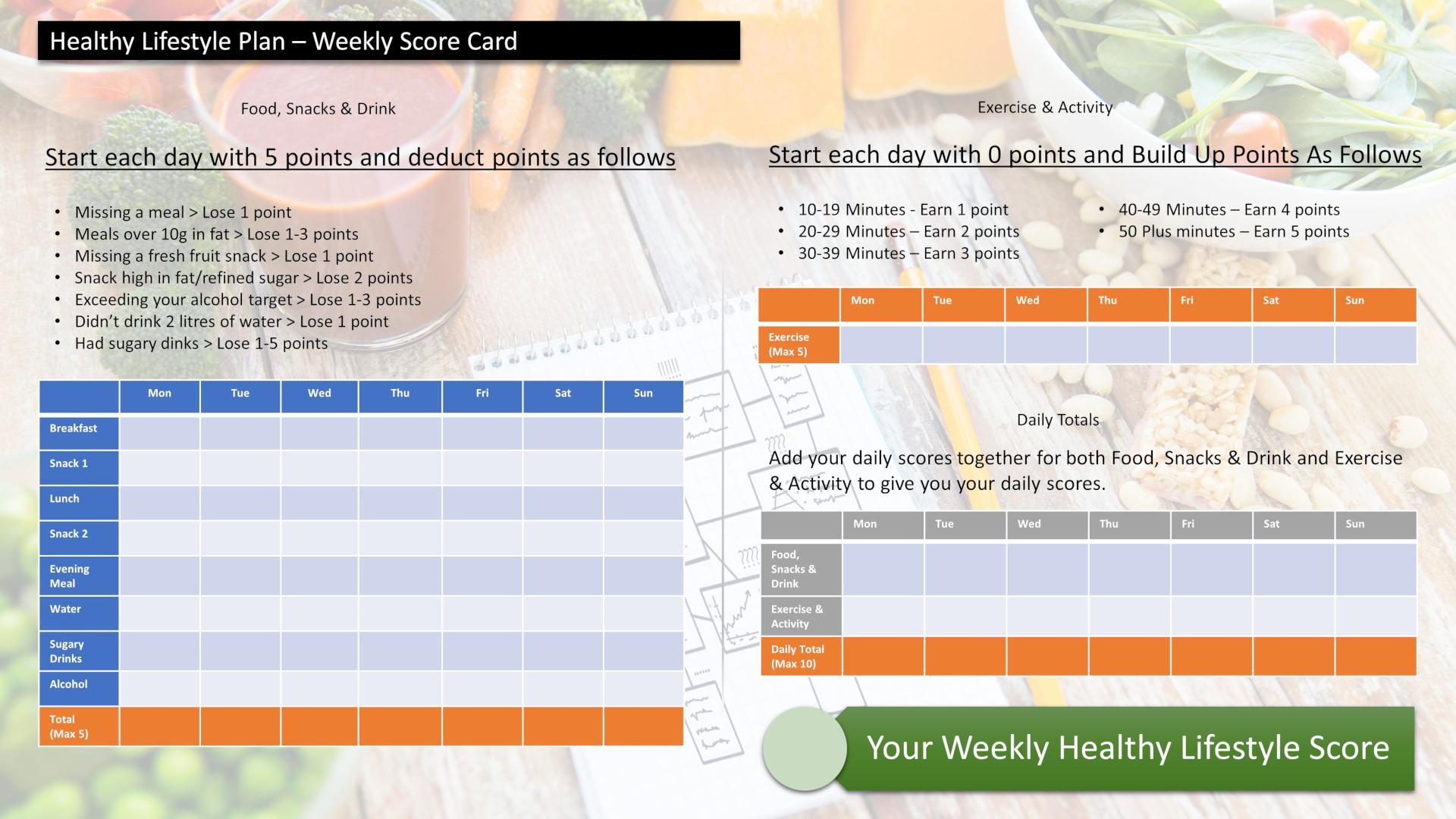 Score your way to good health with our healthy lifestyle plan and it's unique 70 point weekly scorecard!