My ignore list is those time wasting activities I deliberately choose not to do. If I didn't place these on a list, I would undoubtedly end up spending time doing some of them, time which could be better spend doing things far more productive. We all have only 24 hours in a day, 7 days in a week. Time is something that cannot be bought or sold. Once it's gone, you can't get it back. Do you sometimes find yourself at the end of the evening thinking to yourself what on earth have I been doing all day?
Maybe you've been letting too much time slip away doing to many unproductive things. It is so easy to lose yourself in certain activities, that may be enjoyable but which have absolutely no benefit to you or your life. You have to start to control your time so as to cut out non-essential activities to ensure you get more out of the time you've got.
Yesterday I wrote "It seems you are always working against the clock. You've always got more to do than hours in the day to do it. So how you spend your time is a key strategic decision. That's why it's a good idea to create a to do list and an ignore list".
To me this ignore list is equally important as the to-do-list. You could refer to it as a "Not To Do List".
There is so much written about how to make the most of your time. Time management articles are to be found everywhere. These contain some really great information. You will always be told as a first step to determine where you are wasting time. To do this they'll suggest you should start recording how you spend your time currently. It will continue by saying that a good way of doing this is simply using a diary to note down your activities throughout the day in order to monitor where your time is going. Then at the end of the week, set aside some time to review your schedule. Look to see how much time was wasted.
The truth is most people know where they waste time. They are completely aware which activities they spend way too much time on which basically have no benefit to them.
"Time is free, but it's priceless. You can't own it, but you can use it. You can't keep it, but you can spend it. Once you've lost it you can never get it back." Harvey Mackay
I'm sure you have the best intentions to focus on the right things, but you end up spending too much valuable time on small, unproductive and time wasting activities that take you away from these things you should be doing. You need to get rid of the tasks that do not contribute to your personal productivity and the distractions that need to be avoided
Some of the most common time wasters include:
Watching TV.
Lengthy Internet Surfing and Social Networking.
Mobile phone Texting.
Video games.
Dealing with Phone Call interruptions.
Dealing with E-mails.
Inadequate planning and lack of priorities.
Lack of organisation and paperwork handling.
As a life coach, heavily involved in the internet world, I have worked with many people whose time wasting activities has degenerated into a serious problem. In certain cases they have fallen into a black hole, their lives being taken over by something which began as just a pastime that slowly became an addiction.
Examples of this are compulsive use of adult chat rooms, online gaming, online shopping sites and online gambling. With the fact that the internet is now accessible from most smart phones as well as tablets, laptops, and computers some of these people are literally sucked in 24/7. Spending a lot of time online causes all types of problems, causing you to neglect your relationships, your work, and most things in your life.
Isn't it time you started to contemplate this wasted time, before you throw too much more of it away. Ask yourself "Why do you spend all these hours, days and weeks of your precious time that you will never get back on things that have absolutely zero benefit?"
The easiest way to have a lot of time to be productive is by not wasting it on things that are unproductive. As a lifestyle entrepreneur I have to be very careful not to allow things such as Facebook, Twitter, Email, Skype, and other blogs suck me in to their little world to keep me from doing what I need to achieve. Minutes turn into hours and before you know it, you are spending more time on these distractions than you are on your actual work.
How do you stop yourself doing these activities that don't seem to add any value, but still you seem to find yourself irresistibly drawn into them.
The best way to figure out the value of a task is to ask yourself, "What happens if I stop?" What would I be missing out on if I no longer had this in my life? What would I be able to do with the time I saved by not doing this activity any longer?
If you don't assign value to the things you do, you can't prioritize. If you can't prioritize, you're throwing away your time. It's time you determined what are the things you need to be doing that are a priority in your life, that ultimately can take you where you want to go.
It's possible to be more productive by cutting out all time spent on unproductive things. I can't tell you what those things are, but you can certainly identify them. Once you cut out time-wasting activities you will notice a considerable difference in your productivity.
Here is my suggestion for you. Look at it as a little personal challenge for you. For the next 10 days, cut out everything from your life all the things that aren't necessary to your business or family life. Basically cut out all the time-wasters in your life and instead focus on the things that are important to you.
So my time management tip for you is have two lists, one that's your to-do-list and the other your 'ignore list'. Don't get the two confused, and you'll make great use of your time, each and every day. Now work out what your two lists need to have on them.
If your struggling with time management then The Time Management Expert Course may be of some interest to you.
Download Creating Your Ignore List MP3
Score Your Way To Good Health - With Our Healthy Lifestyle Plan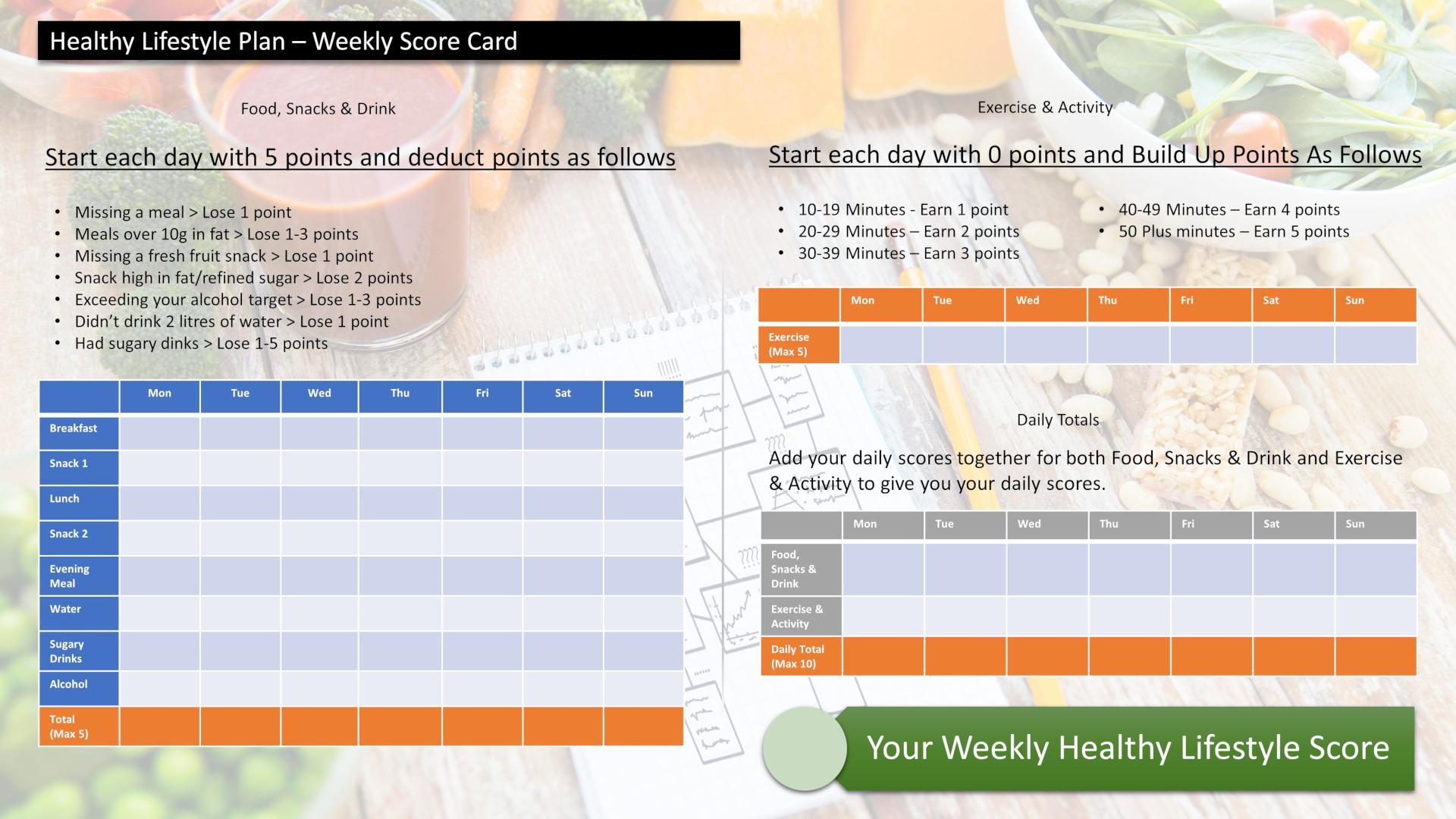 Score your way to good health with our healthy lifestyle plan and it's unique 70 point weekly scorecard!