It's important that you be what you wanna be! Do you believe that life is too short for us to mess around? I do
I've mentioned a couple of times that a life changing process for me was when I wrote an epitaph for myself.
Visitors will be streaming to my funeral, to celebrate my wisdom, and speak my name with joy. But what is it they're going to say about me.
I wrote about this in an article titled "What will your Life look like from the finish line". In another post, Live Like You Were Dying, I said "If you knew from today that you had one year to live then what would you do? I'm not suggesting you quit your job, stop paying your bills, or give up on life, but rather to look at the areas of your life that matter most to you. You will decide to make more of every minute you have left, to appreciate and enjoy the people and activities that make your life worth living.
Today I want to challenge you again .
I want you to reflect and consider this question:
"If you had one day to live what would you do ?"
Would you plant a tree? Would you rob a bank? Would you tell someone how you really feel?
Why have I asked this question.
Well I was asked a profound question today. The question was, "what do you want to be known for ?"
At first thought, this was easy for me.
A guide who elevates people to be their best self.
A leader who challenges people to achieve more than they ever thought possible,
A blogger motivating thousands of people to live their best lives ever
Someone that dreams big
An inspred individual who strived successfully to make the difference
A coach and mentor who breeds creativity, empowerment and innovation amongst followers,
A loving, caring father and grandfather
A person who ensured he made the most of life & opportunities
I was quite happy with that answer. It truly reflects everything about my life, my dreams, my ambitions.
But I kept thinking, does this really tell myself what is essential for me in my life. I wasn't sure. So I asked myself another question.
What would I do if I only had one day left to live?
This got me to think about what I have done in my life and who influenced me, and who I touched in a positive way.
There are many who have influenced me through my life, and many who have helped bring me spectacular, wonderful memories. They have given me so much, so through my life I recognise that I've received so much from so many.
Alternatively I'm proud to say that I have contributed to the growth of others through much of what I've done. People I'm sure who are thankful for the role I've played in their life, and are grateful for just having me in their life. I believe I have contributed as much as i possibly could.
So these last 24 hours that I have to live, i would want to share my last hours with all these people. I would throw a huge party and tell everyone that I care about how much I love them, and all the others I'd tell them how much I appreciate their place and contribution in my life.
I would cook an exquisite meal (ok I'd get it catered), and celebrate my time here with everyone of them.
My message to each of them would be, to never forget that they can be anything they want to be in life. And this is made easier once they focus on doing what they love. They should do what they love and do whatever makes them happy. Always keep good people nearby just like I have been fortunate enough to doing.
Your key in life, is figuring out what your purpose is. The good news is, you've got time, and I assure you that when you do find this it makes everything so worthwhile, you'll be satisfied and fulfilled when it's your time to go.
So I ask it of you, if you had one day to live, what would you spend that day doing?
Score Your Way To Good Health - With Our Healthy Lifestyle Plan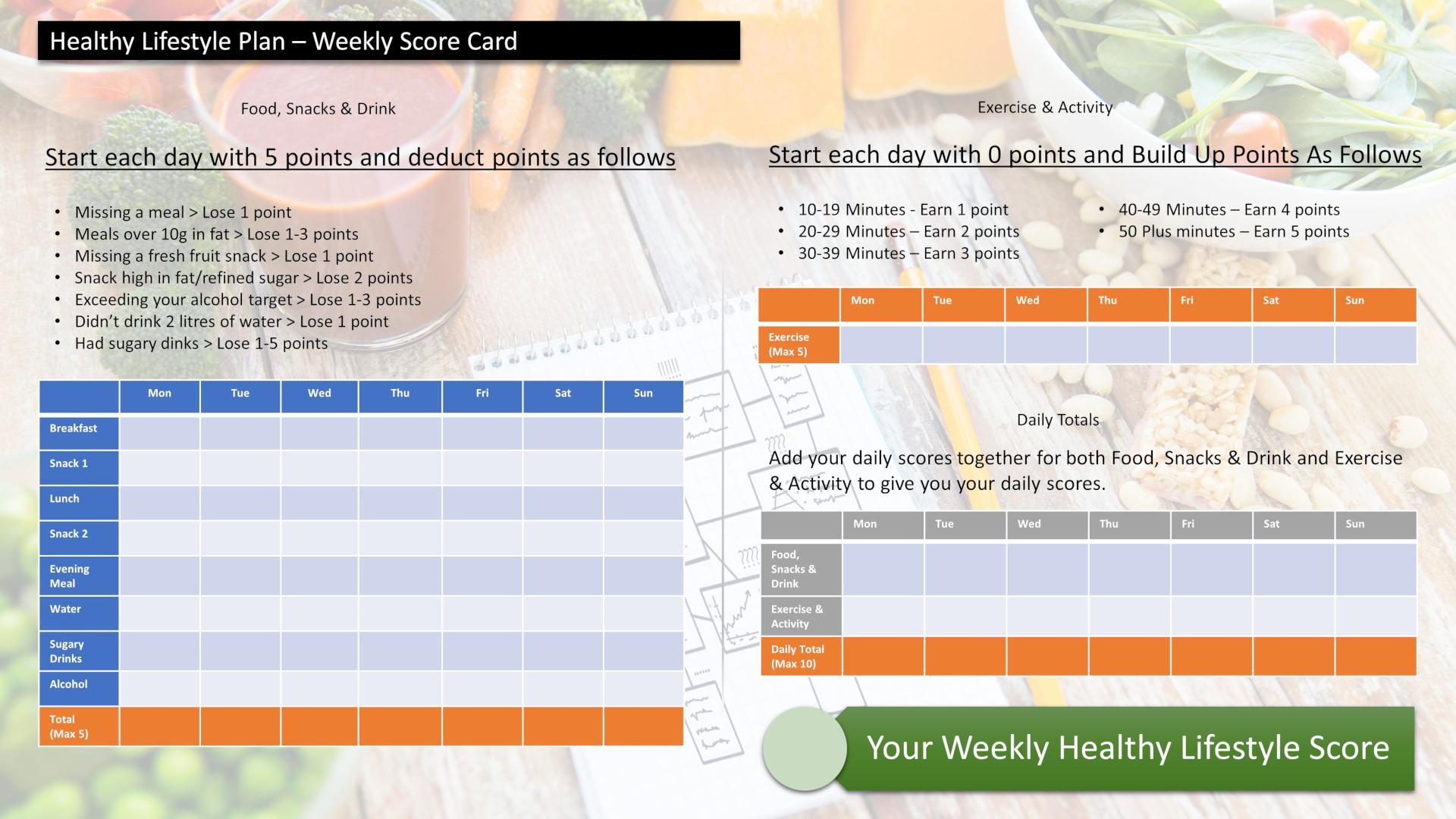 Score your way to good health with our healthy lifestyle plan and it's unique 70 point weekly scorecard!