A few days ago many of our memories returned to the Back to the Future movie. If you're a Back To The Future fan, then the date 21 October 2015 is already transfixed into your head. Why? It's the date that Marty McFly and Doc Brown travel to the future in order to prevent McFly's future son from ending up imprisoned.
I decided to watch the documentary film 'Back in Time' which basically celebrated the movie, talking about how it had come about and what has developed from it. They featured a few interviews with Michael J. Fox and you couldn't help but feel a little sadness that one of your favourite actors was no longer the young smiling bouncy guy that we remember from the three Back to the Future films, Teen Wolf and Family Ties to name just a few of his massive hits.
We all age. Time can be very harsh. Michael J. Fox's life has been shaped by having Parkinson's Disease. The 53-year-old, who was diagnosed when he was just 29-years-old, appeared on a David Letterman show to talk about living with the disease. He revealed he came to terms with his Parkinson's diagnosis once he stopped "whining and whinging" about it. Something that all of us recovering from loss and major illness needs to think about.
Discussing when he was first diagnosed he said: "It was pretty scary. I was 29 years old and so it was the last thing I expected to hear… I thought I'd hurt my shoulder doing some stunt because I had a twitch in my pinkie. "And the doctor said 'You have Parkinson's disease.' He said, 'The good news is that you have 10 years of work left… That was 22 years ago and I'm still working."
Like all of us when presented with enormous challenges we get a choice of how we react. There is no doubt a negative health diagnosis, like Parkinson's or in my case a visual impairment initially will be difficult to comprehend or accept. Given time we can adapt, learn to cope and move our lives forward. We also will recognise that things could be far worse, and although life changing it wasn't life threatening. We get to choose to react like this, alternatively we can give up and allow life to be one difficult journey from now on. Not a good choice!
The worst thing we can do is feel powerless when we're not. We do have to make adjustments, that's for sure, but once we do life can be incredibly good.
As someone who is visually impaired, I realise that I'm part of a community and as a life coach and personal development writer I'm in a position to do something to make a difference for others and to help them, get on with living a good life. That is why I'm trying to connect with others facing life with visual impairment.
This is exactly what Michael J. Fox has done by creating his Michael J. Fox Foundation which is working to discover more clear-cut biomarkers to diagnose people with the disease before they start to display symptoms.
I went on line to do a little research and found that he had written his memoirs ' Always Looking Up' which alludes to the emotional, psychological, intellectual, and spiritual outlook that has served him throughout his life and particularly helped him deal with Parkinson's.
Very early on he makes an incredibly important point. Anyone facing a life changing illness needs to read these words.
"I could concentrate on the loss–rush in with whatever stop gap measures my ego could manufacture. I could rely on my old friend from the nineties, denial. Or I could just get on with my life and see if maybe those holes started filling in themselves. Over the last ten years, they have, in the most amazing ways."
He continues with these words:
"For everything this disease has taken, something with greater value has been given–sometimes just a marker that points me in a new direction that I might not otherwise have traveled. So, sure, it may be one step forward and two steps back, but after a time with Parkinson's, I've learned that what is important is making that one step count; always looking up."
He writes about the hard-won perspective that helped him see challenges as opportunities. Instead of building walls around himself, he developed a personal policy of engagement and discovery: an emotional, psychological, intellectual, and spiritual outlook that has served him throughout his struggle with Parkinson's disease.
We all get this opportunity, it's whether or not we are willing to persist and overcome our challenges.
"The purpose that you wish to find in life, like a cure you seek, is not going to fall from the sky. …I believe purpose is something for which one is responsible; it's not just divinely assigned."
May he be an inspiration to us all.
We can't go back to the future, but we certainly can go forward towards it always looking up, excited by our possibilities, not fearing our disabilities.
Score Your Way To Good Health - With Our Healthy Lifestyle Plan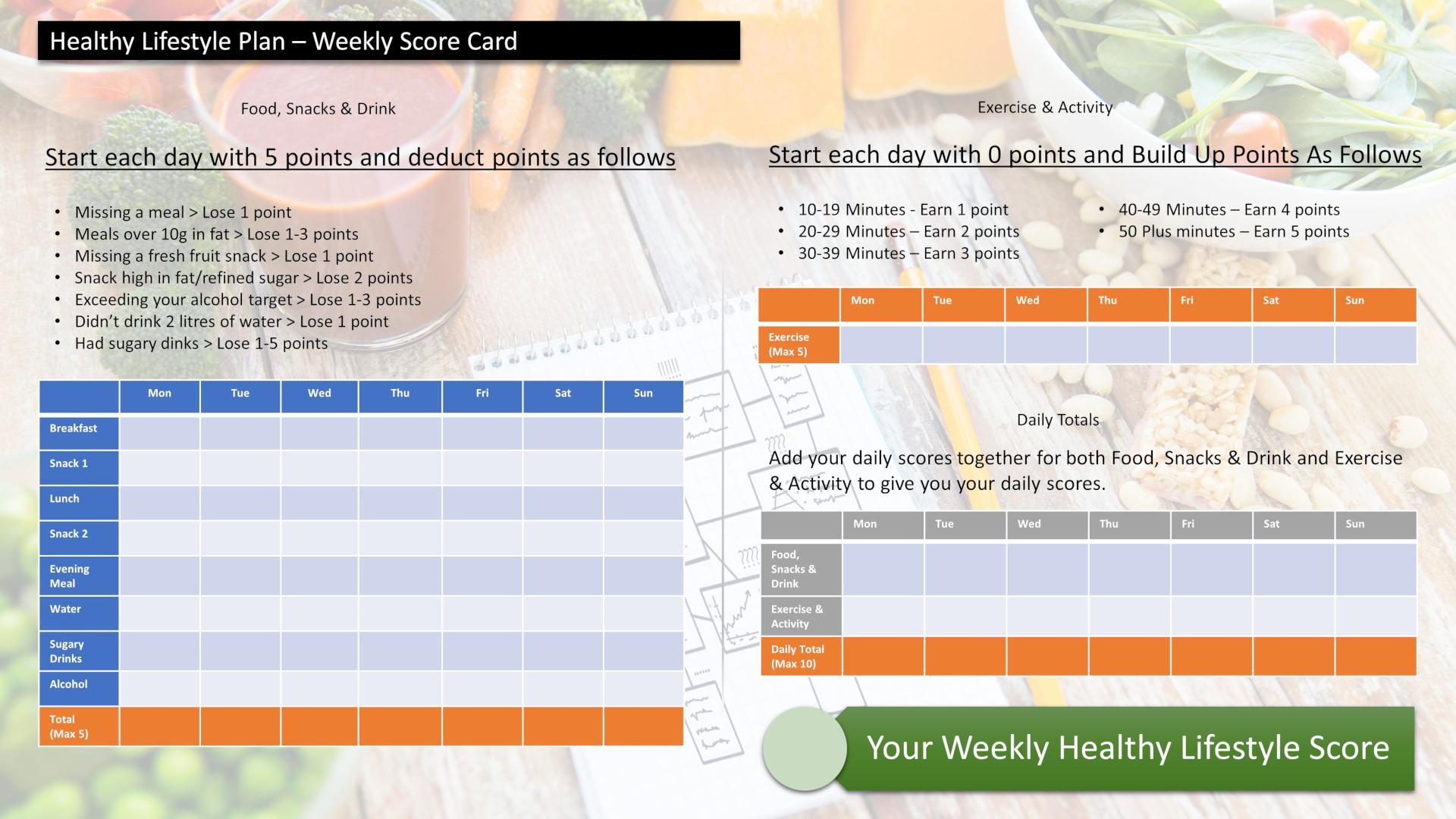 Score your way to good health with our healthy lifestyle plan and it's unique 70 point weekly scorecard!