My life sucks and I'm sick and tired of watching it pass me by. I've never been so frustrated with life as I am now and I just want to get out of this rut. I hate, hate, hate my life. I'm just so fed up of being unhappy achieving none of my goals and dreams. Life is passing me by, and I'm amounting to nothing. I'm petrified that I'm just meant to fail at life and that I'm incapable of changing this. It seems that nothing I do to try to change my life ever has any effect at all.
Does this sound like anybody you know? Are you unhappy or frustrated with your life but unsure of what needs to change? Do you feel tormented that you don't know what you want but only that you don't want what you have right now? Do you feel unfulfilled?
Frustration is the condition of wanting something and not getting it, or not wanting something and having it forced on you. Frustration can be a result of interactions with people, events or circumstances. Frustration is how you react to these things. It is your emotional response to them.
Frustration, if not dealt with, can destroy our lives! Don't let your frustrations prevent you from setting goals and living your life to the maximum.
What is not working in your life? Are you frustrated with not making any obvious progress? Would you like to take charge of your life and change it for the better once and for all?
"Are you bored with life? Then throw yourself into some work you believe in with all your heart, live for it, die for it, and you will find happiness that you had thought could never be yours". Dale Carnegie
Frustrations are part of life and we all face them at one point or the other. Life is full of frustrations. From the minor irritations of losing your car keys to the major disappointment of continued failure towards a goal. Being able to handle frustrations allow us to remain positive even in difficult circumstances, which is important in the fact that most of the things you want to achieve require a great deal of frustration before you get them. So being able to effectively deal with your frustrations can often make the difference between success and failure. It's key to personal development.
Frustration is caused when the results you are experiencing do not reflect the effort and action you are putting in. Frustration will take place whenever your actions aren't producing the results that you think they should.
When frustrations strike, you can choose to let them overwhelm you or to transform them into creative opportunities to move your life forward successfully.
To win the fight against frustration, the following simple strategy will assist you in dealing with frustration:
Step 1: Accept the Problem. Your frustrations have shown you that your current course of action is getting you no where, so you have to make changes. You need to accept that its part of life that sometimes things don't work out the way you want. When the outcome isn't as you wish, acknowledge this, accept what it shows, and understand that it's telling you that you need to find another way.
Step 2: Focus On the Goal. Go back to the big picture. What is the desired goal? Sometimes, we get so hung up on our problems and trying to solve them that we put out of our minds what we were originally trying to achieve. Try not to ask yourself, "Why did this happen?" ask instead "What do I need to do in order to get there?"
Step 3: Don't give up. Be persistent and believe there is a solution. Persistence and determination are two key components in overcoming frustrations. You have to see things through, so don't give up. As Thomas Edison said "Many of life's failures are men who did not realize how close they were to success when they gave up". He also said, "Nearly every man who develops an idea works at it up to the point where it looks impossible, and then gets discouraged. That's not the place to become discouraged."
Step 4: Get Perspective. A sense of perspective is vital to keeping sane and avoid letting small problems overwhelm us. If we lose perspective we can end up worrying for hours about things that may never even happen. To keep things in perspective it is particularly important to live in the present moment and avoid being overwhelmed by fears and concerns about the future. You are in control of your life, and have the power to make everything happen the way you want. Just believe it.
Step 5: Brainstorm Solutions. Sometimes we may have to look at a totally different approach to overcome our problems. You need to brainstorm solutions. Come up with 5 solutions for your problem, and these will give you the confidence that there are indeed potential answers to your problem. You just have to figure out the best one to go for.
Step 6: Take different steps. You're no longer wasting time on the wrong things. Now you have to move forward. Don't let your frustrations hold you back, use them to get you to take completely different actions. Don't let yourself be beaten. Keep trying until you get yourself on to the right track. I know for sure that some of my bigger breakthroughs were born out of some of my bigger frustrations. Think of Thomas Edison when he was creating the light bulb, all those failures, how much frustration must he have felt. But he kept going, kept trying new ways, until he succeeded.
Step 7: Visualize a Positive Outcome to the Situation. Too often you can get stuck focusing on what you don't want to happen or fearing the absolute worst thing that could happen. See yourself achieving your desired outcome. What will it look like? What will it feel like? What will you say? How will you feel? Take the time to visualise it and really feel it. It will inspire you to keep moving forwards.
Step 8: Stay Positive. Things are usually not as bad as they first appear. This time of frustration will pass. A positive mind is far more open to solutions and answers than a negative one that thinks it's just "hopeless" and thinks "what's the use?" A closed mind will not be able to see the possible solutions when they do come along. Stay positive.
"It is not the critic who counts; not the man who points out how the strong man stumbles, or where the doer of deeds could have done them better. The credit belongs to the man who is actually in the arena, whose face is marred by dust and sweat and blood, who strives valiantly; who errs and comes short again and again; because there is not effort without error and shortcomings; but who does actually strive to do the deed; who knows the great enthusiasm, the great devotion, who spends himself in a worthy cause, who at the best knows in the end the triumph of high achievement and who at the worst, if he fails, at least he fails while daring greatly. So that his place shall never be with those cold and timid souls who know neither victory nor defeat." Theodore Roosevelt
So, my question to you is… What are your biggest frustrations?
Go ahead, post your input as a comment below.
Score Your Way To Good Health - With Our Healthy Lifestyle Plan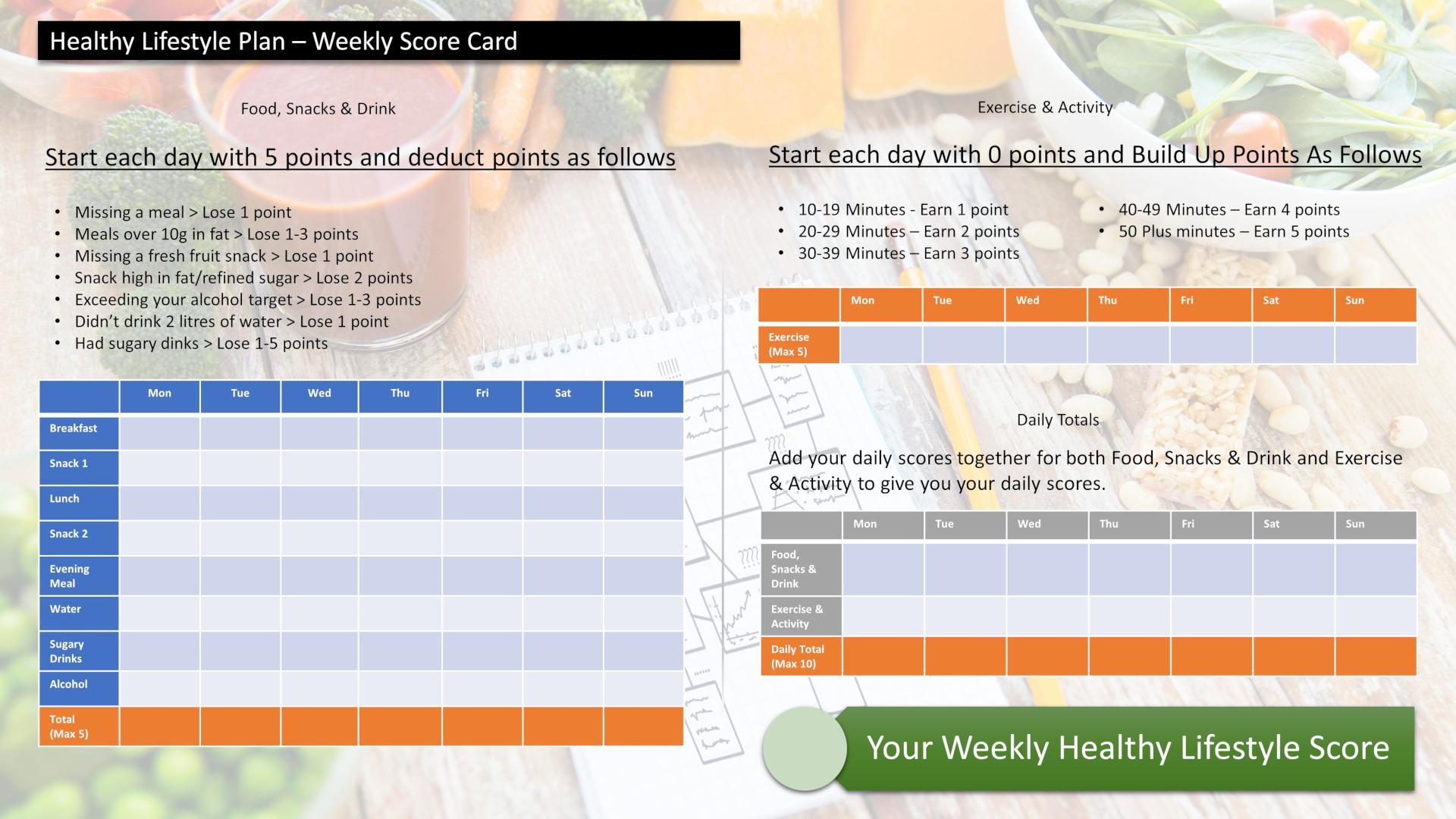 Score your way to good health with our healthy lifestyle plan and it's unique 70 point weekly scorecard!