Have you experienced those feelings of total love for another. When walking hand in hand with that one person everything else seems to just disappear, all that matters is there with you, nothing else is of any importance. You feel complete. You feel like nothing else can come close to how wonderful you feel. You're on top of the world, together with someone who means everything to you. Times like these, they're worth keeping in your memory forever. Nothing, and no one can take those memories away.
The tragedy, often, is that this just doesn't last. In my blogging network, there are some wonderful people that I have connected with, who have so much to give, yet they are reeling from the loss of love that they once shared with another.
Having believed you have found the love of your life, but then when it all comes to an end, the resulting emotions bring you crashing down. You walk away from each other, the future you had pictured, together, laying in shreds. Laughter replaced with tears. Happiness gone, sadness there to stay. Only fully realising how much you loved someone when it becomes clear that they don't care enough about you. You think that you will never love another, and that no future can be full without this other person by your side. You know, there is no doubt, that you had given as much as you had to give, 100% of you, yet it wasn't enough. You feel lost.
You opened up your soul to your partner, letting them into your spirit, thoughts, fears, future, hopes, and dreams. You lay yourself bare. You feel emotionally broken now. You can't forget the look on their face when you first met. Their words to you are etched into your memory, never to be erased. You wish that they still loved you. You wish they still needed you. You feel as though your heart is totally broken. The pain keeps you from sleep. It is the only thing that shows you that you are alive.
I believe in love. I also believe nothing stays the same, and it will come around again. So walk away. What is truly yours will eventually be yours, and what is not, no matter how hard you try, will never be. This wasn't the one. Accept this, but know everything will be all right in the end.
Honesty is the best policy. So be truthful to yourself. There are people who will come into your life and leave a mark. So in this case your heart is tender; you carry a bruise of longing, their name pushes and pulls at you in a hundred ways, but accept that it is at an end.
In the situation of a friend that I was speaking with this weekend he was allowing himself to be battered by the knowledge that his partner frequently said one thing, did another and then made excuses for her behaviour. He gave her a second, third and even a fourth chance to prove her honesty and commitment to the relationship, but he was constantly let down.
He frequently found that:
She said one thing and did another
When challenged, her body language would shift and she'd get real defensive
When confronted, she'd place the blame on to him
She'd leave out pieces of necessary info that would complete a story
She'd always found a way to play the victim
She'd go along with his dreams for their future but often show that she believed it was all too good to be true
His life was taking a back seat while he was trying to figure out whether or not she was being truthful. Constantly his emotions were swinging from extreme highs to lows in a matter of hours. Hour after hour he was analysing situations he was finding himself in.
My advice could only be, let go. He had to stop beating himself up. Now he has to move forward. He needs to accept what he is seeing, feeling and experiencing as the absolute truth and only then will he be able to take that leap into a future that will release him from the prison he is creating around his life.
Of course it is hard to deal with. The hurt and anger he is feeling is natural. But if he wants to get his life back on the front foot, he has to learn to give up the things that weigh him down.
So this relationship has failed. Well every success has a trail of failures behind it, and every failure is leading towards success. You don't fail by falling down. You fail by never getting back up. Sometimes you just have to forget how you feel, remember what you deserve, and keep pushing forward.
If something is meant to be, it will happen – in the right time, with the right person, and for the right reasons.
So now it is time for him to stop aimlessly stumbling through the day not caring about anything other than this 'failed' relationship and instead go through the day directing his life and making his own decisions and shaping his destiny.
It's not always easy to do. She betrayed his trust. The shattering of trust is perhaps the most destructive thing, that can destroy our dreams. But the damage is done, and now he has to move on with his life.
It's okay to fall apart for a little while. He doesn't have to pretend to be strong, and there is no need to constantly prove that everything is going well. He shouldn't be concerned with what other people are thinking either – cry if he needs to – it's healthy to shed tears, yes even if you are a man. The sooner he does, the sooner he will be able to move on again.
Nobody said life was easy. Everything is a life lesson. Everyone you meet, is part of the learning experience we call 'life.' Never forget to acknowledge the lesson, especially when things don't go your way. So his relationship didn't work, it only means something better is out there waiting.
"People are often unreasonable and self-centered. Forgive them anyway.

If you are kind, people may accuse you of ulterior motives. Be kind anyway.

If you are honest, people may cheat you. Be honest anyway.

If you find happiness, people may be jealous. Be happy anyway.

The good you do today may be forgotten tomorrow. Do good anyway.

Give the world the best you have and it may never be enough. Give your best anyway.

For you see, in the end, it is between you and God. It was never between you and them anyway."

Mother Teresa
So now it's time for him to let go, which of course is ever easy. With one of my favourite saying being 'my glass is half full, not half empty, I believe that he can still cherish the moments he had with his partner, remembering the good times, smiling once again about the times when together they were so happy. But don't hold onto the bad times, because there are going to be so many better times ahead, so let the excitement of the unknown possibilities drive him on.
Being sad is a moment of happiness wasted. Life is just like a roller coaster ride. There are times where everything seemed so perfect and alright but the next minute, life seems so difficult, so unfair. Well with what happened to him it caught him off guard, knocked him down, made him feel helpless. But now he has to say 'no more', pick himself up, shake the dust off, and get his life back on track, better than it was before.
Now he has to stay strong. No longer allowing the pain to hurt so much, and know his future has many more exciting times waiting for him, he just has to believe everything is possible.
Nobody knows what the future will bring, just believe it will be fantastic.
Score Your Way To Good Health - With Our Healthy Lifestyle Plan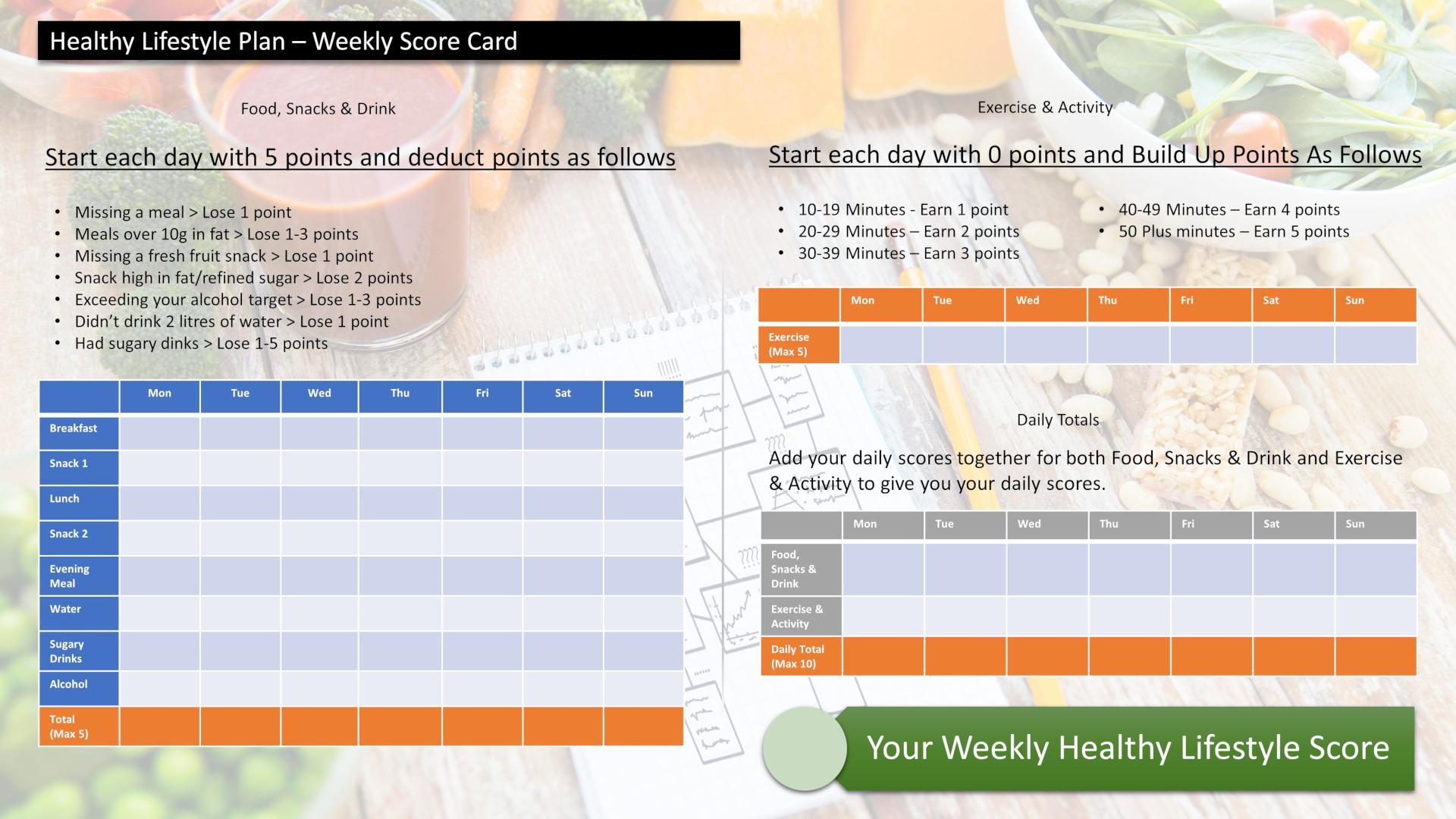 Score your way to good health with our healthy lifestyle plan and it's unique 70 point weekly scorecard!