What makes you so lucky? Is a positive attitude everything? Everything you touch seems to turn to gold. You've moved ahead faster and gone further than everyone around you. You've reached the top of your profession seemingly without breaking a sweat. Your life is completely in balance, and everything you do just keeps turning out right.
If this isn't describing your life, and worse still you don't think that lady luck is playing any part in life for you, then isn't it about time things changed?
So do you want to know the secret formula to 'be lucky.' When you take charge of making your own future, rather than waiting for it to happen for you, you begin to experience more and more events that can be interpreted as luck. You experience a phenomenal change of fortune, where you have more of the things that you want, faster and easier, than you could ever had imagined.
Let me tell you something that I know you've read hundreds of times before. A positive mental attitude is closely associated with success in almost everything you do. Yep I thought so, 'yea right' I imagine you are saying, 'tried that, doesn't work.'
Did you really try hard enough, long enough, maybe instead of having a positive attitude you adopted more an attitude of kidology, you pretended, but deep down you didn't actually believe in what you were doing, you second guessed that you would fail.
Well let me assure you, when you become a genuinely positive, optimistic person, the doors of opportunity will open for you.
We humans are largely emotional, making most decisions emotionally which we then justify logically. We are almost completely controlled by our feelings, in every situation.
So if you really want to be one of the lucky ones benefiting from a continuous stream of good luck you must start to radiate a positive, winners attitude. The person you become next year, or ten years from now–is up to you! You can become the gloriously successful person you were meant to be. If you reach into your mind to liberate all your hidden potential and cultivate a winning attitude you can make the rest of your life the most dynamic and fulfilling time of all.
Attitude can be defined as a person's perspective toward a specified target and way of saying and doing things. Have no doubts that a person with a positive attitude can make more progress in half the time than a person with a negative attitude could make.
Fixating on thoughts and emotions, day in day out, affects all aspects of our lives. Learning to be mindful of our "internal dialogue" helps us recognize thought patterns and how they may be affecting the way we handle the situations of daily living. It all starts with your attitude. Get that right, and you give yourself a better chance of success.
Your self-esteem is one of the keys to your attitude. How you genuinely feel about yourself determines how much you like yourself. Everything you do and say to build and reinforce your own self-esteem improves your attitude.
Your outer world will be a reflection of your inner world, how you value your personal worth will reflect within the results you create in life. To create the attitude and positivity you need for success let me suggest a mental fitness program for you to try.
To eliminate your negative emotions make a conscious decision to accept complete responsibility for your life, for everything you are and everything you will ever be. Never again allow yourself to make excuses or to blame anyone else. Accept yourself as the primary creative force in your own life, responsible for your own future. See that you are where you are and what you are because of your own choices and decisions in the past, and since you made those choices and decisions, only you are responsible.
Take charge of your life by seeing yourself as active rather than passive. You can make things happen instead of waiting and hoping for them to happen. If you are not happy with some part of your life, you have the power to do something about it, and refuse to allow negative emotions to interfere .
Set clear, written goals for yourself in each important area of your life. You create written plans of action to achieve them. You work on your major goals every day. You maintain a sense of forward momentum and progress that gives you energy and enthusiasm. You keep yourself so busy working on things that are important to you that you don't have time to worry about little irritations or situations that are out of your control.
Recognize that opportunities will come your way when you increase your knowledge. So work on becoming better every day. Have a plan for personal and professional development that includes reading, listening to audio programs, attending courses and seminars, and taking every opportunity to increase your knowledge and skill. And don't forget to keep visiting this blog. The more you work on yourself and your knowledge, the more confident and competent you feel. Success is not an accident.
As you become what you think about most of the time. You, therefore, discipline yourself to think continually about the things that you want, and keep your mind off of the things you don't want.
"The longer I live, the more I realize the impact of attitude on life. Attitude, to me, is more important than facts. It is more important than the past, the education, the money, than circumstances, than failure, than successes, than what other people think or say or do. It is more important than appearance, giftedness or skill. It will make or break a company… a church… a home. The remarkable thing is we have a choice everyday regarding the attitude we will embrace for that day. We cannot change our past… we cannot change the fact that people will act in a certain way. We cannot change the inevitable. The only thing we can do is play on the one string we have, and that is our attitude. I am convinced that life is 10% what happens to me and 90% of how I react to it. And so it is with you… we are in charge of our Attitudes."
These are a series of powerful mental programming techniques that you can use throughout the day to become a more positive and effective person. Each of these techniques is both practical and proven, and the combination of all of them together can make you both irresistible and unstoppable.
Everything in life is a test and every time we choose to have the right attitude is a step in the right direction. You have the power to change anything in your life that you want to, your attitude and outlook are great place to start.
Score Your Way To Good Health - With Our Healthy Lifestyle Plan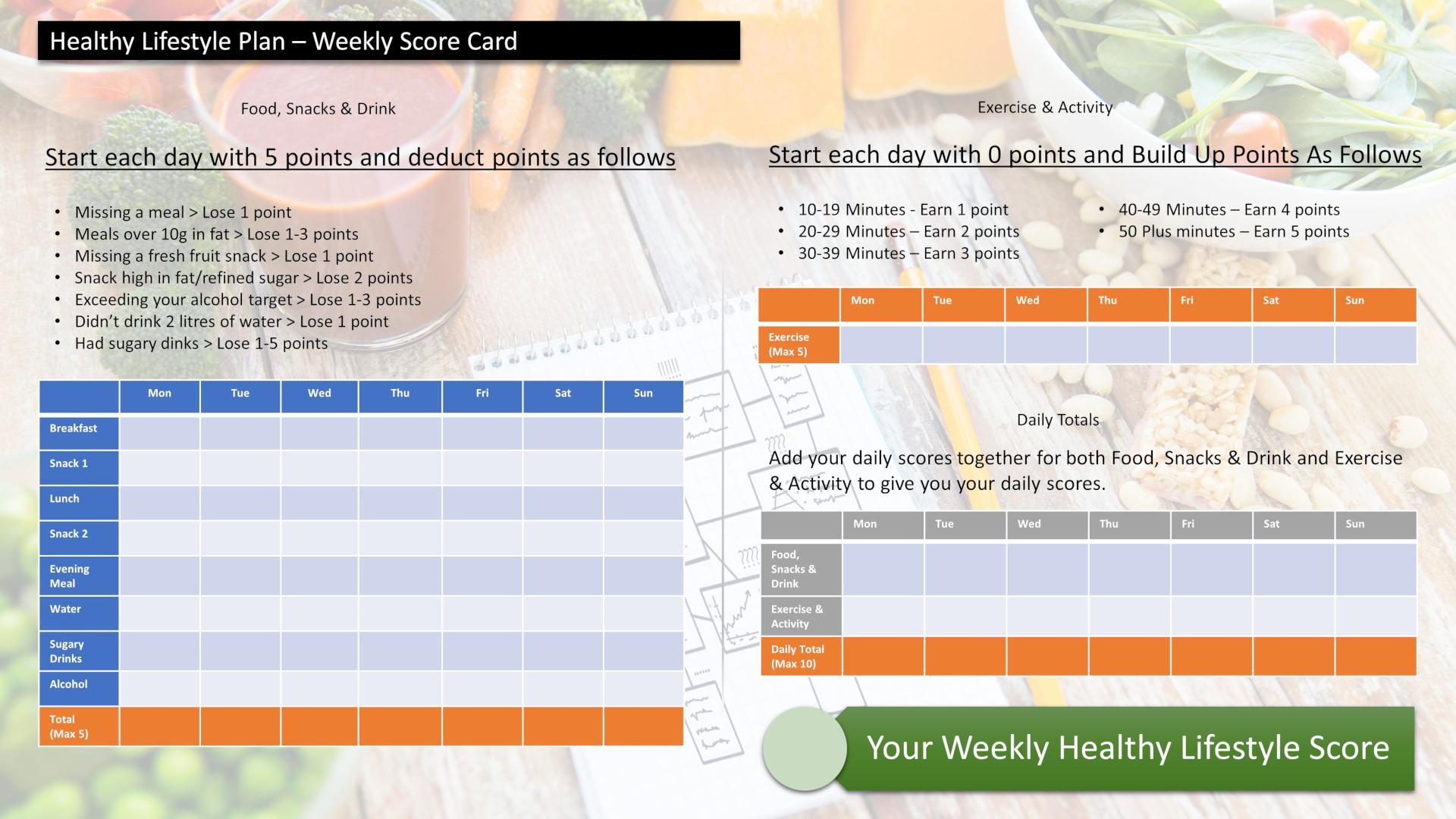 Score your way to good health with our healthy lifestyle plan and it's unique 70 point weekly scorecard!