Today I want to introduce you to a very important tool in your personal development armory called 'a Personal Manifesto.'
It's that special time of year again — a new year — where resolutions are set around the world by people wanting to make this the year they fulfil their dreams.
Yet now at the start of a new year many debate the value of setting new-year resolutions. After all there are so many examples where people have year after year set their goals in January and before the month is even over they abandon their attempts.
Considering the number of people who make New Year's resolutions — somewhere between 40 and 50 percent of us, according to various reports — there isn't an overwhelming amount of recent research on how successful we are but most statistics support the argument that most people fail with their attempts to set and achieve resolutions.
You stop way before the end. So is it worth bothering to set your goals? Imagine a life where you complete projects, working to your fullest potential and achieving your goals. This makes setting your resolutions worthwhile.
The difference is based on whether you have actually figured out exactly what you really want to do with your life. Do you have that vision of the life you want to live in five years' time.
You really need to think about where you'd like it to be like. The best way to do this is to think about the life you really want to be living.
Answer this question:
Do you want to make something good out of your life?
Writing your personal manifesto will help you determine what it is you want to do.
A manifesto is defined as a declaration of one's beliefs, opinions, motives, and intentions. It is simply a document that declares what is important to you.
Writing a manifesto helps to focus our energy and efforts into a specific direction and it also helps us to enhance clarity and confidence in our life knowing what do we value and what do we stand for.
What makes a manifesto so valuable is the fact that it is a constant source of inspiration to you, and one that can often be easily read every day.
In the end, figuring out your passion, your career path, your life purpose—whatever you want to call it—will help you push yourself through most the hurdles you will face.
The main purpose of the personal manifesto is to really figure out what you care about, how you perceive yourself, and how you want to act moving forward. It's not always a key to figuring out exactly what you want to do with your life, but it's a great starting point for at least figuring out how you want to go about those goals. Grab a pen, some paper, and get to writing out what you believe.
"Who in the world am I? Ah, that's the great puzzle." Lewis Carroll
Let me suggest to you some questions to help you write your personal manifesto.
Who are you?
Who would you like to be?
What are your goals in life?
What are your dreams?
What do you long for?
What are your inner motivations?
What matters to you?
Who are you and what do you stand for?"
What engages you, fulfils you, and brings you joy?
What about this world touches your soul and makes you want to make a difference?
Now write your manifesto. Actually do this. Take the time out because you're worth it. Make this the New Year, where the New You is manifested. Supercharge your new year life and hit the ground running by creating your personal manifesto.
When we have a clear picture in our minds of what we want to be and do then our manifesto becomes a written expression of that to serve as a reminder and helps direct our lives.
"When I discover who I am, I'll be free." Ralph Ellison
Score Your Way To Good Health - With Our Healthy Lifestyle Plan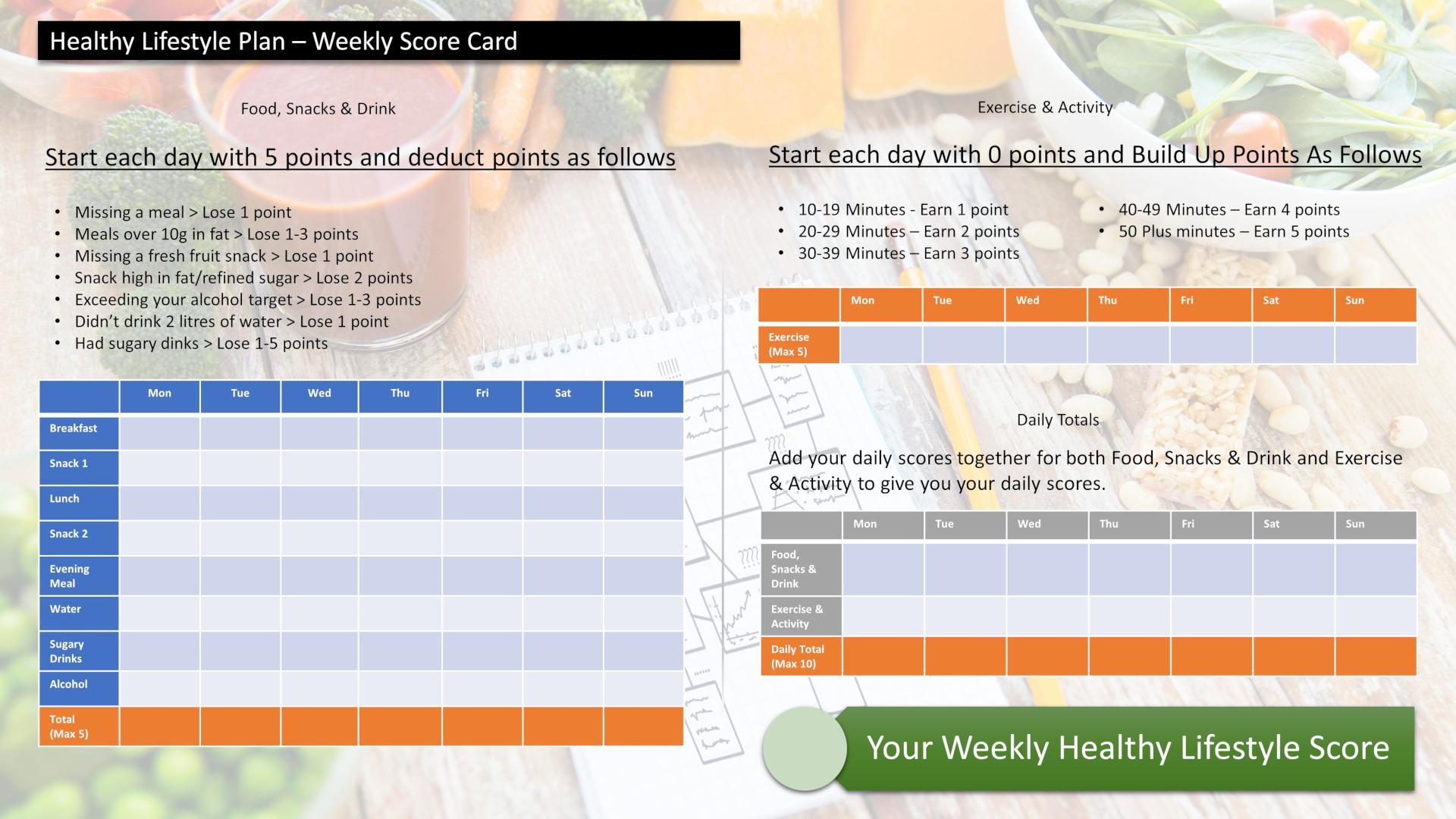 Score your way to good health with our healthy lifestyle plan and it's unique 70 point weekly scorecard!