Today is the beginning of a new chapter in my daughter's life as she starts her first day at College. She's growing up and moving on and I'm excited for her.
As the starting date loomed ever closer, her excitement was overshadowed by a growing sense of nervousness and anxiety. Natural insecurities and doubts prevail. What if I struggle with my course? What if I don't fit in? What if I can't make friends?
College in itself marks a major transition in her life, with new classes, new people, new surroundings, and new expectations and responsibilities. On top of this she is still getting over leaving school and missing her old friends
So amidst all the excitement of this new chapter in her life comes a lot of pressures. It can definitely be overwhelming, but it's also a chance to grow, and enhance her personality and bring about the transformation of the adult she will become.
How she adapts to her new environment is extremely important in the first couple of weeks. The first day is always going to be the worst, as everything comes at you all at once, and it's a lot to take in. But once you make friends get comfortable with your timetable and find your way around things quickly get a lot better.
The life of a new college student is full of change. She is entering into a new chapter of her life. At first things may seem unbearable at times, and the pressure of everything too much to handle. But in life, nothing is actually impossible. Every challenge in life is simply an obstacle to overcome.
She is learning an important lesson, life can be great fun and life can also be a challenge. Overcoming barriers is a part of both the fun and the challenge in life.
You may have had to fight long and hard to gain ground in a particular situation. Success does not always come easily, but for those who persist and don't give up, success will come. You can achieve anything if you choose to.
You can be sure that no matter how good your life is, there will always be some obstacles to face. But to be successful in life we all have to overcome barriers to allow us to reach our goals and fulfil your passions. So welcome these obstacles, and know life will never be dull.
This enables you to build a positive mindset a key attribute to enable you to succeed in life. Realise that every problem has a solution, and you must look for that solution and not get overwhelmed with the problem.
No matter what obstacles cross your path , always press on never stop trying. Your life can be filled with excitement or it can be filled with problems – you decide!
"Life's up and downs provide windows of opportunity to determine your values and goals – Think of using all obstacles as stepping stones to build the life you want" Marsha Sinetar
So today you enter the college gates for the first time. Now you have the opportunity to recreate yourself in any way you want. Enjoy the months ahead where you will make many new friends, and here I would like to give you some advice offered by Ann Landers, the agony aunt renowned in America before her passing away:
THE TEN COMMANDMENTS
of
HOW TO GET ALONG WITH PEOPLE
1. Keep skid chains on your tongue; always say less than you think. Cultivate a low, persuasive voice. How you say it often counts more than what you say.
2. Make promises sparingly, and keep them faithfully, no matter what it costs.
3. Never let an opportunity pass to say a kind and encouraging word to or about somebody.
4. Be interested in others, their pursuits, their work, their homes and families. Make merry with those who rejoice; with those who weep, mourn.
5. Be cheerful. Don't burden or depress those around you by dwelling on your minor aches and pains and small disappointments.
6. Keep an open mind. Discuss but don't argue.
7. Let your virtues, if you have any, speak for themselves. Refuse to talk of another's vices.
8. Be careful of another's feelings. Wit and humor at the other person's expense are rarely worth it and may hurt when least expected.
9. Pay no attention to ill-natured remarks about you. Remember, the person who carried the message may not be the most accurate reporter.
10. Don't be too anxious about the credit due you. Do your best, and be patient.
Source: Sun Sentinel
These are wise words that everybody should heed when developing relationships.
So my darling daughter, be sure to incorporate this into your daily interactions with others, and enjoy this new chapter in your life.
Score Your Way To Good Health - With Our Healthy Lifestyle Plan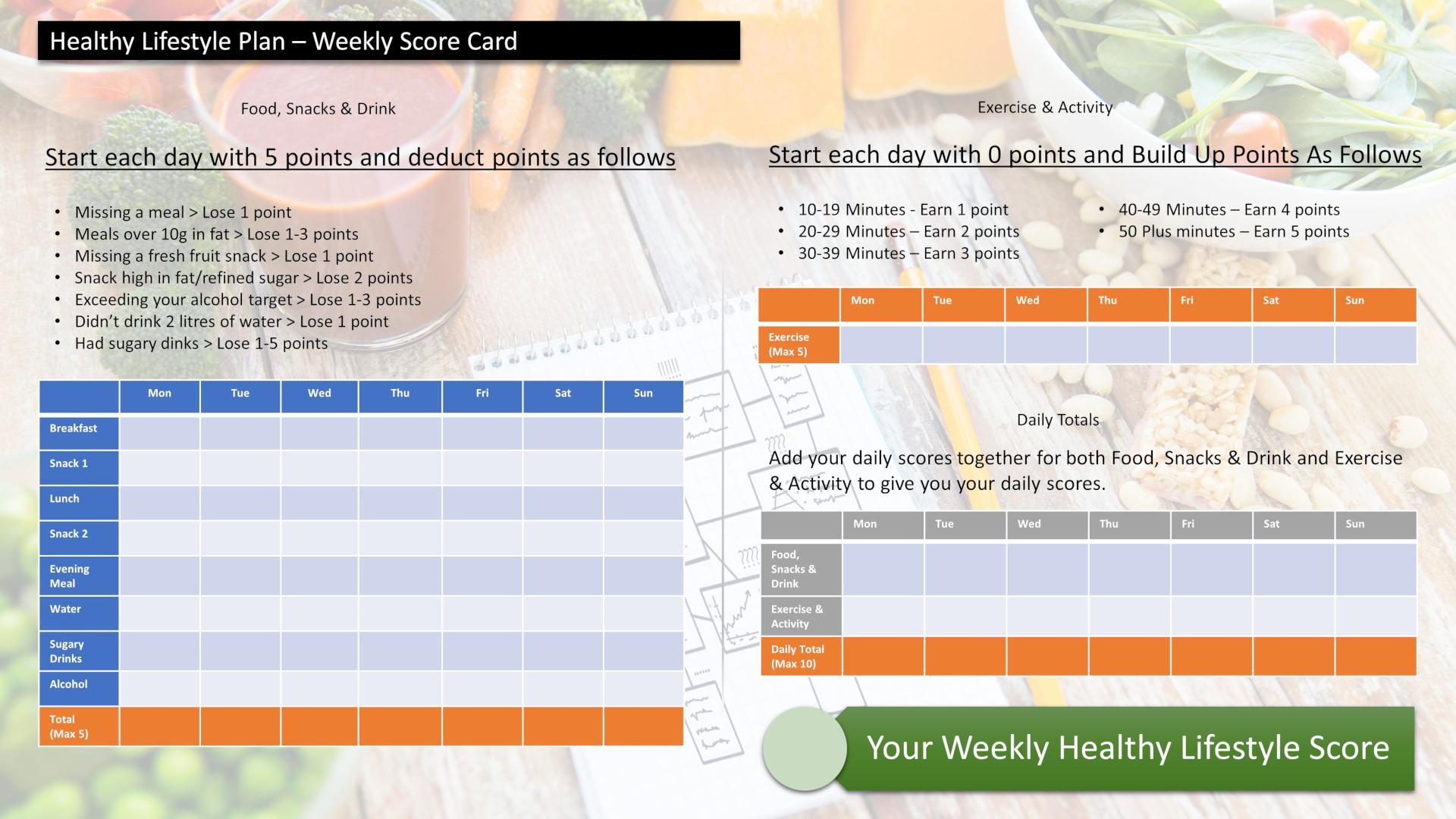 Score your way to good health with our healthy lifestyle plan and it's unique 70 point weekly scorecard!