Personal Development is all about getting you where you want to be, and when you practice these 10 must do's to improve the quality of your life, things will work out so much for the better.
If it looks like your life needs a change, you feel there has to be a different way or you just know you can do better then you've reached the right place
Through the articles on this blog I hope to help you pinpoint what holds you back or gets in the way of you achieving your potential. A guiding hand to steer you over, round, under or through the obstacle you are facing, helping you to improve the quality of your life.
Do you ever feel like you've lost your way? What ever it is you're trying to achieve in life, the end result just seems so far away? You question whether you're even going in the right direction.
If you do not change direction, you may end up where you are heading. Lao-tzu
So don't give up, and ask yourself this question.
Where Are You Stuck?
To me the biggest problem everyone seems to face is the pressure of work.
It is impossible for someone to have an overwhelming number of things to do and still function productively with a clear head and a positive sense of relaxed control.
Almost everyone I meet these days feels he or she has too much to handle and not enough time to get it all done. More often than not peoples work responsibilities stress their family commitments beyond the limits. Frequently you are having more added to your 'must do list' yet you don't have the physical or mental resources to cope.
Yesterday I wrote about getting the bigger picture. Clarifying major goals and values, to give meaning and direction to both our work and life.
Well today I want to give you some easy to implement, simple principles to improve the quality of your life.
To improve the quality of your life beyond your wildest dreams follow these simple principles:
Take Responsibility – The most important aspect of taking responsibility for your life is to listen to the little voice in your head. We tend to become what we think about most of the time. Everything you are or ever will be is completely up to you. Everything that has happened and is happening in your life is down to you, and don't forget it.
Dare to Dream – A dream is a blueprint for your ultimate achievements! If you would want to transform your dreams into reality, then dare to dream. Create an "impossible" goal–and discover the possibilities that await you.
Believe in Yourself – If you want to succeed, you have to believe in yourself. Tell yourself you are a great individual and believe in yourself, for if you don't believe in yourself, no one else will believe in you. Create your own life and stay positive.
Take Action – taking action can lift you to a whole new level in life and in business. You can think about achieving your goals and dreams your entire life but nothing will happen until you actually do something to make them happen. That requires taking action.
Attitude is Everything – One of the most important steps you can take toward achieving your greatest potential in life is to learn to monitor your attitude and its impact on your work When it comes to resilience, having an optimistic view of yourself and confidence in your strengths and abilities will count for a lot.
Develop Productive Habits – a Habit is an acquired pattern of action that is so automatic it's difficult to break. The right habits will make you far more productive enabling you to make a big impact in the shortest space of time.
Manage your Emotions – A big part of achieving success is learning to manage your own emotions but not ignoring them. It means you recognize them and act on them. Emotions control your thinking, behavior and actions.. We all have "hot buttons" which can lead us to feel anxiety, anger or even burn-out. We need to get them in control.
Prepare for Success – Power comes from knowledge, the more you learn the more you are preparing yourself for success. Success loves preparation. If the perfect opportunity presented itself today, would you be ready? It's better to be ready and prepared for what's ahead,
Balance Your Life – Creating a good work-life balance enables you to focus on your self and your relationships. If you make the time to take better care of yourself, you can nurture your health, your career and your family and achieve all you want in all areas.
Change or Be Changed – If you do what you've always done, you'll get what you've always gotten. If your life is exactly what you want, then keep on doing what you do best.
Don't allow anything or anyone to hold you back! Don't let fear win.
One of the reasons people do not take the time to improve the quality of their life, is that they think things will just get better
This is not how it works!
The starting point of all change is in the mind – or more precisely, how you think!
So use these principles to improve the quality of your life.
p.s. Life Coaching can help you make the most of your time and improve your life. Life coaching will teach you highly effective ways to learn and implement time management skills. If you want life changing coaching email me for further details. I only deal with a few clients each month, and those I choose have to be truly ready to take action. If that's you, contact me today at coach@larry-lewis.com
Download 10-must-dos-to-improve-the-quality-of-your-life MP3
Score Your Way To Good Health - With Our Healthy Lifestyle Plan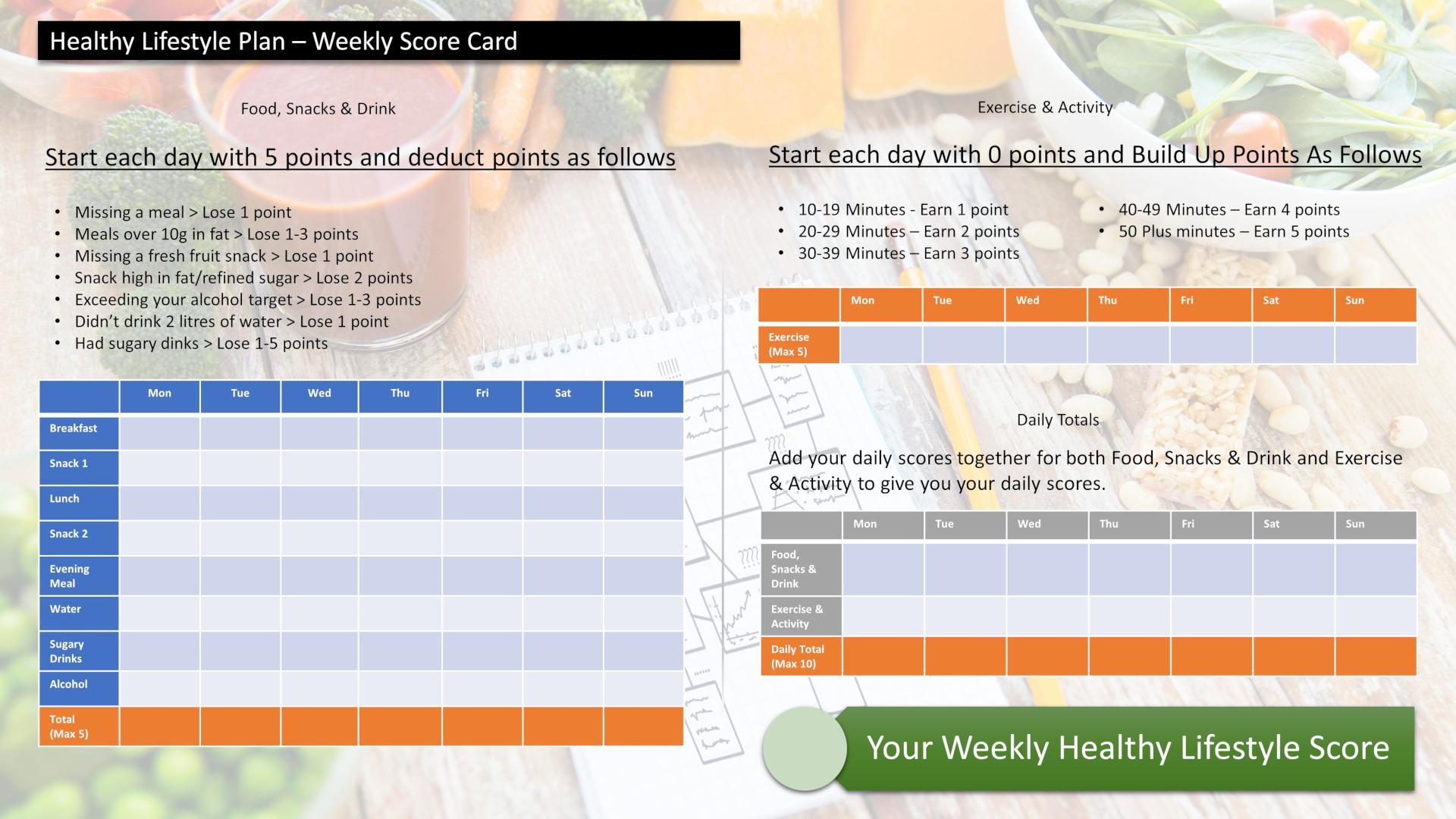 Score your way to good health with our healthy lifestyle plan and it's unique 70 point weekly scorecard!