The fear of success causes us to miss out on so many possibilities and opportunities in life. We are literally afraid of the one thing we strive so hard for.
Last night I attended a Twitter Chat hosted by @BuyBritBrands aptly named #BuyBritishBrands and I really enjoyed an hour spent alongside other UK entrepreneurs networking with one another. I ended by offering a quote that I thought was appropriate:
"Coming together is a beginning; keeping together is progress; working together is success." – Henry Ford
It was an interesting end to a very different day. Much of it was spent in a relaxing state with my eldest daughter Laura-Jayne and her partner Colin and my granddaughter Amelia-Mae. Of course I loved every second.
I only dealt with two business tasks today. One was merely emailing backwards and forwards with somebody I'm really looking forward to working with and making a big splash. I know there are awesome times ahead, but we are fencing a little bit at the front end because neither of us want to say, "this is bloody exciting, can't wait to work with you, now let's get going". But I know soon we'll be ripping each other's hand off to sign a piece of paper to make sure we work together.
Then there was the other task I had to deal with. Someone prepared to make a huge sacrifice for no other reason than they had met the destroyer of many an entrepreneur, THE FEAR OF SUCCESS. What was the sacrifice they were about to make. Simple really, give up on a business they had worked long and hard for over many years just at the point where the end line is in sight. Crazy! Yes it is, but so common. He isn't alone, so many others do the same thing. Well this blog is intended to get you to think before you make the biggest mistakes of your life. I turned his mindset back to where it needs to be and know soon I'll see his effort paying dividends and finally he will have beaten the fear of success. As can you!
Believe me, we've all I'm sure been aware of the fear of failure, but the fear of success is just as common. Stopping just before you get to the winning line, throwing it away prior to making your imminent break through. People are scared of success. It brings with it in their head to much pressure. Sometimes it's just easier to carry on the way things have been , just plodding along. The greatest enemy to yourself is that you're never aware that you carry within you this fear of success, its your invisible demon.
The best ally to a fear of success is self sabotage. This will help you mess things up, keep success away from you, give you the excuses for why you can't do what you need to do. It will tell you everything is now too difficult. Telling yourself you're no longer enjoying the work. Sitting back as though success has happened showing complacency. Those that have a fear of success do not necessarily realise it. They only wake up to the fact it may be plaguing them the more often they mess up on the road to success.
They've rehearsed the explanations many times before:
"well it wasn't meant to be"
"something else will come along"
"there's always next time"
"I'll never make it."
Anyone that reads my blog regularly knows that one of my main philosophies is 'Never Give Up' That is why when I see a fear of success, it angers me. What I mean by this is it holds back really good people. Unintentionally they are destroying their prospects. I don't want this to happen to anyone, I want them to fulfil their destiny. So let's understand why this debilitating fear may occur.
Inwardly many have an irrational feeling of not being worthy of success. They don't feel that they're good enough to be a success in life. Well feeling worthy is important for your success and happiness. This feeling of putting yourself down is reflected in thoughts such as:
he is better than me,
he knows more people than me,
he is a faster learner than me,
he is cleverer than me,
he is a better writer than me,
he is a superior speaker to me.
Great statements of comparing yourself to another and putting yourself down. I assure you I never put myself down and always believe 100% in everything I'm doing. So must you!
To achieve success you simply must believe that you are good enough and that you are deserving of success. All the time you must know exactly what it is you are trying to achieve, where you trying to go. So for example I work hard at building ecommerce shops, but they're not my passion, they're a means to an end. They finance firstly my ability of helping people and secondly they enable me to sell products I totally believe in to the world. They are a stepping stone in my life's journey, and yes the part of my business that delivers my financial dreams.
Focus on your end goal, on the destination. Does the pleasure of what this brings you make the pain of some of what you do worth going through. If you succeed know that you can handle success don't worry about it. There is no need to think about what may happen. Reach that point you can call success and then learn to handle it when you are there.
Just understand that the best ways of getting rid of pain is to focus instead on the pleasure. I'm committed to losing 2 stone. I don't think of the things I'm not able to eat, or the Starbucks Cookie Crumble I'm not drinking, instead I'm focusing on having the body back that I want, fitting into summer clothes. And I don't fear success, I can't wait for it, because I'll be straight into Starbucks for my favourite drink.
To my friend I just want to say never forget, no matter how hard the work may get, how frustrating parts of it may be, this is a passion project and your passions will resonate at the end.
Pain is an inevitable certainty of life. You mustn't run away. The fundamental lesson to learn is to how to accept the pain and grow from it. Once you do success is assured. It won't be easy, but who said it would be, you just have to trust in your ability to succeed and not fear success.
Please share this if you think it could help others!
Score Your Way To Good Health - With Our Healthy Lifestyle Plan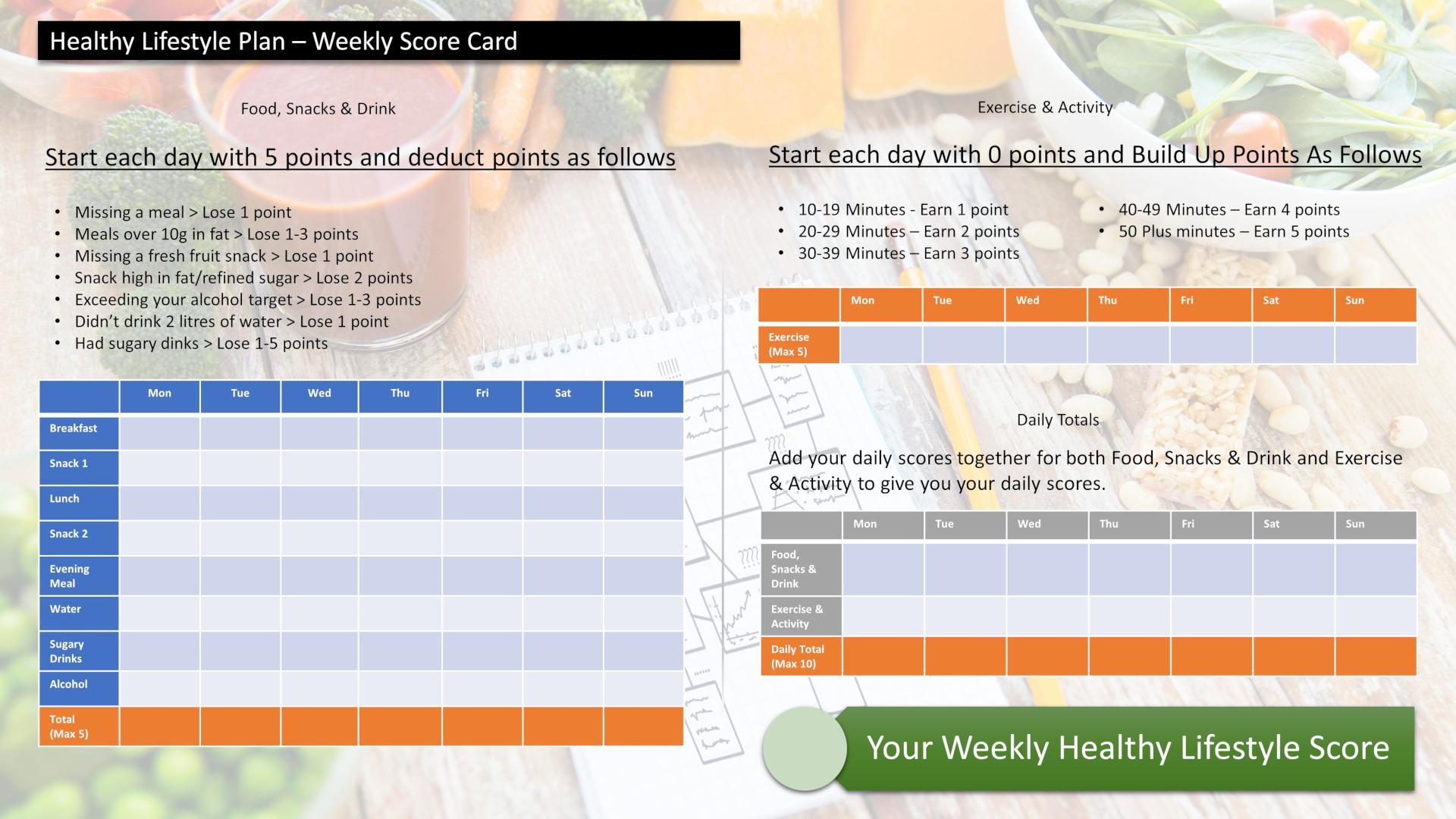 Score your way to good health with our healthy lifestyle plan and it's unique 70 point weekly scorecard!