What matters most to you?
Every day something will happen that will remind you what matters most to you if you allow it to.
How would things be different if you knew you had only a year left to live.
That is a simple equation, you have simply 365 days to make count. If you don't get it done, you never will.
Would you be doing what you currently do every day of your life, or are there many things you're not doing that truly matters most to you.
We often talk about our priorities in life. But how many of us have ever stopped to really think about which things are most important to us, let alone how much time we spend on our priorities compared to less important things?
My youngest daughter is on a train today heading back to her home some 300 miles or more away from me.
It is this that puts me in a reflective mood and makes me ask what changes would I make to my life if I only had 365 days left to live, and make count.
Life is short so not doing what matters to you is simply stupidity.
You need to stop and think about what things in your life really matter most.
It is essential that you work out what's important to you in your life, what matters to you, what makes you truly happy and then find ways to fit these things into your everyday schedule.
Take a moment and imagine that you're at the end of your life and have a chance to give your current self some advice.
What would you spend more time on, what are the things that matters to you?
To answer that I'd ask myself another 5 questions.
1.Who are You?
Before you can think about what you might do with your future you need to know a bit about yourself and what is important to you. For many years you have probably ignored who you really are, so it is important to give yourself time to take stock and find yourself once again.
2. Why are you here?
You need to know what you ought to be doing and saying no to time-wasters. Without clarity on who you are and why you're here, you will end up wasting time on unimportant areas. If you approach each day with no vision, what can you possibly hope to accomplish? Having a clear mission statement for your life allows you to decide in advance the life you want to live. It creates a focus for every activity in your life. And it needs to be specific enough that you can weigh any activity. I know that in my life I want to make a difference, and this would be to friends, family, clients and complete strangers.
3. What do you want?
Creating the life you want, both personally and professionally, requires clear goals. By establishing the direction of your journey you can make sure your life brings success. Discovering what you really want to do with your life isn't an easy task for anyone. That said, when you're not really sure what you want to do, whether it's a career, a lifestyle, or anything else, you have to contemplate to find the answer. Questions open doors behind which lie fascinating answers one might never have discovered without the question.
4. What do you want to do with your life
Many people spend more time planning their summer holiday than planning the rest of their life. "What do I want to do with my life?" It is the most important question to answer in any person's life. Your life is your decision. Only you can make the right decision. So start asking yourself the question.
5. Who do you love
I have been guided by a quote for a long time now and it says "Spend time with those you love. One of these days you will say either "I wish I had" or "I am glad I did". It is so important to make time for those you love. We to often lead a busy life, throw ourselves into work and have so little time to give to those we most care about in the world. This is the biggest mistake many of you make.
If this post has resonated with you, it shows that now is the time to figure out exactly what you really want to do with your life.
Score Your Way To Good Health - With Our Healthy Lifestyle Plan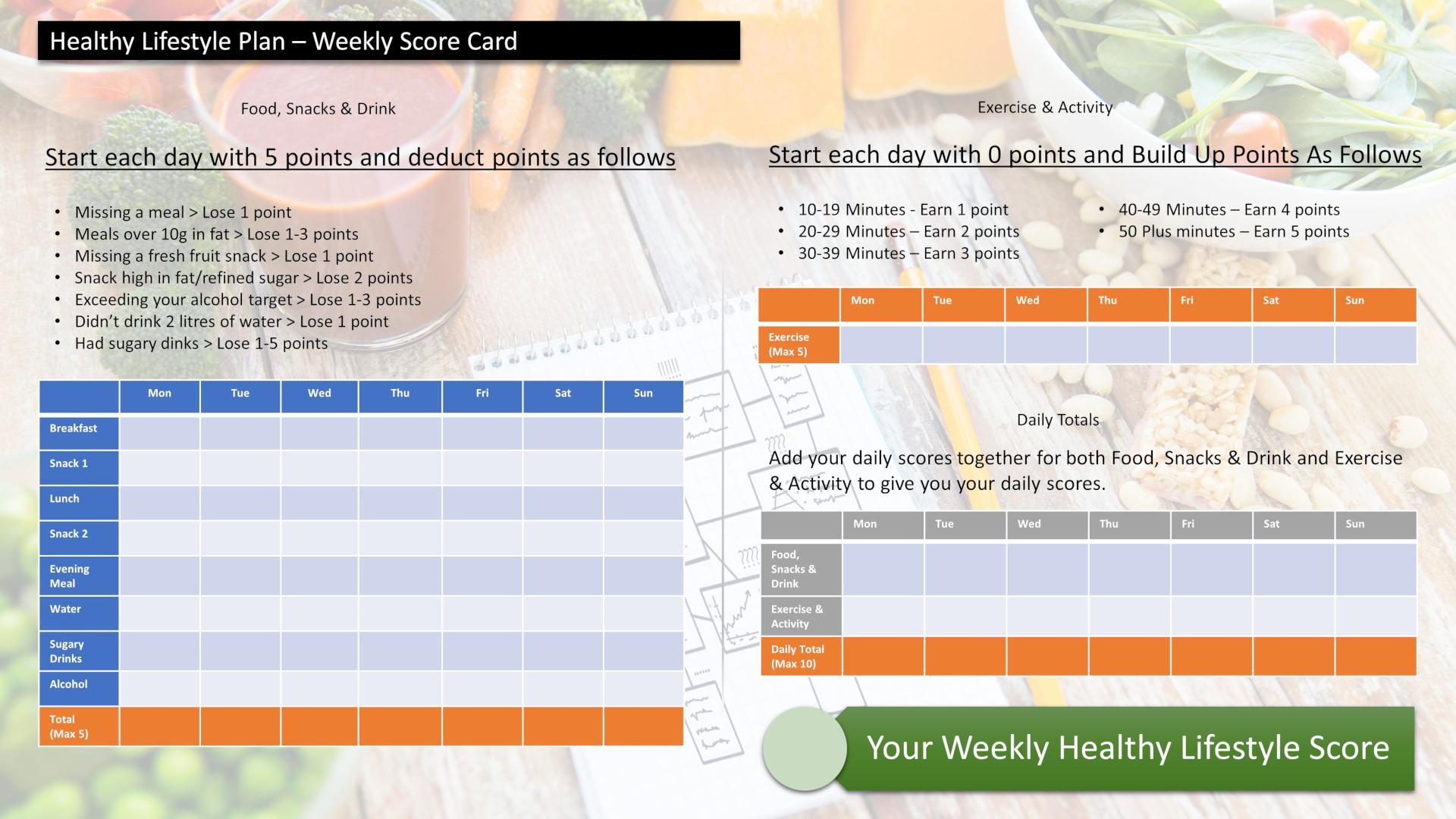 Score your way to good health with our healthy lifestyle plan and it's unique 70 point weekly scorecard!