We are never sure if we are heading in the right direction and it is important to learn what is needed for us to steer life in the right direction.
When we are born nobody gives us an instruction book of how to make the right choices and move our life in the right direction. We are not even given a map to show us where this direction leads.
Discovering what you really want to do with your life isn't an easy task.
What do I want to do with my life is a question all of us think about at one point or another. For some, the answer comes easily. For others, it takes a lifetime to figure out
Diana Ross in 'Do You Know Where You're ' sang:
Do you know where you're going to?
Do you like the things that life is showing you
Where are you going to? Do you know?
Lewis Carroll says "If you don't know where you are going, any road will get you there."
To quote Lewis Carrol precisely, in Alice in Wonderland he wrote this section:
"Would you tell me, please, which way I ought to go from here?"
"That depends a good deal on where you want to get to," said the Cat.
"I don't much care where–" said Alice.
"Then it doesn't matter which way you go," said the Cat.
"–so long as I get SOMEWHERE," Alice added as an explanation.
"Oh, you're sure to do that," said the Cat, "if you only walk long enough."
I was talking to a young man yesterday. Outwardly everything appeared rosy with his life. A good job with a descent income, his own home, a really good lifestyle. But he had begun to examine his life and over thinking about the paths that he was taking and he had this scary thought he wasn't taking the path to long term happiness. What he did know was that he wasn't prepared to go through the motions and continue on the path he was now taking and risk that it was the wrong one.
What he knew was that he didn't want to spend the next 10 years building a life that would end up achieving everything he set out to do but fail to bring contentment or satisfaction. It's like placing a ladder against a wall climbing to the top and finding you're on the wrong roof.
The truth is we don't know much at all about our destiny. We never know for sure whether we're heading in the right direction, but we do get a strong feeling within that yes indeed this is what I'm meant to be doing. It is important to keep moving forward, and as you move keep asking questions paying attention to the answers and sooner or later you'll figure out everything you need to know.
The first question needing to be asked, over and over, is:
What do I want to do with my life?
Then, to really get your creative juices flowing, ask:
If my life had absolutely no limits, what would I choose to be, to do, and to have?
This brings your imagination to begin seeing the answer to another question:
"Where do I see myself being in five years?"
These questions are the ones you really need to be thinking about if you want to steer your life in the right direction.
What I know is you need to find the path that excites you, makes you feel good and contented.
How do you know you're headed in the right direction? Share in the comments.
If you do not change direction, you may end up where you are heading. Lao Tzu
Score Your Way To Good Health - With Our Healthy Lifestyle Plan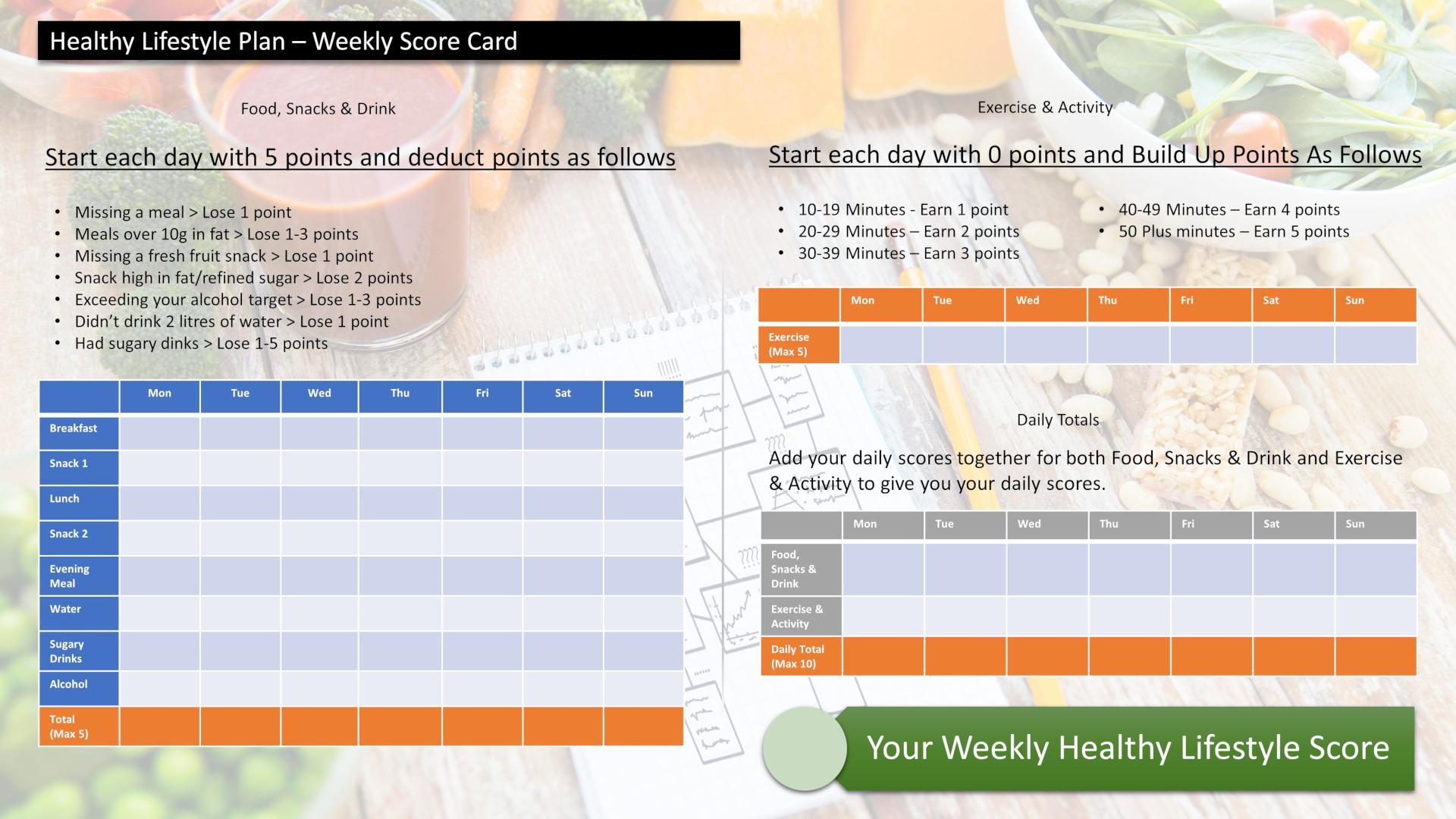 Score your way to good health with our healthy lifestyle plan and it's unique 70 point weekly scorecard!