I'm a Personal Development Coach with a driving passion to coach as many people as I can to improve their lives. Life Coaching is the best way I know to inspire people to grow and develop and this blog has provided me the greatest possible platform to do this.
It frustrates me how many people have their life's on hold waiting to win the lottery, or wishing they could find a magic genie to bring all their dreams to fruition. If that describes you, well let me tell you, it's time you began to make the changes you need in your own life.
In this series I am going to put forward some life principles that if you implemented them they really change your life for the better. By applying these powerful principles into your life you will change your life for the better and create results at the moment you wouldn't even dare dream about.
Accepting responsibility for your actions and your life is one of the most important aspects of personal development.
Are you taking 100% responsibility for your life?
In the long run, we shape our lives, and we shape ourselves. The process never ends until we die. And the choices we make are ultimately our own responsibility. Eleanor Roosevelt
There is only one person responsible for the quality of the life you live…You! So you must take personal responsibility for yourself.
If you want to be successful, you have to take 100% responsibility for everything that you experience in your life. This includes the level of your achievements, the results you produce, the quality of your relationships, the state of your health and physical fitness, your income, your debts, your feelings—everything!
Too often we have programmed ourselves to blame something outside of ourselves for the parts of our life we don't like. Everyone has excuses for everything. It's always someone, or something else's fault. People blame the economy, their boss, their spouse, basically anything they can.
We never want to look at where the real problem is—ourselves.
Because you have freedom of choice and because you have chosen each and every circumstance of your life, you are completely responsible for all of your success and failure, your happiness and unhappiness, your present and future.
It is time to stop looking outside yourself for the answers to why you haven't created the life and results you want, for it is you who creates the quality of the life you lead and the results you produce. You—no one else!
To achieve major success in life—to achieve those things that are most important to you—you must assume 100% responsibility for your life. Nothing less will do.
Do you blame others when things go wrong?
That means you don't take 100% responsibility for your life. Taking 100% responsibility means you acknowledge that you create everything that happens to you. It means you understand that you are the cause of all of your experience. If you want to be really successful, and I know you do, then you will have to give up blaming and complaining and take total responsibility for your life—that means all your results, both your successes and your failures. Only when you acknowledge that you have created everything up until now can you then take charge of creating the future you want.
If you want to create the life of your dreams, then you are going to have to take 100% responsibility for your life as well. That means giving up all your excuses, all the reasons why you can't and why you haven't up until now, and all your blaming of outside circumstances. You have to give them all up forever.
You have the power to make your life different, to get it right, to produce the desired result. The past is the past. All that matters now is that from this point forward you choose to take 100% responsible for everything that does or doesn't happen to you.
The basic idea is that every outcome you experience in life is the result of how you have responded to the events in your life.
Instead of blaming the events for your lack of results, instead you can simply change your responses to the events until you get the outcomes you want. You can change your thinking, change your communication, change the pictures you hold in your head and you can change your behavior—the things you do. That is all you really have any control over anyway. Unfortunately, most of us are so run by our habits that we never change our behavior.
You have to take control of your thoughts, your images, your dreams and your behaviour. Everything you think, say, and do needs to become deliberate and aligned with your purpose, your values, and your goals and needs to be positive.
You have total control over three crucial things in your life—the thoughts you think, the images you visualise, and the behaviours you adopt. How you use these determines everything that happens in your life. So if you aren't getting the results you want, change what takes place in your head. Change your negative thoughts to positive ones. Change what you dream about. Change the actions you take. Change what you read. Change how you talk.
We all experience our own unique challenges that happen out of our control, but taking responsibility means that we don't dwell on the problem, ignore it, complain about it, or blame someone or something else for what we're experiencing. Instead, it means that we take control of our thoughts and our actions and do whatever we can to improve the situation.
Sure, life's challenges come hard and fast, from all different directions, but there is always something that we can do differently to change what we are currently undergoing. And we must first believe this before, we will find any solutions.
You are creating your life the way it is. Your life right now is the result of all of your past thoughts and actions. You are in charge of your current thoughts, of what you say and what you do and yes you are in charge of all your outcomes. So now take responsibility and make the right choices.
Start empowering yourself today. Stop making those excuses. You are the only one they hurt. Your life can change right now, if you choose that's what you want to do. Start to develop your quality of life right now in the right way. Take 100% responsibility for your life and take control.
Score Your Way To Good Health - With Our Healthy Lifestyle Plan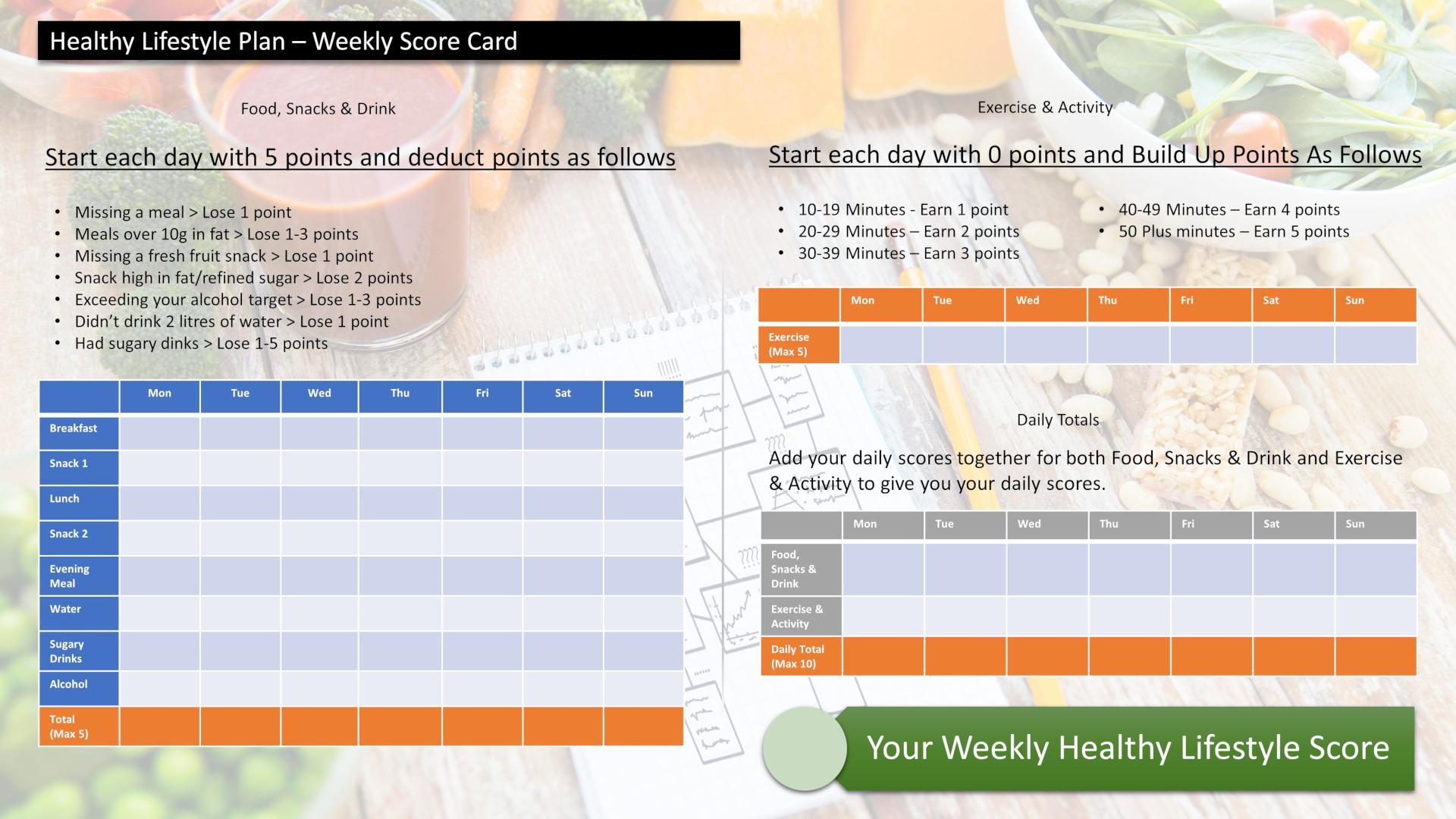 Score your way to good health with our healthy lifestyle plan and it's unique 70 point weekly scorecard!