One of the things we should all be doing everyday is trying to make our life better and those of others, and that is why I am soon launching a way to provide free life coaching.
I know the most important thing any human being can do for themselves is invest in themselves. As a life coach I simply love seeing the transformation that can be brought about in somebodies life as well as the improvements that can be created in the results they produce.
Yet for a long time now I have been troubled by the thought that many people at their most desperate times, when they most need life coaching, well they simply can't afford it because free life coaching doesn't seem to be something coaches want to offer.
I read something on a prominent life coaches page, that said "My coaching program is NOT for those who have no money coming in and are absolutely, financially desperate. I've found that people in a financial crisis don't trust the recommendations I give them and don't do the work I assign. That's probably because they spend so much time worrying about how they are going to pay next month's electric bill…"
I've never been so ashamed or disgusted by this profession I love. We become coaches because we want to make a difference, yet we turn people away who are desperate for our help because they can't afford to pay for our services. I enjoy providing coaching and of course enjoy the benefits of being paid for doing it.
But and this is a big but, coaches surely are attracted to our profession by the contribution we can make to help others turn their lives around. We make a lot of money working with particularly business executives looking to bring about improvements in their business and often their life, particularly with regards to creating a balanced lifestyle. Yet there are so many people out their struggling to overcome huge obstacles, beset by all types of disasters, surely we have the ability to help them, and it's not always about money. They certainly are the ones who would benefit most from free life coaching.
It was like when my darkest times hit and I lost everything. Before when I didn't need it banks were offering me overdrafts and new credit cards constantly raising my limits but once I had nothing they didn't want to know.
I feel the same problem exists with life coaching. Don't get me wrong I love coaching people, helping them break through their barriers, helping them to go inside of themselves and finding their answers. I know I'm worth every penny I charge, but I do have a concern about those that can't possibly afford to pay my rates.
So for a long time now I have been troubled by the thought that many people at their most desperate times, when they most need life coaching simply can't afford it. It's the age old problem of how do we get help when we have no money. When your world has collapsed and you have fallen down and picking yourself back up again is easier said than done, this is the time they're most in need of help.
What do you do when disappointment comes? When it weighs on you like a rock, you can either let it press you down until you become discouraged, even devastated, or you can use it as a stepping-stone to better things. But you need someone pointing the way. That is what I see we life coaches should be offering.
My life has totally changed around from my darkest days. I have rebuilt my life and everything has turned around. I have learnt so much since then and love helping others to move forward in their life. That was the final piece of my jigsaw that led to me qualifying as a life coach.
That's why I'm so excited that from August 15th, 2014 I will be fully launching my Reinvention University that offers not just a course but free life coaching. Everyone is guaranteed the attention and time of a life coach working with them, and our guarantee is they pay nothing to us. Simply follow the course and get the back up support they need.
This is the culmination of my dream, where I can take those things I learnt from what had happened to me, which if they hadn't occurred then I doubt whether I would have taken this path in life and therefore wouldn't have the awesome online business that I have or the coaching practice that I have built.
So I found my way to provide free life coaching and know I can make the difference to far more people doing it this way.
Score Your Way To Good Health - With Our Healthy Lifestyle Plan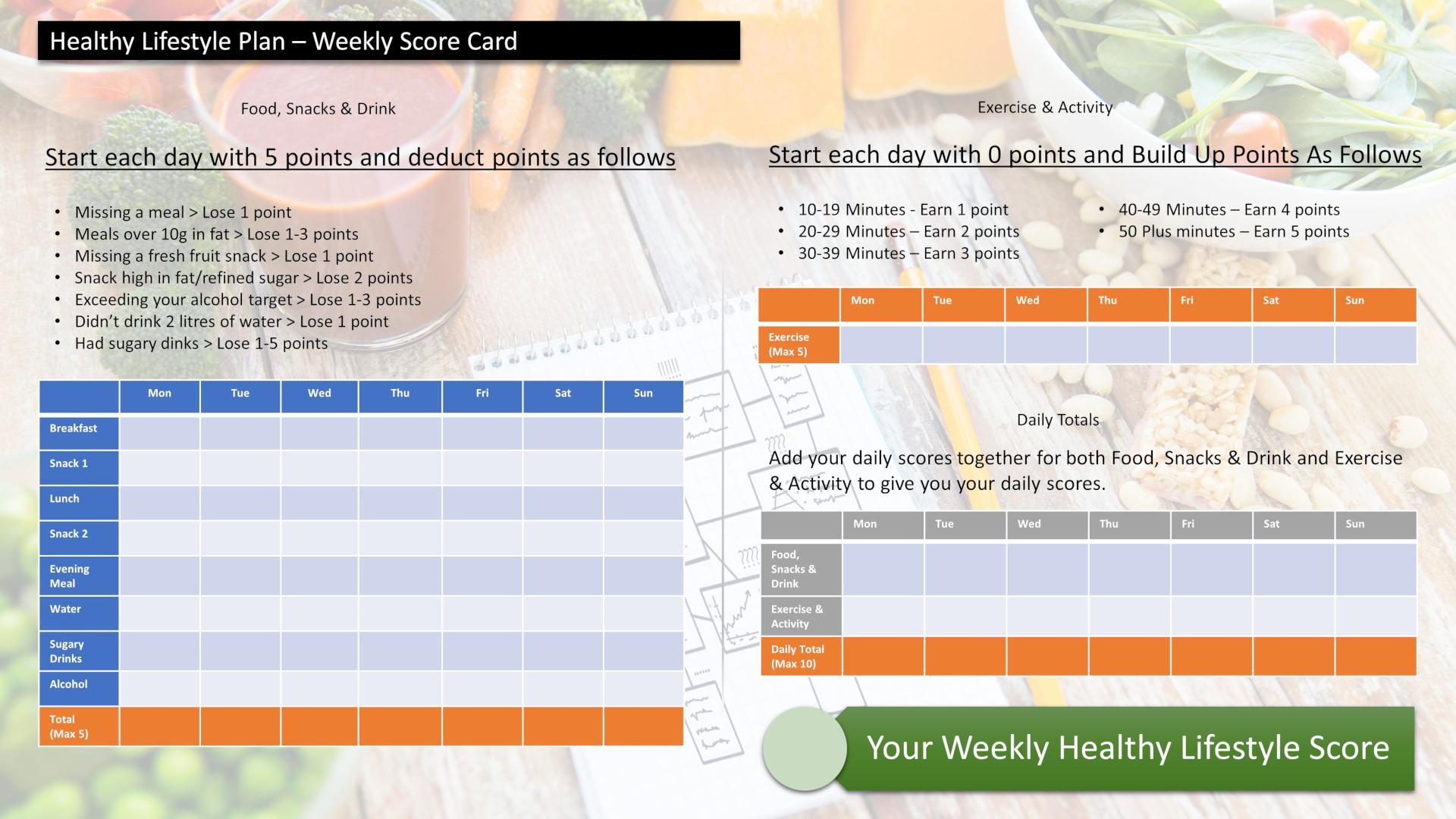 Score your way to good health with our healthy lifestyle plan and it's unique 70 point weekly scorecard!