One of my favourite jobs is working with the over 50's.
Although society tends to classify our 'best' years as our twenties to early forties I would argue that our 50's is as good as it gets, when we are in our prime having learnt so much on our journey.
All our experiences, and acquired knowledge give us a wonderful opportunity to create the life we've always wanted.
Now we're older we're ideally placed to reap the benefits of experience at the same time as having the increased freedom to make new choices based on what we want for the rest of our lives, rather than what we ought to do or be.
At this age, happiness and fulfilment for the rest of our lives comes from identifying and realising our dreams, using our skills and talents to the full, giving generously (not only in monetary terms), and living life to maximum capacity.
The over 50s are a hugely resourceful, creative, innovative and energetic generation.
One in five (19%) 50-plus workers are seriously contemplating a career change to fulfil a lifetime career ambition. With careful planning, living the dream IS a possibility that more and more over 50's are realising.
More than a quarter (26%) want more job satisfaction in their next career move.
In my opinion I believe that the over 50's can really succeed in whatever career choices they want to make.
My coaching experience shows me that those 50 plus clients I have worked with don't know what to do with their life, but through the process of coaching are able to know exactly what they want.
I admit that you have to be brave so as to find the confidence, motivation and insight to make profound changes in your life particularly a change of career direction. But it's never to late to make life changes. And the benefits can be so fantastic.
You know from my perspective I used to enjoy my job as a marketing consultant. I met with some really nice people. I really enjoyed working within the fitness industry, and I was never happier than when weaving my magic.
But it came at a cost. I was away from home more than I was there. I missed out a lot on seeing my kids growing up, and the time I spent away drove a huge wedge between my wife and I. Driving 100's of miles every week certainly took its toll. By the time I got home I was to exhausted to do much at all.
Eventually it got to the point where I hated Monday mornings. The money was great but it wasn't worth the downside.
My health eventually gave me no alternative but to change direction. If it hadn't would I have been brave enough to make the change I wanted on my own, I doubt it.
Looking back I so wished I had a life coach. To guide me and ask me questions to get me thinking.
The Chinese have a proverb which illustrates the value of experience: "If you want to know the road ahead, ask someone who has travelled it."
"Coaching is an on-going partnership that helps clients produce fulfilling results in their personal and professional lives. Through the process of coaching, clients deepen their learning, improve their performance, and enhance their quality of life. Beginning with the clients' desires, coaching uses reporting, exploring, and a consistent commitment to move the client forward. Coaching accelerates the clients' progress by providing greater focus and awareness of choice. Coaching concentrates on where clients are today and what they are willing to do to get where they want to be tomorrow." – International Coach Federation, ICF
Nobody is too old to find their dream job and start a new career. But tasking the step is a massive choice. Being guided through the process is a no brainer.
One-to-one coaching, with its emphasis on individual development, unlocking your unique potential, and overcoming real and perceived obstacles, can be a highly effective tool for developing and sustaining personal and professional development. Regardless of your age, personality, situation or perceived problems it can help you achieve real and sustained change. As a 50 plus it can get you to go inside and be honest with yourself. And once you have it allows you to be honest about the life you're living, and how it differs to the one you want.
My philosophy for achieving success for my clients is simple – if you believe you deserve more I can help you get it. I'd love to help you make sure your old age, yea right, is best spent doing what you want.
Your new life is just a phone call away.
Please contact me today!
Email me for your introductory consultation session.
Get started on a new life—the new you!
Score Your Way To Good Health - With Our Healthy Lifestyle Plan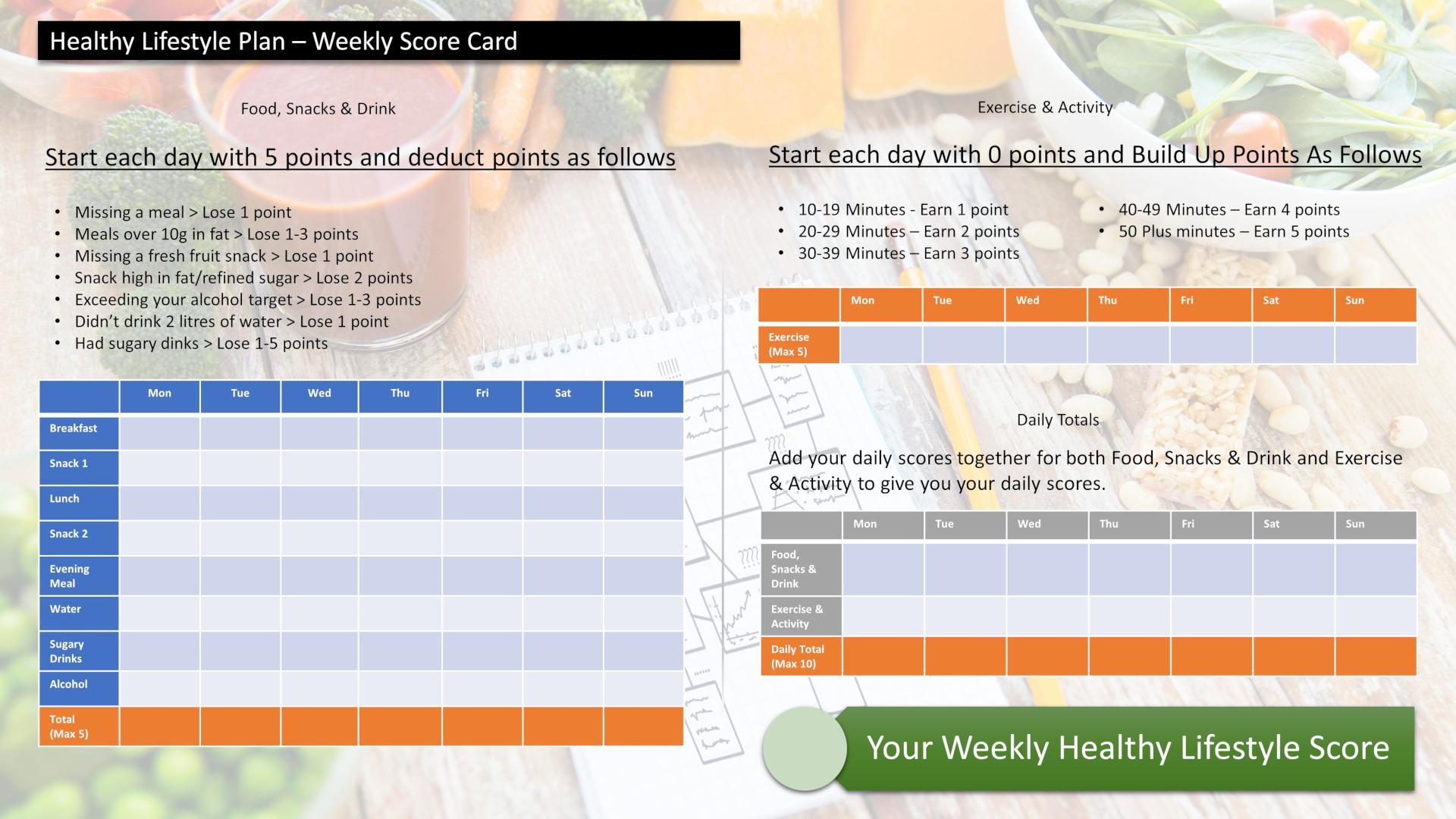 Score your way to good health with our healthy lifestyle plan and it's unique 70 point weekly scorecard!