Do you find yourself questioning what you're doing with your life? There will always be times where we question the path we are taking. When things get so difficult we consider giving up being the easiest option. It may happen when you're 21 or when you're 60, and it's a difficult process to work through. It's not hopeless, though!
"Every great dream begins with a dreamer. Always remember, you have within you the strength, the patience, and the passion to reach for the stars to change the world." Harriet Tubman
Every aspiring author has to at some time get started on writing a book, but even more importantly they have to get it finished. I am on this second stage having invested enormous amounts of time, focus and love into my writing so far.
Recent events have highlighted to me the fact that my clock is ticking down. I probably have less years ahead of me than lie behind me. Yet I don't see this in a negative way, it is just a reminder that life's short and it is imperative that we each make the most of the time we have remaining. We have to make choices about what we want to do. Once we do let nothing stop us working towards it.
I want to be happy enjoying life, but I also want to be satisfied by the contribution I make. I believe that everybody needs to strive to do something significant with their life. I also believe we can each do this by sharing our message with the world. For some time now I have built my online presence, creating a blog with the purpose of motivating and inspiring others. To me writing books is the next step, and in truth the long term dream. I now need to step up my effort as the clock is most definitely ticking.
It scared me that my vision loss might possibly affect my good eye or make my damaged eye even worse. Even if my doctor assured me that this could not or would not occur, I knew I could not remove my deep-seated fear of being totally blind.
I received the diagnosis I dreaded, my right eye would never regain its vision and now I'm partially blind, although I'm not able to get a certificate because the other eye is ok, well with a contact lens in it, even though when I am wearing the lens then reading becomes impossible. The idea of losing all my sight is an unthinkable horror not to be considered for even one moment. The idea is too horrifying. As a blogger, author and coach, without vision my dreams of being a best-selling author would simply die.
I'm certainly not going to see fears that aren't really there. Please excuse the pun. I have to accept that my 'ageing' body is fallible and I can't afford to waste a single second, especially not on feeling sorry for myself. I also know there are now many advancements in technology that enable me to keep going.
Struggling to read is merely a challenge, and makes the editing of my book a tad more complicated than it should be, but not impossible. I admit there have been a few moments where I've considered giving up writing. Not being able to read the computer screen, struggling to see the letters on my keyboard all make my work so much harder. But all things worth having are worth fighting for. More importantly I know what I want out of life so I'll allow nothing to make me stop.
Even though the last few months have found me stuck and not knowing what to do next. I have agonised over whether to continue my journey as a blogger and author. Having spent so much of my life working towards what I see as my most important goals I refused to allow my vision to deter me. Again I know what I want, and this gives me the strength to carry on. There's the magic we all must find, the total conviction and belief to follow a path that leads to the one things we most want in life. You just have to determine what that is for you.
Alas far too many people live their lives having no clue what they want. This uncertainty will remain until you begin digging under the fog of your mind and simply ask 'what do I want to do with my life?'
If you don't know with absolute clarity what this is for you, find some quiet time, relax and really allow your mind to find the answer, simply ask the question, which again is 'what do I want to do with my life?' and allow your inner voice to go searching for the answer.
Now share with the world your answer and commit to it.
Score Your Way To Good Health - With Our Healthy Lifestyle Plan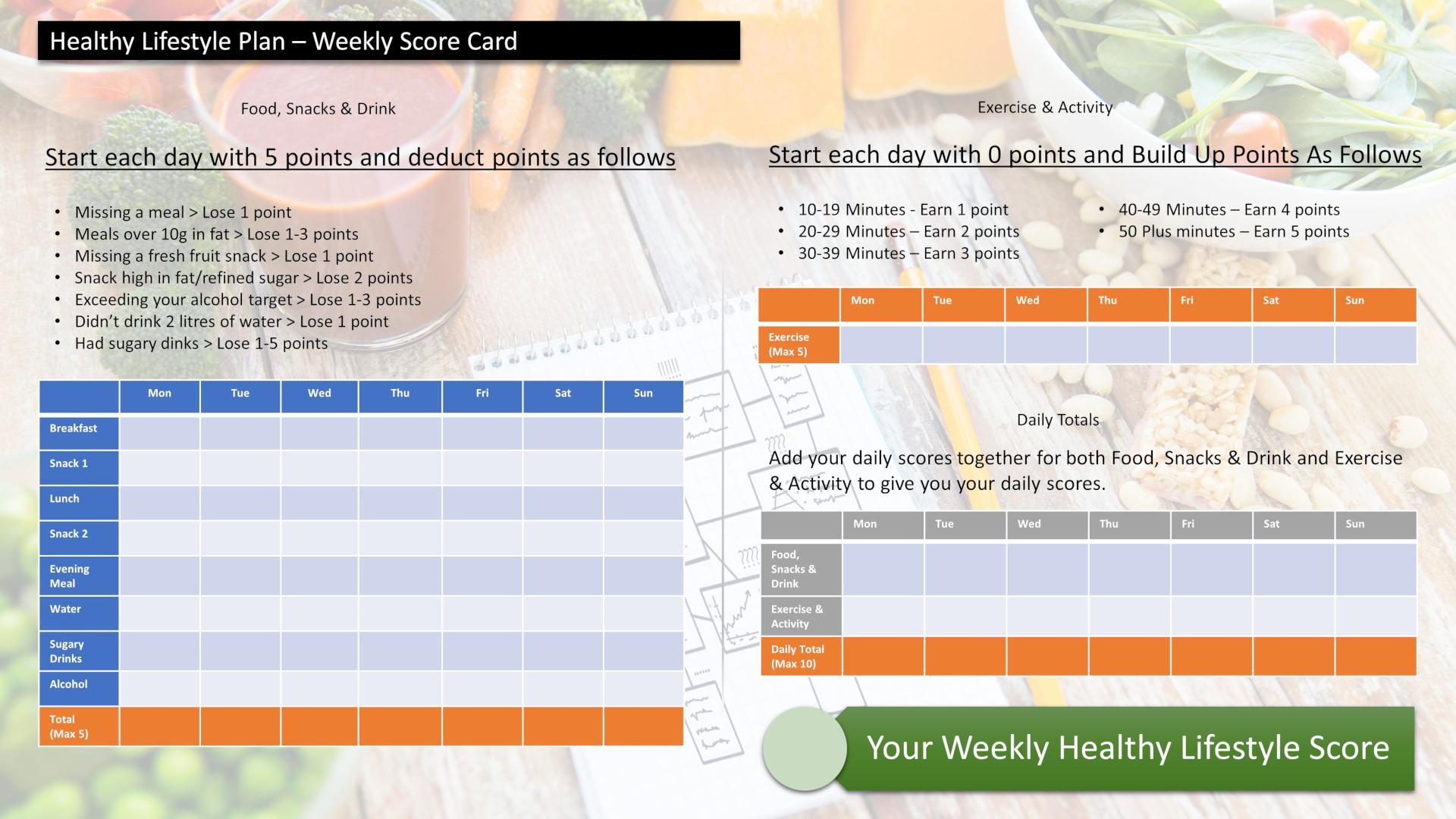 Score your way to good health with our healthy lifestyle plan and it's unique 70 point weekly scorecard!