I was watching the BBC Sports Personality of the Year Award Show last night and saw Bob Champion receiving a top prestigious award. He won the Helen Rollason Trophy for outstanding achievement in the face of adversity.
He is an Aintree legend, and a man that has done so much to raise Cancer awareness. It is many, many years since he rode to victory in the Grand National on Aldaniti after a long, distressing battle against cancer. But it only really feels like yesterday watching the story unfold on the television. It is still one of the most emotional triumphs I've witnessed in sporting history.
Here was a man that one minute was fighting the onslaught of cancer, and the next was climbing back on a horse, racing in one of the toughest and most competitive arenas, and winning it.
What a transformation. Surely knowing that this one man could achieve this, can give anyone hope in their life no matter what obstacles they are fighting against.
After his brilliant victory he said:
'My one wish was that my winning showed there is always hope and all battles can be won,' he added.
Champion started in racing as an amateur, but by 1979 he was riding high in third place in the jockeys' championship.
Then came the discovery that everyone dreads. He was diagnosed with testicular cancer at the age of 31 and given eight months to live unless he underwent revolutionary new chemotherapy treatment under the supervision of Dr Jane Merrow at the Royal Marsden Hospital, Sutton, Surrey. By this time he had won upwards of 350 races since the age of 19 and had never felt fitter, making the diagnosis even harder to accept. Reluctantly he underwent surgery to remove one of his testicles as well as part of a rib to allow access to the centre of his chest where the cancer had spread to his lymph nodes.
In the dark weeks while he received regular chemotherapy, he lost two stone in weight, shed all his hair and was constantly sick from the toxic effects of the drug that ultimately saved his life.
Throughout, he insisted to friends, family and visitors that he would definitely ride again and would win the National on his favourite horse Aldaniti, who was trained by his boss Josh Gifford.
'It started as a dream and became an obsession,' said Champion.
'The way I felt, if I couldn't ride again, I didn't want to live. I don't think many people believed me when I said I'd win the National on Aldaniti, but I never doubted it, not even when I briefly lost the feeling in my hands and feet as a result of the chemotherapy.'
After his triumphant ride, watched by an estimated 750 million people worldwide, he said:
"I rode this race for all the patients in the hospital. And for all the people who look after them. My only wish is that my winning shows them that there is always hope and that all battles can be won. I just hope it will encourage others to face their illness with fresh spirit."
From the moment he retired from riding in 1982, just over a year after his famous National triumph, Champion has worked tirelessly to raise funds for the trust that bears his name.
Champion's incredible story of courage and endurance has been an inspiration to many. May he be an inspiration to you.
Score Your Way To Good Health - With Our Healthy Lifestyle Plan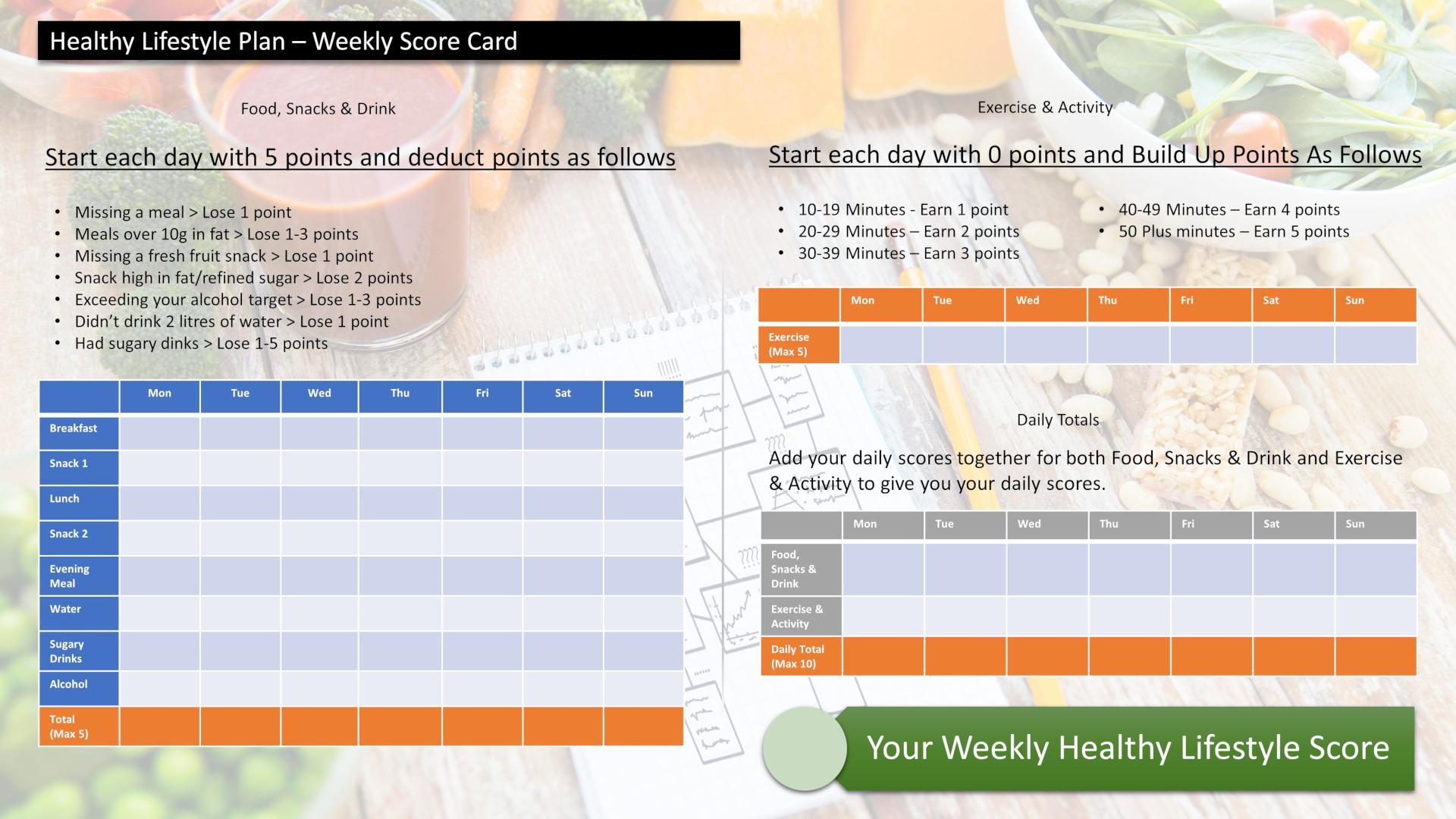 Score your way to good health with our healthy lifestyle plan and it's unique 70 point weekly scorecard!