One of the most important human traits leading to success and happiness is having a positive self image. The real judge of our success over the whole of our life's journey is how much we still value ourselves if we lose everything, our home, possessions, money, marriage, if we were stripped bear, down to having just the clothes we wear, knowing we have to change a lot about ourselves, starting over again, but at no time losing faith in ourselves or falling out of love with who we are. Know I say that from the heart, because I refer to what happened to me. Yet I am where I am because I have always loved who I am, never giving up on myself.
So please love yourself inside and out because to change your life, you must change how you feel and pump yourself up becoming your number one fan having an awesome self image. A man or woman in love is both complete and an unstoppable force. So love yourself into action. Nothing should ever make you fail to see worth in who you are, or neglect to value yourself.
Let me assure you that the most important relationship you'll ever have is with yourself.
"You, yourself, as much as anyone in the entire universe, deserve your love and affection." Buddha
You have to believe you are worthy of your own love, and build an empowering relationship where you truly become your own best friend. Even immediately after that disastrous time of my life, referred frequently by me as being 'my darkest period,' I never truly lost faith in myself. I may well have lost my way, coasted through my days, losing myself in just battling trying to save a dying business, but at no time did I lose faith in myself. I actually believe I gave myself an enforced rest, just giving myself a chance to find the way destined for me, that I had struggled to see. And certainly once I came through my life found itself go in the direction where my life was simply transformed. All the way through I carried my love for myself and never gave up on myself. My self image was my biggest weapon.
That's today's message. Be there for yourself no matter where you may be in life right now. Never give up hope and back yourself to come through.
What I want you to do is take a good, long look at the person there in that mirror. Who are you really? Look deep into your eyes, dig deeper into your soul and find the amazing things about that person looking back at you. To be the best you can be you must look for the best in yourself. Your success and happiness is very much dependent on the way you think and feel about yourself and your ability and worth to deal with ups and downs.
It continues to amaze me how many people I work with spend most of their time longing to find a soul mate to feel them complete. In truth every one of them should focus on being their own number one fan, their best friend, instead of expecting someone else to fulfil that role. Life transforms once you hold yourself in a high esteem, and it's when you do that everything you want to attract into your life will come your way. A high self image will be transformational.
This week I am coaching my group of the importance of loving yourself and demonstrating that you have to value everything about you in order to move your life forward. I stress to them the importance of the power of the mind and the importance of investing in themselves. Soon I will be showing them how to manage time, use personal planning and self- management to build on what they've learnt about setting goals and focusing on their strengths. But nothing can transform their life more than having a high self-esteem.
Your most valuable asset is you, your mind. Your brain is more powerful than any computer that humankind will ever create. Many people fail to find happiness and success because they pollute their mind with negativity and a lack of confidence about themselves. Those who do achieve these objectives are continually learning, changing and developing, being trained and coached, seeking out new ideas and building their self-esteem throughout. The fact that you are reading this blog shows that you are one of these people who have the desire to progress. But it's imperative you discover that person within you that you can fall in love with.
Let me ask you a question: how do you see yourself ? Or, to put it another way, what is your self image? Take a little bit of time to really think this. And don't confuse this question, I'm not asking how do other people see you, or how others feel about you, it's what you see and feel.
Your self-image is the key to your success. You will perform exactly as you see yourself, so your opinion of yourself is extremely important if you are aiming for success. We have all heard the expression 'Some people are their own worst enemy.' It is true; they really are.
Understand that your self image is essential to your success and happiness.
Essential to your self image is what you think and what you say about yourself.
Be careful from now on what you're putting in your mind. Remember you've undoubtedly conditioned yourself to thinking negatively. You now need to change this! Let me give you some hints.
1. No more excuses
2. Have pride in yourself
3. Take care of your appearance
4. Take note of all the negative messages going through your mind
5. Believe in yourself and your outcome
6. Talk and think positively
7. Don't be afraid of failure or mistakes
8. Do what you love
Manage your thoughts, your emotions, your joys, your anger and your temper, because every one of us is capable of building an empowering self image.
Now love yourself and make life magical. As Oscar Wilde said 'To love oneself is the beginning of a lifelong romance.'
Score Your Way To Good Health - With Our Healthy Lifestyle Plan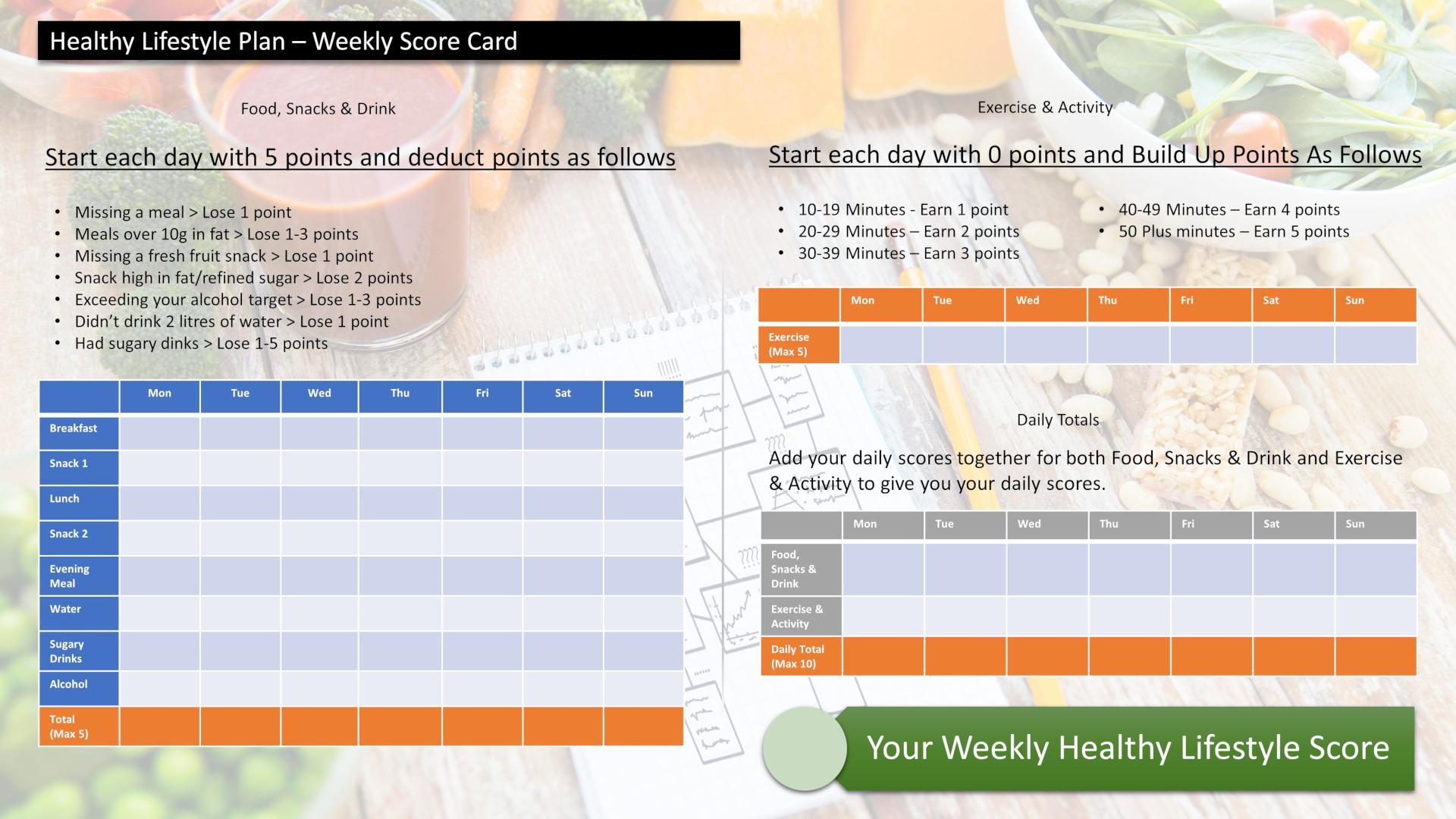 Score your way to good health with our healthy lifestyle plan and it's unique 70 point weekly scorecard!