One of the most important things we need to learn is how to overcome frustration.
"Being defeated is often temporary, giving up makes it permanent" Marilyn von Savant
Some mornings, you find it so hard to get yourself going, in fact you don't want to get out of bed at all. Your goals and assignments don't fire you with enthusiasm. The only thing you feel day by day is exhaustion. It seems like you do nothing but work, putting in hour after hour, burning the midnight oil more often than not, and yet you still have a long way to go, in fact part of you says you'll never get to where you want to go.
You're not making progress, you're coming up against obstacles, those around you are losing faith, those close to you can't stick with anything. But you're forcing yourself onwards with gritted teeth. You won't give up. You're not a quitter. You know some where ahead success awaits. :You first need to discover how to overcome frustration and then take massive action to make things happen for you.
This assesses perfectly the state one of my good blogging friends has got himself into. It wouldn't be an understatement to say he is feeling down. He can't see his way through to the winning line as he describes it. He has no idea how to overcome frustration, it just seems part of life.
He feels like no matter how much time and effort he puts in to things he seems to get no closer to his goal.
It's not just my friend whose effected big style by 'frustration'. I hear it time and time again from new clients who are sick and tired of banging their head against a brick wall, achieving nothing more than frustration and anxiety.
Being an online entrepreneur, I talk all the time to people frustrated by their inability to make money online. It's not from a lack of effort. They spend long hours at their keyboard and monitor. It's not a lack of knowledge. They are reading, learning absorbing all sorts of advice from others on how to build an online business. But they still can't get things rolling.
Whatever it is that you are after in life, wherever your goals lie, you have to choose the pathway to self-improvement. Only then will you be able to build within you the tools, maybe just the power to manage your frustrations and tensions, as well as your fears. Let's face it we all battle against our fear of failure. Look how many of you haven't stepped forward towards what it is you really want because of it.
Maybe at the very core of Personal development is the ability to manage our frustration. Only once we do can we hope to move forward, and experience both personal growth and success. I assure you once you master your personal growth you will master your frustrations. Stress will be a thing of the past, and success will be the place you are at.
Maybe we should all just stop chasing goals. Follow the example of Daniel Suelo. Here is a guy who lives in a cave outside Moab, Utah. He has no mortgage, no car payment, no debt of any kind. He also has no home, no car, no television, and absolutely no "creature comforts."
Now this weekend I was watching a film called '2012'. The world as we knew it ended, and the survivors were left on 3 modern day Noah Arks. No doubts they'd soon be living of the land.
Now for some of you this may sound like bliss. Getting out of the rat race. No more pressure. And if this is your dream, then go for it. Why wait any longer? We really can make our dreams come true.
For the rest of you, those goal orientated, success starved people, raise up your mood, pick yourself up and fight through all those hardships, adversities and hurdles that will confront you.
Just make sure you know what you want.
It doesn't matter what you want to achieve – perhaps your goal is to find a new job, change careers, find the perfect partner, travel the world, build a fantastic business – the same principles apply to it all. You have to know exactly what you want.
You have to get absolutely clear on what you want to achieve. I mean absolutely crystal clear.
More on how to get clear tomorrow. This post is part of a series I'm writing to give you the insight on how to remove the frustrations in your life and turn things into the successes you've long dreamed of.
How clear are you on what it is you're trying to do, on the goal you're chasing? Drop me a comment.
p.s. Life Coaching can help you make the right choices to improve your life. Life coaching will teach you highly effective ways to learn and implement a balanced healthy lifestyle . If you want life changing coaching email me for further details. I only deal with a few clients each month, and those I choose have to be truly ready to take action. If that's you, contact me today.
Download How-to-overcome-Frustration MP3
Score Your Way To Good Health - With Our Healthy Lifestyle Plan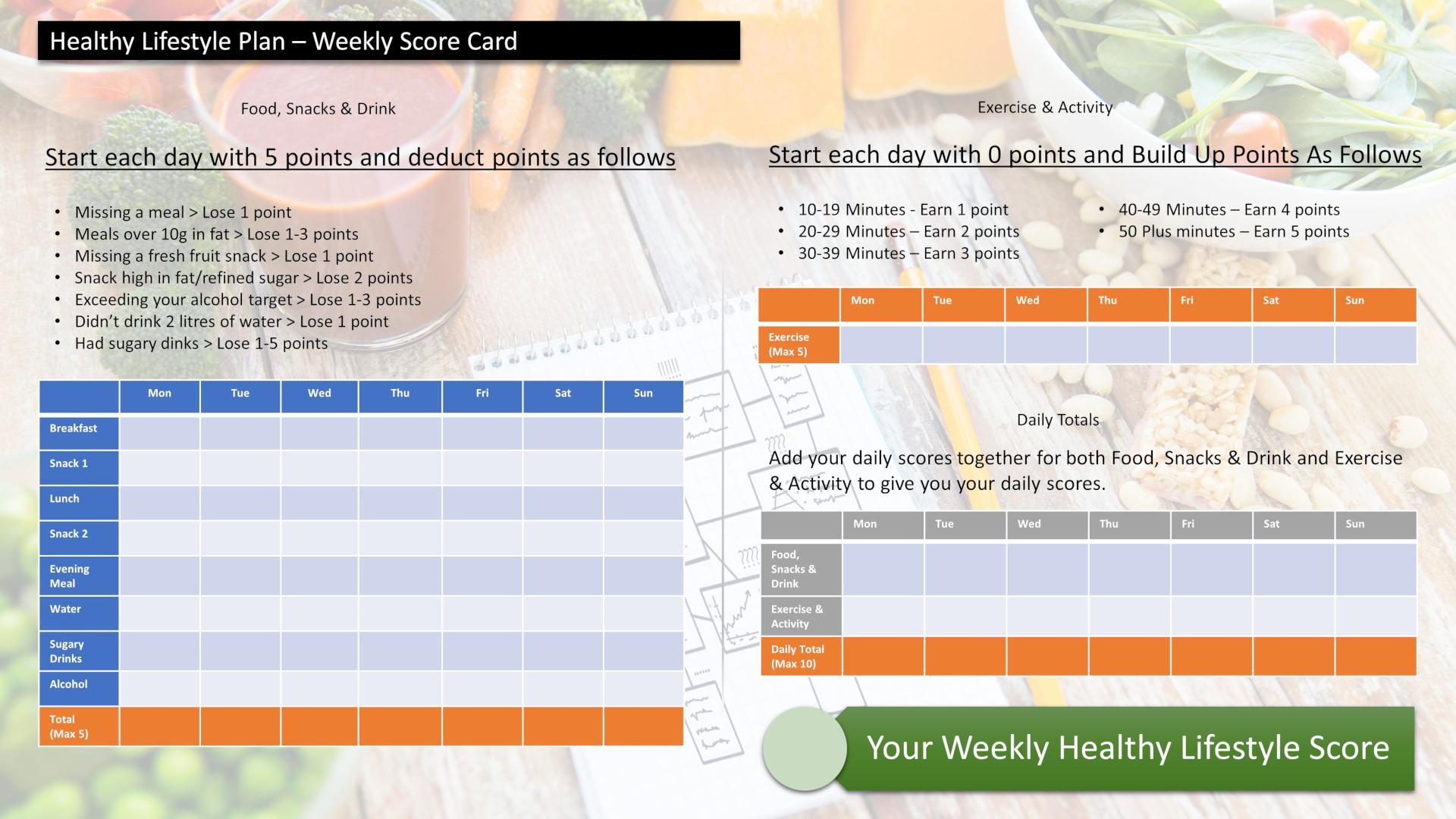 Score your way to good health with our healthy lifestyle plan and it's unique 70 point weekly scorecard!