On November 25th I underwent my third eye operation in five years. For the next 6 weeks I had to go through a period of convalescence which entailed me having to lie on my side 'posturing' for 50 minutes an hour. The first few weeks I stayed at my sister and for the rest I lived on my own. Time past so slowly while having to stay in bed and the merest activity just exhausted me. My frustrations mounted, as the loneliness and inactivity began to eat away at me and my inability to work was troubling me.
Every attempt I made to get back to blogging or interacting with my friends online was thwarted by the fact that within 10 minutes of using my eyes my vision would blur out and I had to close them again and recover.
The question that was constantly echoing in my mind was how could I continue as a blogger and author when now so limited by my vision. The words you won't give up' were the answer that kept popping in to my head.
This blog has been inspired by a conversation I had with a client who has given me permission to reference her story. Fourteen months ago she found herself so down that she made the decision to give up. Her life had hit a big low. Her 10 year marriage had come to an end. This relationship that she had given her all too, that she believed would last forever, having given up on her career so she could be the type of wife her partner required, left her in her mind with nothing.
Unloved, unwanted and unemployed, now in her 50's with no future. Most evenings sitting at home alone she would try to lose herself and take away the pain by drinking bottles of wine. Her anxieties were worsened by finding that she was left carrying the responsibility of a huge amount of debt. It all got too much for her. One night having drank 3 bottles of wine she then drank whatever other alcohol she could find in her house.
The next thing she can remember was driving up to a car park overlooking the ocean. She stepped out the car and walked down the short path to the beach. A friend of mine she said had done the same, stripped naked, folding his clothes up neatly and placed them on the edge of the sand and was never seen again. I was going to keep mine on, swim out and keep going till exhaustion took over and then the clothes I was wearing would weight me down and hopefully help me end this quickly.
Having reached the water edge ready to take her first step in to the water she was suddenly captivated by a sudden eruption of light. The water in front of her just seemed to omit a carousel of colours of such beauty running all along the edge and she was totally transfixed. She began to search in her mind to understand what was creating this. Everywhere else it was pitch black but in front of her was this most amazing light show. For 30 minutes she simply stood there. The thoughts of her life or her suicide gone and just amazement and disbelief of what she was looking at filled her head. Then the words came to her, that if this world can be filled with such beauty, and I have been blessed with it at this moment in my life then I can fight back. I can build new dreams so who am I to give up and allow myself to end that which is not finished.
Fourteen months later her life has been rebuilt and her future looks exciting.
Lying in my bed struggling with my lack of vision and inability to do very much at all I felt myself sinking. Could I go through changing careers again or dealing with the limitations my lack of vision would create? Did I have the energy or am I now spent with no fight left in me. 50 and alone, dealing with trying to look after myself unable to do the things I love like reading, writing and blogging – what was left for me to do?
I remember vividly sitting up in bed and saying to myself, you're better than this, you're a dam life coach, a personal development motivator, not this pathetic sad victim, so stop and stop now. You will not let your passions die and you will write your books. Don't any longer allow yourself to just lie here and decline, find a way to work on your dreams.
I thought about my personal goals. I grabbed my phone and in a burred haze found my voice recorder app. I then began to create for myself the thing that I used to use to drive my previous successes which was a system to achieve goals. This was my fight back and within 24 hours I was motivated and excited by my future once again having my answers and knowing what I need to do.
This was the moment two things were set in motion. The first was I would bring my goal achievement process to the attention of others called the single page plan to the world and secondly I would research what support there was for partially blind people. Both of these subjects I will write much more about over the next few months.
The lady at the beach water side and I lying desperate in my bed have something in common. We were both at the end of our tether. We gave ourselves a simple choice to fight back or give up. I have no doubts neither of us will ever regret our decisions to fight back.
Remember your past doesn't make your future and your future isn't yet written, so allow your dreams to direct you no matter how bad life may seem right now .
My vision is limiting me, at times it is incredibly frustrating, but excuse the pun my sanity and happiness are very much connected to not losing sight of my goals. This article was recorded by audio and then converted by software to text. I may struggle to read and write but like with everything we can always find solutions, we just have to look. Even those of us struggling with our vision can look and find answers as long as were willing to fightback and not give up.
Score Your Way To Good Health - With Our Healthy Lifestyle Plan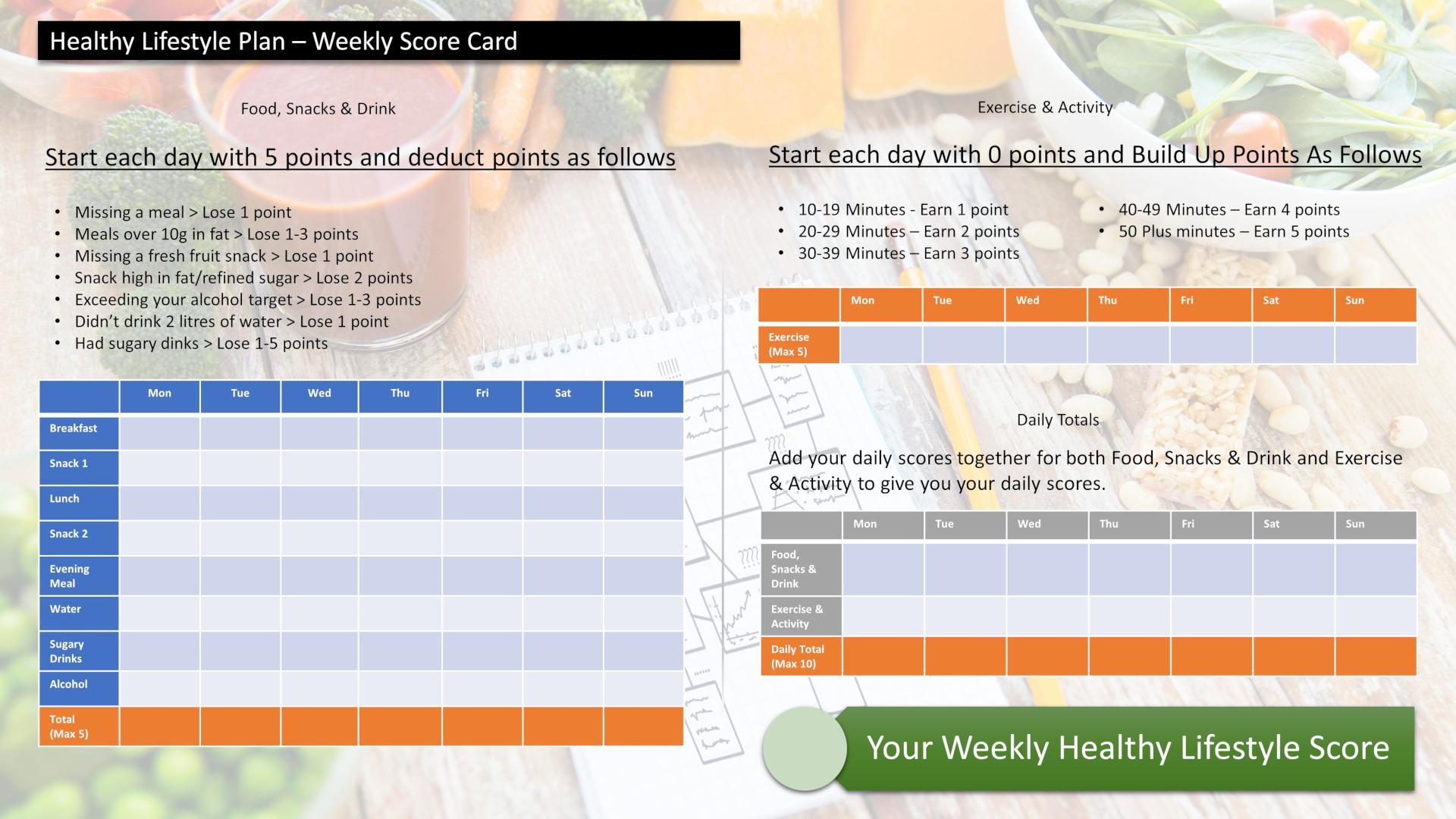 Score your way to good health with our healthy lifestyle plan and it's unique 70 point weekly scorecard!