Life is precious to each of us. Life can be fun, and it can be fulfilling. But sometimes life can be like a roller coaster ride and leave you feeling overwhelmed by life's challenges.
A dear friend has clearly shown me today how stressed and overwhelmed with life he is right now.
He is doing his best to cope the best he can with the situation he finds himself in.
Feeling sad and depressed is I believe for now a very natural and normal feeling for him and for too long he has battled with frustration and years of torment.
It is time for him to reclaim his life and bury all those doubts and feelings of guilt he carries within him.
Currently he explained to me that there are times when he feels completely overwhelmed. He seems to have no control over anything and everything seems to be crashing down on him. Life just seems so hard, and unfair.
He is wrestling with issues of shame and guilt. Guilt in fact is plaguing his life.
Guilt is an emotional warning sign. Its purpose is to let us know when we've done something wrong, it's designed to help us develop a better sense of our behaviour and show us how what we have done affects ourselves and others. It makes us re-examine our behaviour so that we don't end up making the same mistake twice.
My friend needs to choose to stop suffering from the internal torture he is carrying of needless and unnecessary guilt any longer! My message to him today is, even when you have made serious mistakes in life, carrying a burden of guilt will do no lasting good, but yes you must learn the lessons contained therein. But no longer carry the guilt and let it impact on your present or your future.
"Forget your mistakes, but remember the lessons they taught you."
You are only human, and we all make mistakes. Some small but others big. However, mistakes are made every day, we make wrong decisions, we say the wrong thing, Certain mistakes can carry a big price tag. People can die from them. Mistakes are the result of doing something we did not mean to do or making the wrong decision.
Feeling guilty is a waste of time. Feeling responsible is not. When we take responsibility for our mistakes you may not be able to make amends but you can do the right things.
Admit what we did and apologize to any victims, if there are any
We can learn from the mistake and not repeat it.
Our acceptance of what we've done allows us to fulfil our life purpose.
If you did something wrong or hurtful, you will have to accept that you cannot change the past. But you can make amends for your behaviour. Do so, apologize, for your behaviour, but then let it go. The more we focus on believing we need to do something more, the more it will continue to hold us back in life.
To my mind, the next step from guilt is shame. Guilt is when we feel bad about something we did, while shame is when we feel bad about ourselves. Shame creates a low self-esteem which can be incredibly debilitating, and totally pointless.
Instead accept your mistake and realise you're only human. Don't waste time, whether weeks, months or years, beating yourself up, thinking back to whatever your mistake may have been, telling yourself that you should have done things differently, acted differently, behaved differently. And don't punish yourself for how you believe its affected other people.
You're not perfect, but neither am I. No one is. That's just life. So get rid of the self torture you're putting yourself through, and be the brilliant you that you were born to be.
My final message for today. Become empowered! Refuse to surrender to bad feelings about yourself any longer!
"The ineffable joy of forgiving and being forgiven forms an ecstasy that might well arouse the envy of the gods." —Elbert Hubbard
Download Feeling-Overwhelmed-by-Life's-Challenges MP3
Score Your Way To Good Health - With Our Healthy Lifestyle Plan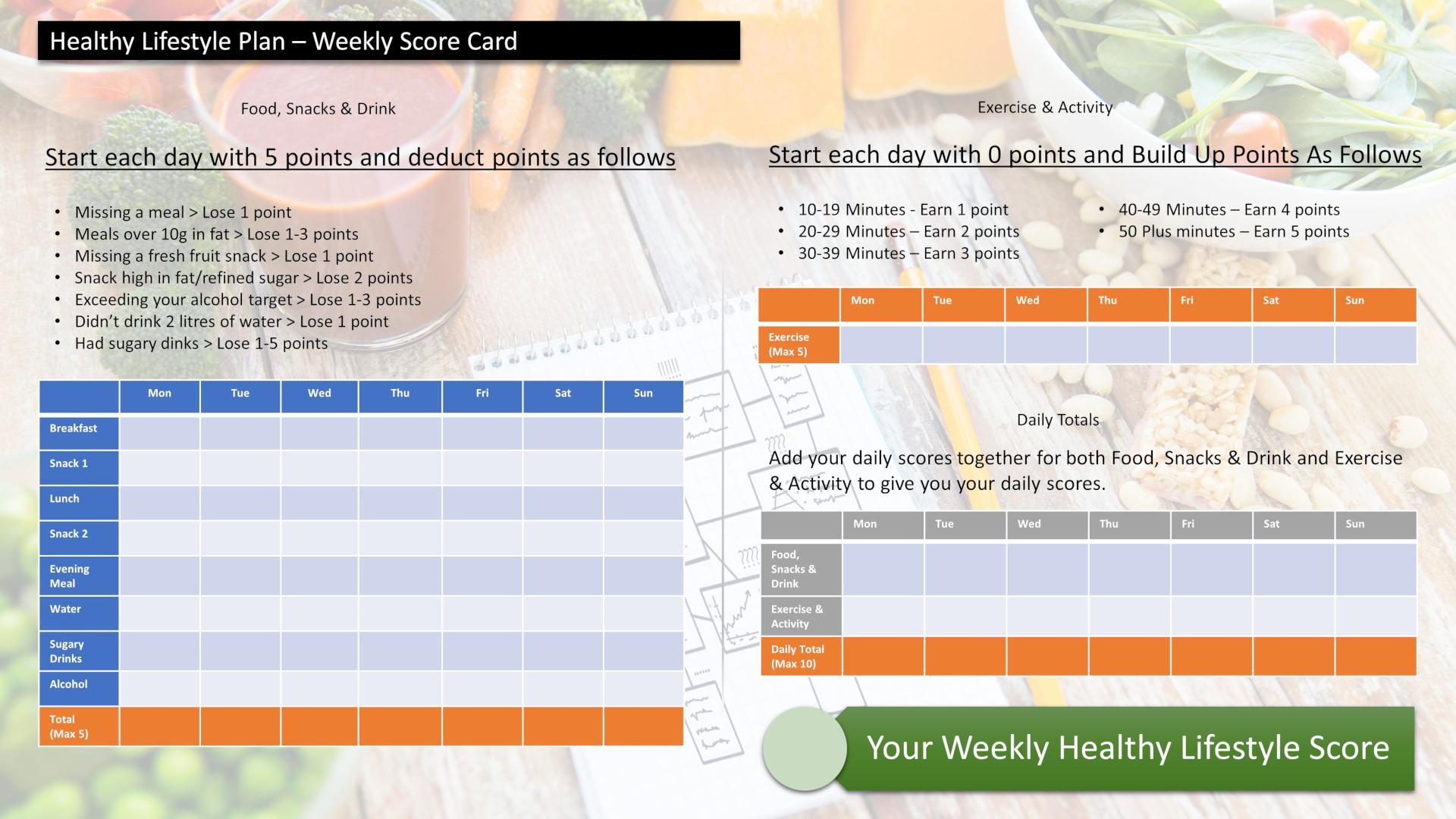 Score your way to good health with our healthy lifestyle plan and it's unique 70 point weekly scorecard!