Constant and never ending improvement is a major priority in my life. To always keep learning. Long ago I made a commitment to lifelong learning, and I make sure that I spend at least 60 minutes a day devoted to this task. I believe that this is a vital way to allow anyone to transform their life from average to extraordinary.
Anyone who stops learning is old, whether at twenty or eighty. ~Henry Ford
No one is ever the finished product. We are all growing and changing. Our likes and dislikes, our goals and aspirations, our perspectives on things, even our values change over time. We don't stand still, we are always progressing, and we certainly have the capability of growing and growing. Everyone should be excited about their potential for constant and never ending improvement.
As we progress, and continue our journey of lifelong learning, we are constantly seeking to improve the quality of our lives, even maybe our business? If we are not learning, changing, and expanding as we travel through our personal journeys then what do we hope to be in the future. My belief is that by carrying on my learning I am opening myself to expanded opportunities. I can frequently explore new ideas, try new things, continuously fuelling my passion for life.
I wrote an article some time last year titled Life Coach Principle: Cultivate Constant and Never Ending Improvement. You must choose to commit to Constant and Never-ending Improvement. Your life improves with gradual changes in each area of your life. Learning expands who you are and how you live.
We should be making small incremental changes and improvements on a daily basis, which accumulate to create momentum in our life. Growing mentally, spiritually, emotionally, physically and financially in your personal and professional relationships? You are either growing or shrinking. And who the heck wants to shrink?
Make a commitment to keep getting better and better every day in every way. The more you improve, the better you feel! It doesn't have to be that difficult either.
I love having people, other bloggers, or readers, emailing me with suggestions. I appreciate those that contact me when they think I'm not being as good, or motivational as they've come to expect. It keeps me on my toes, and inspires me to always do better. To know there are other people out there who I influence, that want me to maintain my standards is absolutely awesome. I want to improve what I do, for myself, but also for them.
From a business perspective I like nothing more than pushing myself, exploring unknown territory, overcoming my fears at times and learning something valuable, and then putting it all together. And when it works, there can be nothing better. To push perhaps my comfort zone, to learn and implement something new into my life.
I don't think much of a man who is not wiser today than he was yesterday. ~Abraham Lincoln
So do yourself a huge favour and spend 60 minutes a day to transform your life, to become extraordinary and to achieve all your dreams and your goals. So pick up that book, listen to that audio tape, research on line, just do something constructive.
Do anything to improve your knowledge and skills in your both career and business, and in your personal development. You'd be amazed at how fast you can progress by focusing 60 minutes a day to lifelong learning. You'll go a long way, quickly I assure you.
To keep yourself focused on constant and never-ending improvement, ask yourself every day, "How can I improve today? What can I do better than before? Where can I learn a new skill or develop a new competency?" If you do, you'll embark on a lifelong journey of improvement that will ensure your success.
Thank you to all of you that help contribute to my daily constant and never ending improvement. Please keep me progressing, I really do appreciate it.
Thank you for joining me today.
This is Larry Lewis
Score Your Way To Good Health - With Our Healthy Lifestyle Plan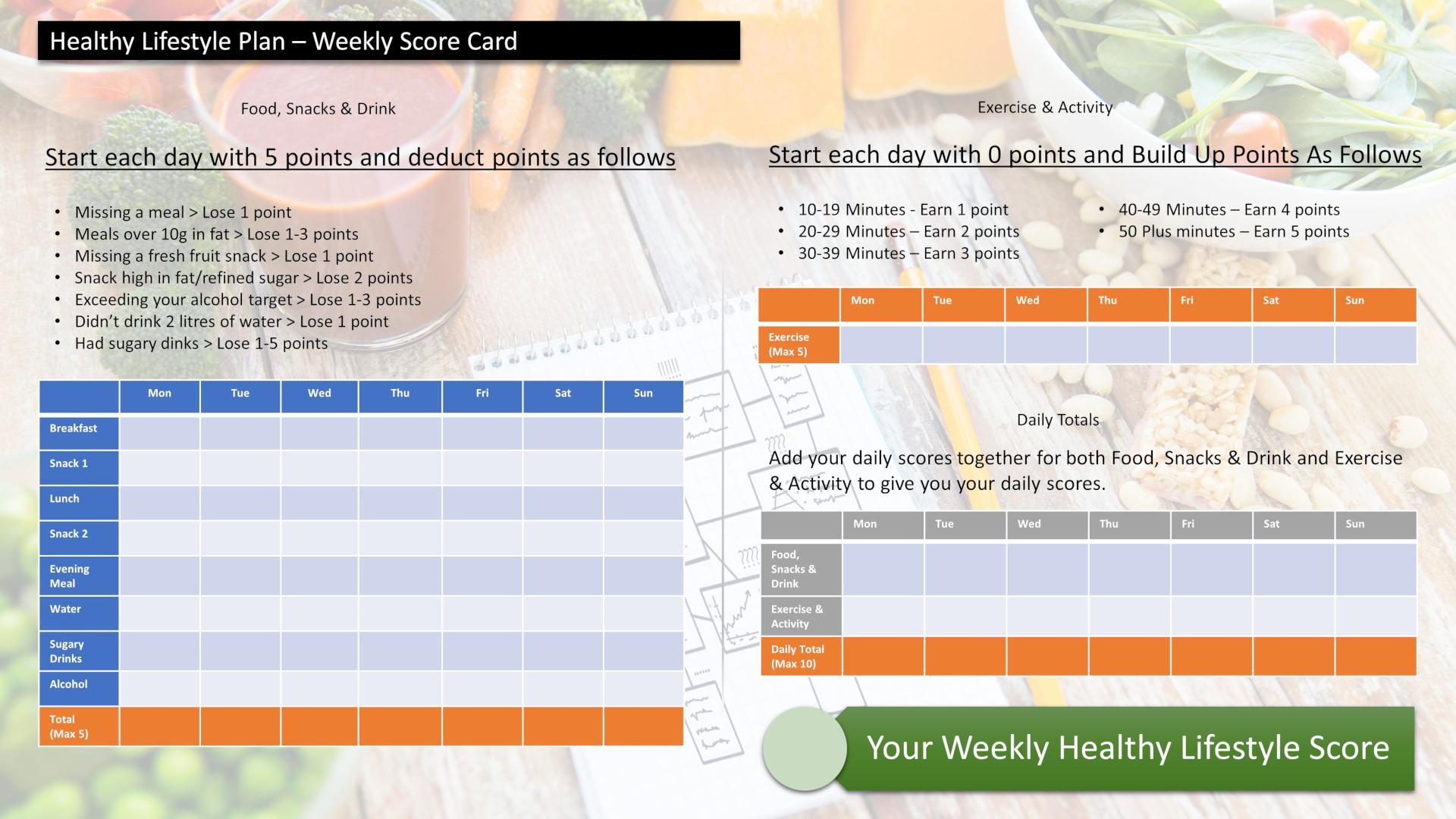 Score your way to good health with our healthy lifestyle plan and it's unique 70 point weekly scorecard!