Have you ever thought about how believing in yourself makes such an awesome difference in your quality of life? If not, you need to. A strong belief in yourself will bring you an unbelievable number of benefits:
This week I asked myself 'what is the difference between the person that wins the Olympic gold and the one who is the runner-up?'
What factors determine whether your goals are realized or not?
I watched the magnificent Mo Farah win his second gold medal of the London 2012 Olympics as he added the 5000m title to his 10,000m crown.
His performance is something to be celebrated, inspiring everyone that saw it.
But it was no fluke!
Here is a man that trained so hard, he gave it his all.
Back in January he said:
I'll do whatever it takes to get close to a medal, to become Olympic champion. You have no choice. If you want to be the best you have to do that. There aren't any mornings when you wake up and think, 'I don't feel like going for a run today'.
An interview with Mo Farah yesterday in the London Evening Standard read:
I've been working out in the winter over 120 miles a week, week in, week out, so there were days when I got up and I was tired, but when you have a vision and you have a dream, you dig in more. I'm just excited, these two medals mean a lot to me.
He focused on his goal of winning a gold medal and trained for it relentlessly. He proves that you must work hard in whatever you do, Nothing just comes overnight, you've got to work hard, but you also have to believe in yourself.
If you decide to really achieve something in your life – you will. It is all a matter of how you think about yourself and what you think you are capable of. The power of positive thinking is incredible.
You can become unstoppable by believing in yourself!
Believe that even if a dream you are chasing seems unattainable you should still chase it because perception and fact are two entirely different things and your perception of unattainable may in fact be attainable.
Having a physiological edge, possessing that mental toughness, enables you to be consistent, confident, focused, and determined, leading you to be able to perform at maximum potential. You know you can do whatever it is you choose when you believe in yourself.
A man is but the product of his thoughts – what he thinks, he becomes.
We can choose to think as an optimist and have a positive view on life. We can choose steps of positive thinking or we can choose to think as a pessimist.
I came across a great story about middleweight boxer Ryota Murata. He was Japan's first Olympic boxing gold medal in 48 years. And he repeatedly thought the words "Believe in yourself!" throughout his fights. In repeating the mantra to himself, Murata was honouring the memory of his late mentor Maekawa Takemoto, who constantly told him he had to believe in himself, believe in your possibilities and strive to realize your dream."
Believing in yourself is one of the most powerful choices you can make. So believe in yourself, mentally be stronger, because it makes the difference. Don't ever, ever, quit.
A pessimist sees the difficulty in every opportunity; an optimist sees the opportunity in every difficulty.
All these magnificent sportsmen who achieved gold medal status demonstrate that having a deep core belief about themselves meant they could accomplish what most people would find impossible.
Here is something I want you to remember from this day forward, believing in yourself and in the possibilities life has to offer is the most important requirement for living an extraordinary life. So be extraordinary!
I'll leave Mo Farah to give you the final words.
That's the difference, having that confidence. That's what has really done it for me. I wasn't afraid of anything.
Score Your Way To Good Health - With Our Healthy Lifestyle Plan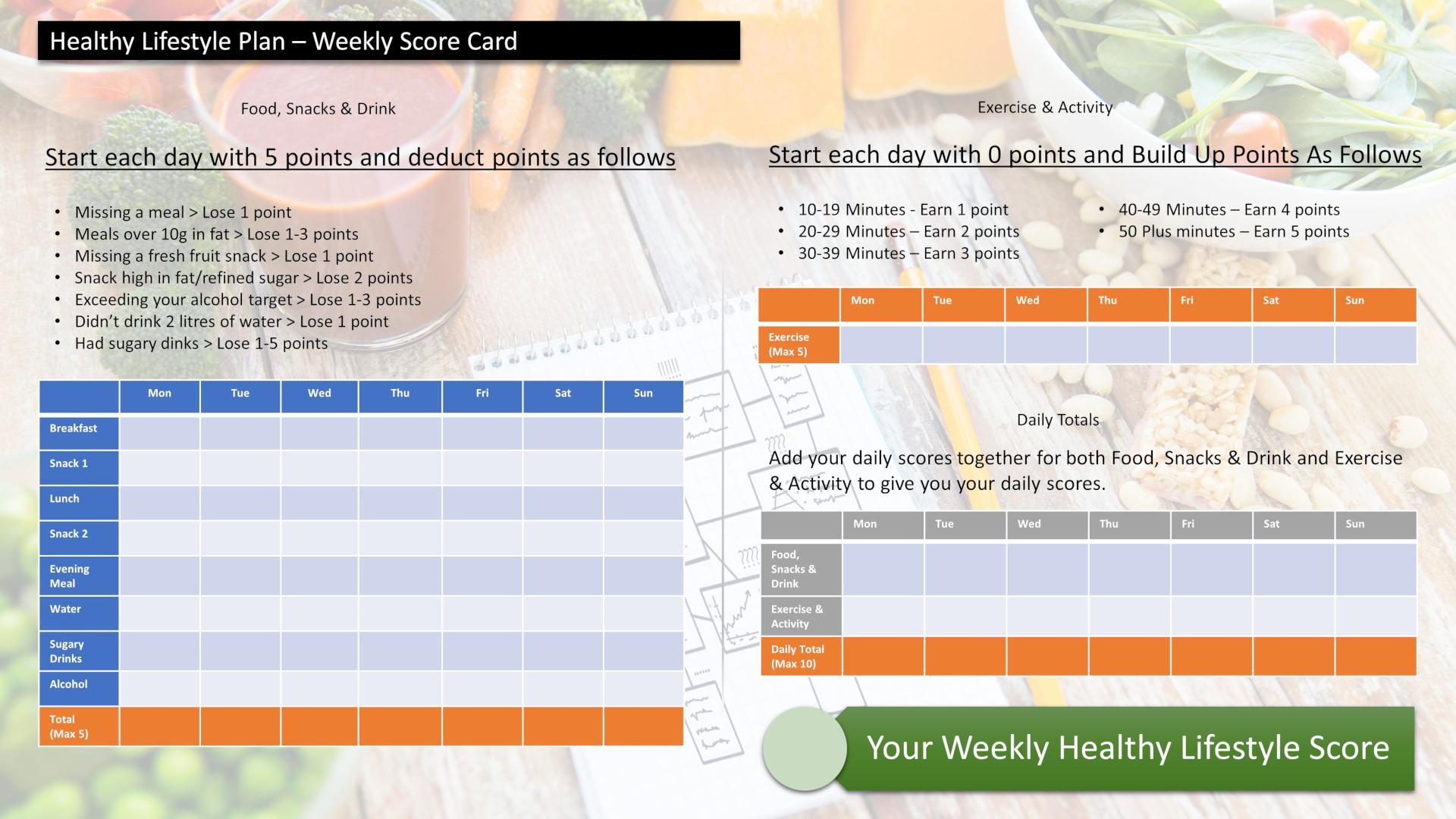 Score your way to good health with our healthy lifestyle plan and it's unique 70 point weekly scorecard!