A key to success and happiness is to believe in yourself. On my journey I have had an unwavering belief in myself. I have never doubted that I was destined to be a great success in life. I strongly believed that everything that ever happened to me was part of a great plan that would lead to my ultimate success. I held on to this belief through every storm of life, it was unshakable. So it has been of no surprise to me that I've been able to go on and begin to accomplish wonderful things with my life, and I have no doubts they're going to get better and better.
I have had some amazing highs and some equally incredible lows, but no matter what I have never lost my belief in myself. Although in truth as I've written before during my darkest period I did lose everything for about a year, including my belief and dreams.
When belief is lacking, you have very little hope of achieving anything of significance in your life. The very moment an obstacle comes racing across your path, your lack of belief will manifest in two ways. First, it will manifest as a lack of belief in yourself. Intrinsically you do not believe that you are good enough or worthy enough to achieve your goals and objectives. Secondly, your weak belief systems result from not having enough confidence in your personal ability to successfully get through an obstacle in your path. As a result you lack the will-power to persist when things get a little tough and somewhat unfamiliar.
A major setback can shake your confidence in yourself and your abilities. The natural reaction to an unexpected reversal of fortune is to feel stunned, shocked, and angry, as if you have just been punched in the emotional solar plexus. This response is normal and natural for all of us when we experience sudden reversals and disappointments.
No matter what happens, remind yourself you have the ability to rise to the challenge and deal with the situation. Talk to yourself positively in order to rebuild your self confidence.
Whenever something goes seriously wrong, you experience the fear of failure. You immediately feel this fear in the pit of your stomach. You may feel that you are not capable or competent. Sometimes, you feel like a loser. When things go wrong, in spite of your best efforts, you will often have feelings of self-doubt.
Tell yourself that you can do anything that you put your mind to. Tell yourself that there is no problem that you cannot solve. Believe in yourself and see things through to the end.
Look upon solving the problem or resolving the crisis as a test of your character and intelligence. See it as a challenge, something that has been sent to help you to grow in knowledge and wisdom.
You can do it, just don't give up. Then always work to maintain that emotional strength – it's an ongoing process. Most of all believe in yourself. You truly can create an amazing and exciting life.
I didn't have to look to far because success had been mine before and I had been fortunate to enjoy a wonderful lifestyle. So I just had to repeat the steps I'd taken before, but this time make the changes to not only allow me to enjoy it that much more but get to keep it for ever more.
I already knew that to achieve and enjoy all that is possible you have to create your own future. And the good news is that there have never been more opportunities, in more different areas, for you to fulfill your dreams and goals than there are today. Your chief aim in life should be to take full advantage of everything that your world has to offer.
True determination to stop at nothing to achieve your goals is what will get you to the finish line. We all know that our specific knowledge and skills are essential; however, without the right mindset success will be hard to achieve.
This brought me to finding myself on the road to building a business where I could work from home. Now I am coaching, writing and speaking to people who want to improve their lives. I am a man driven by pursuing my passion and living my dream and I love helping others find their passion and succeeding in life, sharing what I know to help them get there making the difference using my passions, strengths, experiences and natural talents.
Once I started building my online business everything started to change, particularly me. No matter how difficult things got at times I simply loved everything I was doing. We all know that nothing worth doing is ever simple or easy. The road to achieving your dreams can certainly be a rocky one. At times you have to keep fighting, clawing, scrambling, fighting until you get to the winning line, fulfilling your dream. But if you're enjoying what you do, have fun at times, nothing that comes your way will stop you. Building my business has certainly not been easy, but I wouldn't change it for anything, I'm truly doing a job I love.
I am still driven by big dreams, and the belief I have in myself tells me I will succeed at achieving them. You must believe in yourself if you're going to make the most of your life.
Every night when my head hits the pillow, I have a feeling of contentment and satisfaction running through me. I know i have fully done everything possible during the day and evening just gone. When I wake again in the morning, I don't allow myself any room for doubt, having complete faith that my time will come when I will finally achieve my dreams.
Going from bankruptcy to success was not an easy journey, but it is clear to me one of the foundations that made this all possible. This is the fire that keeps you keeping on every time you feel like quitting. It keeps your minds from focusing on your problems and keeps your eye always looking to your goals.
So dream and believe you have the ability to achieve your dreams. Intensely believe in yourself, and be determined to do whatever is necessary to fulfill your dreams.
Score Your Way To Good Health - With Our Healthy Lifestyle Plan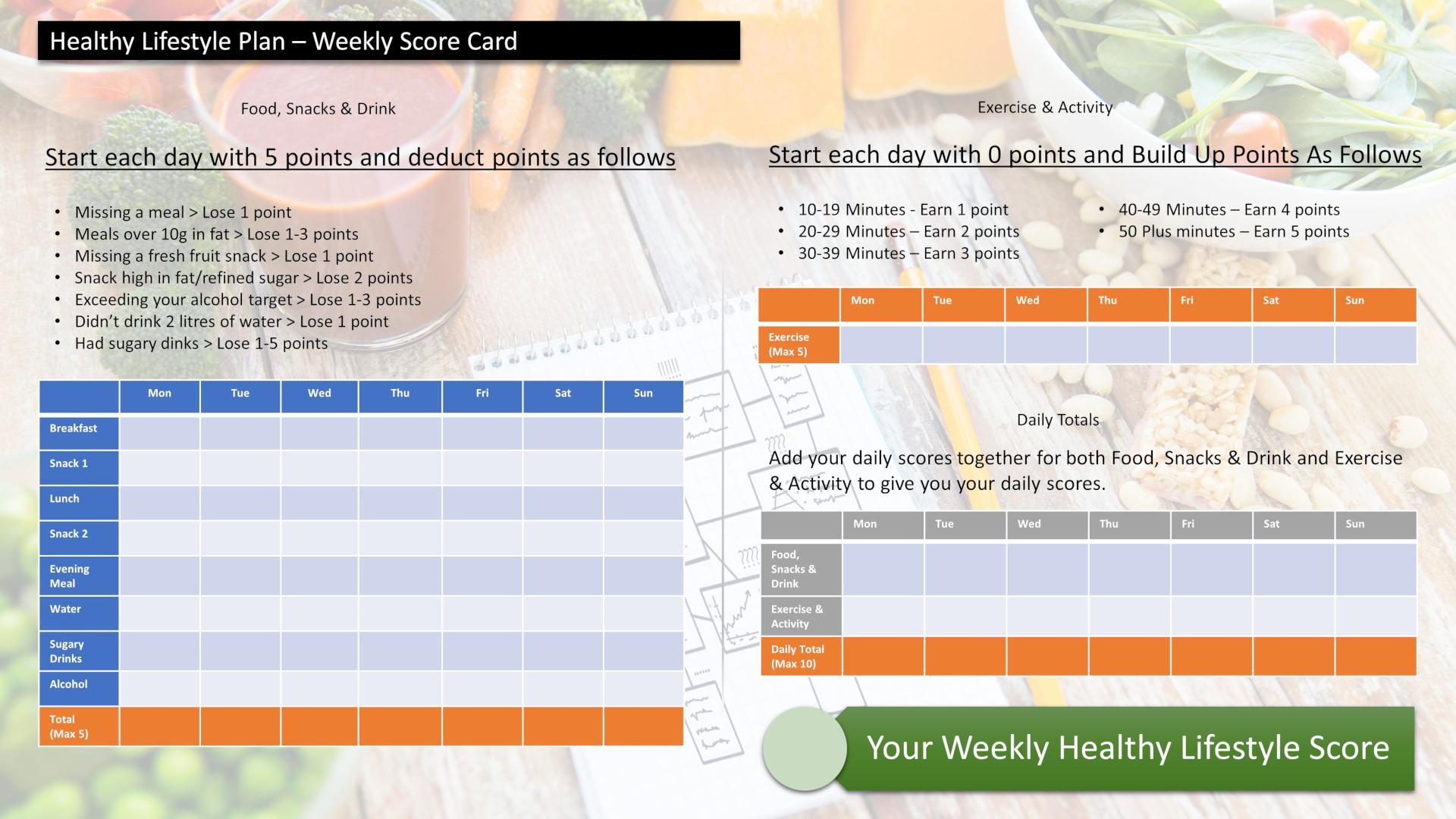 Score your way to good health with our healthy lifestyle plan and it's unique 70 point weekly scorecard!