Just the other day I was having a conversation with a friend, and he mentioned how important it was to use our knowledge and experiences to offer others a helping hand in times of trouble for them. Those two innocuous words 'helping hand' just captured my attention and they constantly reverberated around in my mind.
I came across this quote:
"Be true to yourself, help others, make each day your masterpiece, make friendship a fine art, drink deeply from good books – especially the Bible, build a shelter against a rainy day, give thanks for your blessings and pray for guidance every day." John Wooden
I have always strived to help others and to give something back. That is why I owned gyms and why I then turned my attention to life coaching, and then personal development and healthy lifestyle blogging.
My beliefs have been the basis of the business I am building and maybe my motto should be:
"An essential ingredient to a successful business is being of service to others and making the difference."
Soon over at www.larry-lewis.com I intend developing a platform where I can help support others in achieving success in their life no matter what difficulties or even disasters they meet on their way. I will be calling this 'Never Give Up' and hope to create a community where I truly can be a helping hand in times of trouble for other people.
I have always got a real buzz from helping people move forwards with both their lives and their businesses by sharing what I've learned, providing my knowledge and giving a piece of me to support them.
Even though I have a busy commercial life particularly building my ecommerce stores I enjoy nothing than giving time to what I see as a mentoring role. I want to help others maximise their potential.
I believe that all of us should reach out and give something of ourselves to help others. You'll be amazed at how good you feel when you are doing something good for people. It is the best gift you can give someone as well as yourself.
It makes sense for every one of you. I had an unbelievable phone call yesterday. This was with a lovely guy called Trevor. He contacted me with regards to buying a badminton racket from my shop. But somewhere in this call things took a totally different direction. He told me a story about his life and how he had contracted a terrible life threatening disease that began to eat away at his organs. Twice doctors told him to prepare for the worst. Yet something inside of him, a strength refused to give up and he survived. I was mesmerised by his story and just knew we had connected so that I could help him realise that this journey he had gone through left him in a position where now he could help others giving them a helping hand and give them belief in that they can overcome anything.
He did buy a racket, but I hope more importantly I have not just made a new friend for life, but have found another person who will make a difference to the lives for others. I have no doubt Trevor will be a very empowering mentor.
What can you do to help others? Where do your talents lie, or where has life taken you that will enable you to offer others a helping hand.
You see we all need help sometimes. So this week when somebody in need crosses your path, offer them a helping hand, no matter how small you think this help may be.
Get out there and help one person!
Score Your Way To Good Health - With Our Healthy Lifestyle Plan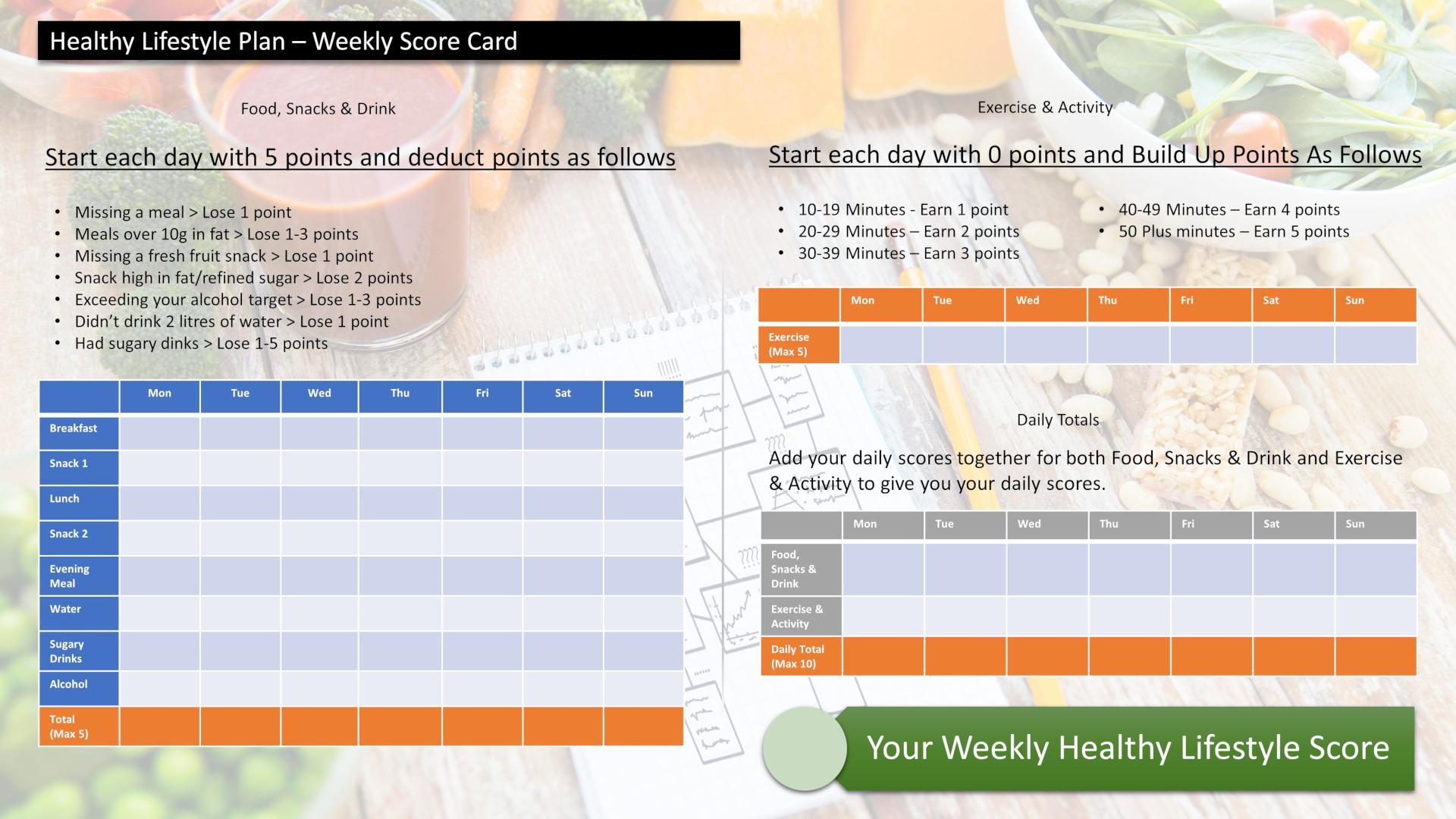 Score your way to good health with our healthy lifestyle plan and it's unique 70 point weekly scorecard!