Today I'm inviting everyone to join me on my Healthy Lifestyle Plan.
I can't wait for you to start experiencing all the positive changes from the Healthy Lifestyle Plan. You will soon be able to experience a day where you are full of energy and vitality. Where it seems like the clocks have been put back to a time before your weight gain or when ill health took over your life. To be able to get back in your jeans and enjoy the freedom and confidence of being back to your ideal weight. This is what following the Healthy Lifestyle Plan can do for you.
To achieve this you are going to have to make some key lifestyle changes and it won't be easy but with a little help from me I know you can start living a healthy lifestyle.
Before we continue let me just quickly introduce myself. My name is Larry Lewis, I'm a Health & Wellness Life Coach, Founder of Healthy Lifestyles Living, contributor to the Huffington Post, recently featured in the Sunday Mail Newspaper, author of The Single Page Plan and somebody who went from being an owner of a chain of gyms and fitness fanatic, to a visually impaired overweight and incredibly sick person. Thankfully through, with the Healthy Lifestyle Plan which I'm going to introduce you to today, I've successfully put my health back in my control and I'm going to show you how to do the same.
Who is the healthy lifestyle plan for?
The Healthy Lifestyle Plan is a must have tool for anyone who:
Is looking to lose weight healthily.
Is always feeling tired and lacking in the energy needed just to get through the day.
Is suffering from a chronic or degenerative disease, and seeking complete health restoration.
Is seeing and feeling the symptoms of "getting older"—such as aches and pains, debilitating diseases, wrinkles and saggy skin, loss of vitality, poor memory—and wishing to regain lost youth — and to look and feel young again.
Has been living an unhealthy lifestyle—and want to "start over" with a clean slate… erase the "ghost of your body's past"… and usher in a new healthier you.
Has low self-confidence and low self-esteem.
Is looking to reduce the stress in their life and in turn enable them to avoid and even overcome depression.
Is in fairly good health and want to maximize your health and well-being, slow down your aging process, and live a long life.
Is looking to get healthy and then stay healthy for life!
Being a gym owner it was very clear the health & fitness industry was broken. We concentrate on dieting and losing weight and forget about all other area's of living a healthy lifestyle – of which there are many by the way. Developing a positive mindset, handling stress effectively, incorporating a healthy daily routine, and balanced living are all aspects of healthy living that we all seem to just skip over and forget about. Well with the Healthy Lifestyle Plan not only are you going to be shown an incredible system for eating healthy, I'm also going to cover all the area's I've just mentioned and show you how you can at long last live a healthy, balanced life.
How can you get started?
Well that's the easy part. "Rome wasn't built in a day" as the saying goes and you're not going to start living a healthy lifestyle over night. For now I want you to forget about the healthy lifestyle plans, scoring your day, what foods to eat, how to handle stress and everything else in-between that I'm going to show you over time with the Healthy Lifestyle Plan training program. That will all come later but I don't want you to go and watch a bunch of training video's I've created or PDF documents to read through and get lost in all the information and overwhelm that this can bring. Ultimately I don't want you to spend the next week or two reading through training material and achieving nothing.
What I do want you to do is start right now on changing your current lifestyle to a healthy one. From this day forward I want you to start changing your daily habits and eventually I want you to be making good healthy lifestyle choices every single day without you even having to think too much about it.
"If you fail to plan, you are planning to fail!" ― Benjamin Franklin
So for the foreseeable future, each day, I am going to give you a healthy lifestyle habit challenge. Don't worry, I'm going to go easy on you to start with. After all you need to learn to walk before you can run, so the first few habits shouldn't challenge you much and you never know, you might already be doing these healthy habits already. Once I have introduced you to a new healthy lifestyle habit I want you to keep on doing it. I'm going to introduce you to the core concepts of the healthy lifestyle plan over the course of 7 days. This means after just 7 days you will have already made 7 simple healthy lifestyle changes to your daily routine. After the initial 7 days we will start introducing parts of the healthy lifestyle plan, scoring system and support tools which will ensure you will be able to lead the exact lifestyle you want to live. I can't wait for you to get started so you can change your health and your life!
How can you join me on this fantastic opportunity? It's simple, just enter your email address in the box below this blog post and I'll get you registered for the Healthy Lifestyle Plan training completely FREE. Within an hour of entering your details you will receive the link to the first lesson and you can get started on your healthy lifestyle plan today!
Finally I want you to know that just by registering your interest in my healthy lifestyle plan you have my attention. Although this series has been designed to be fully automated and delivered in a structured manner to give you the best chance of success, if you have a question on any of the emails I send you I'm here to help. Simply hit reply and email me your question(s) or alternatively you can ask your question in the comments section which you will find at the bottom of the page on each training session. I will answer your question personally, normally within 24 hours.
Good luck on your new healthy lifestyle! I know you can achieve it and I'll be back in touch with the first email as soon as you provide it in the box below.
Regards,
Larry Lewis.
Healthy Lifestyles Living.
Score Your Way To Good Health - With Our Healthy Lifestyle Plan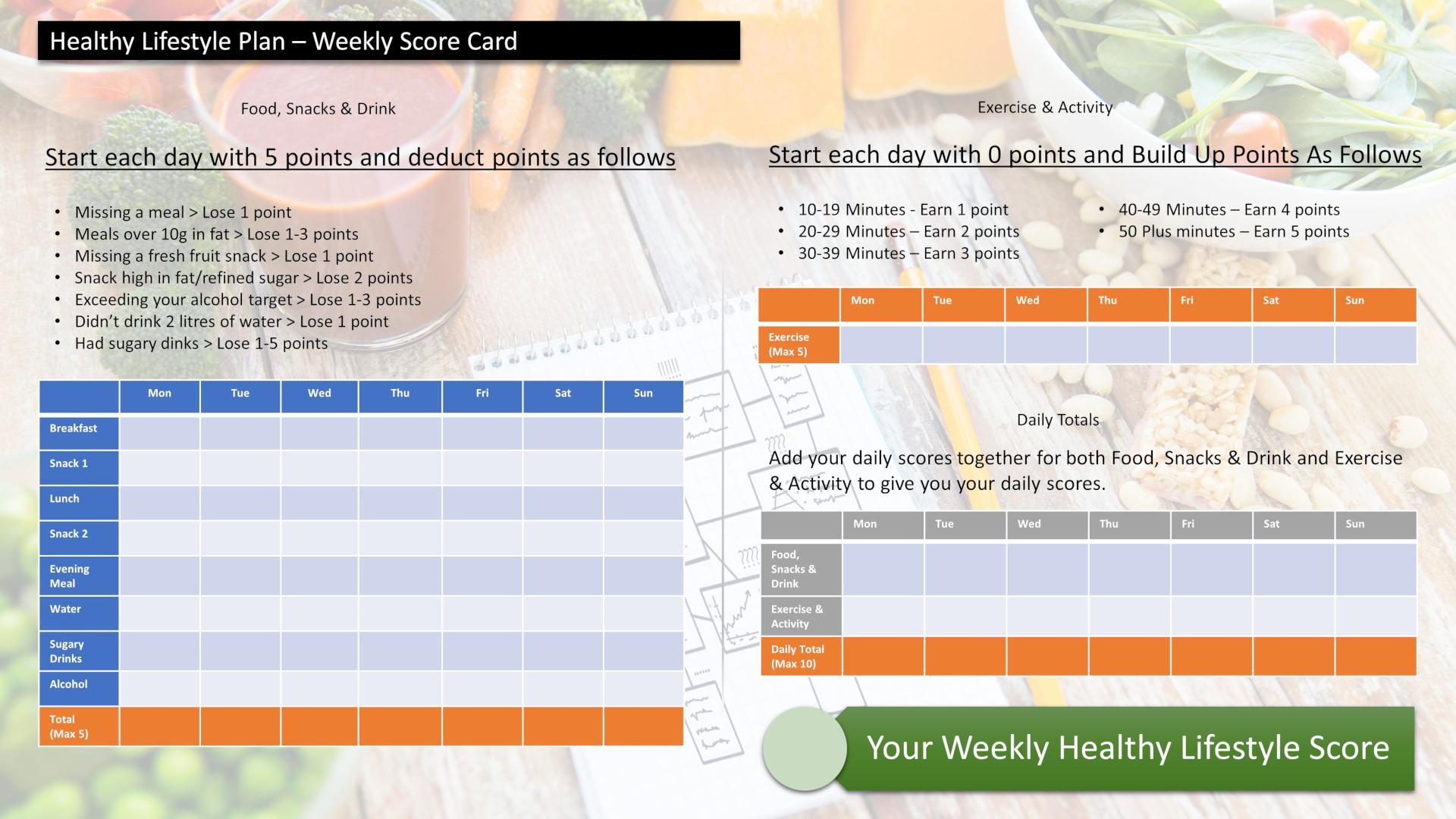 Score your way to good health with our healthy lifestyle plan and it's unique 70 point weekly scorecard!