Thank you to everyone who is stopping by my blog today for the first time. I'm so excited to meet you!
Welcome Friends! I hope this blog finds you well. My intentions are simple. I want to be a positive factor in your lives. I want to encourage you to grow. We are all a work in progress. There is always room to improve in all of us and the key is to be mentally and physically stronger. Your mind is a powerful tool which can unleash some magical things if you focus correctly, work more efficiently and allow positivity to break through all the hurdles that society has laid down for you. If you can visualize it, you are one step closer to accomplishing it.
This site will be a constantly developing resource for you. So many people are looking for good and accurate information on how to live a healthy lifestyle these day. I thought I should create a place where people can find it.
Our Mission
The mission of Healthy Lifestyles Living is to inspire individuals to create their perfect healthy lifestyle and to follow the path of personal development. Healthy Lifestyles Living focuses on topics that help support the design of a healthy lifestyle and develop your personal growth.
We invite you to live a healthy lifestyle, reach for goals, teach, inspire, support, spiritually connect, co-create, and enjoy a fulfilling, uplifting life.
A healthy lifestyle creates a fit, energized, enthused you, and brings to you a far reduced risk of disease. The lifestyle you live is very much based on the choices you make about your daily habits. Good nutrition, daily exercise, adequate sleep, positive mindset, balanced living, are a few of the foundations of a good healthy lifestyle. A healthy lifestyle will give to you a magical touch to your life.
I and many others are promoting the benefits of living a healthy lifestyle, but what does that actually mean? In general, most would agree that a healthy person doesn't smoke, is at a healthy weight, eats a balanced healthy diet, thinks positively, feels relaxed, exercises regularly, has good relationships, and benefits from a good life balance.
Majority of people tend to give less priority to health and wellness. We are too busy with other concerns in life that we only deal with health issues when illness comes along. But health, unlike all the other things in life, is hard to redeem back once illness comes in. Our life may never be the same again once our health stops to be well. One of the biggest challenges in our society now is how to keep a healthy lifestyle. It requires not only discipline, but as well as change, in the way we do things.
Maybe I should start by trying to look at a few definitions for the word – lifestyle. A definition in The American Heritage Dictionary of the English Language says : 'A way of life or style of living that reflects the attitudes and values of a person or group'.
In an Encyclopedia of Public Health: Lifestyle is defined as: In public health, "lifestyle" generally means a pattern of individual practices and personal behavioural choices that are related to elevated or reduced health risk'.
The World Health Organisation in 1946 defined health as 'A complete state of mental, physical and social well-being not merely the absence of disease'.
Wikipedia: defines a lifestyle as the way a person lives. This includes patterns of social relations, consumption, entertainment, and dress. A lifestyle typically also reflects an individual's attitudes, values or worldview. A healthy lifestyle is generally characterized as a "balanced life" in which one makes "wise choices".
A final definition of lifestyle is: The aggregation of decisions by individuals which affect their health, and over which they more or less have control. …
What is Healthy Living?
Healthy Living is about taking responsibility for your decisions and making smart health choices for today and for the future. So healthy living would consist of:
Physical (For the body):
• Good nutrition, eating right
• Getting physically fit, beneficial exercise,
• Adequate rest
• Proper stress management.
Emotional Wellness (For the mind):
• Self-supportive attitudes,
• Positive thoughts and viewpoints
• Positive self-image.
You also need to give and receive:
• Forgiveness,
• Love and compassion;
• You need to laugh and experience happiness;
• You need joyful relationships with yourself and others.
Spiritual Wellness:
• Inner calmness,
• Openness to your creativity,
• Trust in your inner knowing.
And all aspects of one's self, must work in harmony to achieve wellness, so you need to create a balanced life.
A healthy lifestyle then, is living life in a way that promotes physical and mental well-being.
Why is it important?
A healthy lifestyle is a valuable resource for reducing the incidence and impact of health problems, for recovery, for coping with life stressors, and for improving quality of life. There is a growing body of scientific evidence that shows our lifestyles play a huge part in how healthy we are. From what we eat and drink, to how much exercise we take, and whether we smoke or take drugs, all will affect our health, not only in terms of life expectancy, but how long we can expect to live without experiencing chronic disease.
Conditions such as heart disease, cancer, diabetes, joint disease, and mental illness are responsible for a vast number of deaths and disabilities. Currently, we rely almost exclusively on the provision of clinical care by highly trained health professionals as our major strategy to deal with these conditions Many health problems can be prevented or at least their occurrence postponed by having a healthy lifestyle.
Why don't you have a healthy lifestyle?
It's a busy life for most of us. And keeping ourselves healthy is all too rarely near the top of our list of 'things to do'. Convenience often wins – we are all so busy that convenience is at a premium.
Good Health is 'simple – but it's not easy'.
It is so important to make 'keeping healthy' a part of our day-to-day living habits. Your health depends on what you do throughout the day, everyday. A healthy lifestyle is absolutely vital. Here is a real simple solution – slowly improve your lifestyle in a step-by-step way. If you take one new health step every two months, for example, in two to three years you will be among the healthiest ten percent of people in the Western world. And boy will you see and feel the benefits.
Improvements do not have to be large steps; take one small step for your health today, keep that one going, and add another one every two months. Have a plan – maybe introduce 6 improvements over the course of a year.
Can you adopt a healthy lifestyle?
Whatever your age, fitness level or body shape, its never too soon or too late to start thinking about living healthily. You can take a step towards healthy living by making one change now to your daily life. That won't be so hard will it?
Are you living a healthy lifestyle?
Do you wake up with enthusiasm for the day ahead? Do you have the high energy you need to do what you want? Do you laugh easily and often, especially at yourself? Do you confidently find solutions for the challenges in your life? Do you feel valued and appreciated? Do you appreciate others and let them know it? Do you have a circle of warm, caring friends? Do the choices you make every day get you what you want?
The Foundations of a Healthy Lifestyle
Follow a Healthy Balanced Diet – The right nutrition is necessary to live a healthy lifestyle. Your body requires a well balanced diet every day in order to maintain the adequate amounts of vitamins, nutrients and minerals needed to maintain a healthy body. Having a balanced diet is crucial for living healthily.
Exercise Regularly – You will need to include fitness as part of your life. Physical fitness keeps your weight in check, helps you sleep better at night, prevents heart attacks and strokes and other health problems, and generally prolongs your life. Basically there are so many benefits of exercising that you really can't live a full life without it. "Those who think they have not time for bodily exercise will sooner or later have to find time for illness". Edward Stanley. 30 minutes a day of moderate aerobic exercise to burn calories and build up your heart and lungs is recommended. In addition strength training keeps your muscles and bones fit and free from pain, strain and fractures.
Drink Plenty of Water – Water helps remove toxins and waste material from your body, regulates our body temperature, improves your digestive health, helps our organs to absorb nutrients better, and in turn the overall health too. Water also plays the role of natural appetite suppressor, improves our metabolism and thus promotes weight loss. Drinking at least 7-8 glasses of water per day is necessary to maintain your health.
Get enough sleep – Your body needs rest, without which it becomes completely exhausted. A body needs to rejuvenate its cells regularly in course of working so as to resume its functions with regained energy. Nothing can replace the role of sleep in terms of providing relaxation to the body. Hence it is must inclusion in leading a healthy lifestyle. Take 6 to 8 Hours Complete Night Sleep Sleep is the most important ingredient to keeping a good health. And it's one of the inexpensive commodities that we neglect to take advantage of.
Establish a Life Balance – One needs a perfect balance between the work and play. If you want to achieve a healthy lifestyle you must take steps to ensure you maintain a certain level of balance… spiritually, physically, emotionally, socially, mentally and financially. You need to balance work and family, and all the other areas of your life without spreading yourself too thin and having a guilt trip when you do one thing, but think you should be doing another. All of the key areas of our lives overlap and interlink, effecting each other. Unless we create for ourselves satisfaction in each and every part of our life, we can never truly be fulfilled, or live a contented, happy and healthy life.
Practice Stress Management – Stress plays an important role in many illnesses, both directly and indirectly. People are also more likely to smoke, overeat, drink too much, work too hard, argue with others and so on, when they are feeling stressed. Thus, stress management is an important part of your new lifestyle, and meditation and relaxation techniques are truly a key part of living a healthy lifestyle. "Diseases of the soul are more dangerous and more numerous than those of the body" Cicero. Your body responds to everyday stress with a release of hormones that prepares you to react. If you don't relieve this state through relaxation, the effects build and can create muscular pain, headaches, sleep disturbances and other symptoms. A lifestyle that includes regular stress management breaks this cycle before it can progress to unhealthy levels.
Power Up Your Mind And Body –Develop a vision, a compelling future that excites and inspires you, and focus on it daily. Don't let anything knock you of course, or make you question its possibility. I promise you, by taking control of your thoughts, you will improve your life in a big way. Your thoughts significantly affect your physical and mental health. You should train your mind in such a way that it would not allow negative or self-derogatory thoughts and emotions to linger. Positive attitude and optimistic thinking are the driving forces of a healthy lifestyle.
Make friends with yourself – Loving yourself is a key to a healthy, happy lifestyle. Self-esteem is all about how much people value themselves; the pride they feel in themselves, and how worthwhile they feel. Self-esteem is important because feeling good about yourself can affect how you act.
Being Healthy is so important. Just change one thing in your life today. Have a Healthy Life beginning now. Living a healthy lifestyle will bring you happiness, health and the life of your dreams. You can enjoy all the benefits that perfect health offers you. You can feel your best at all times of the day.
Score Your Way To Good Health - With Our Healthy Lifestyle Plan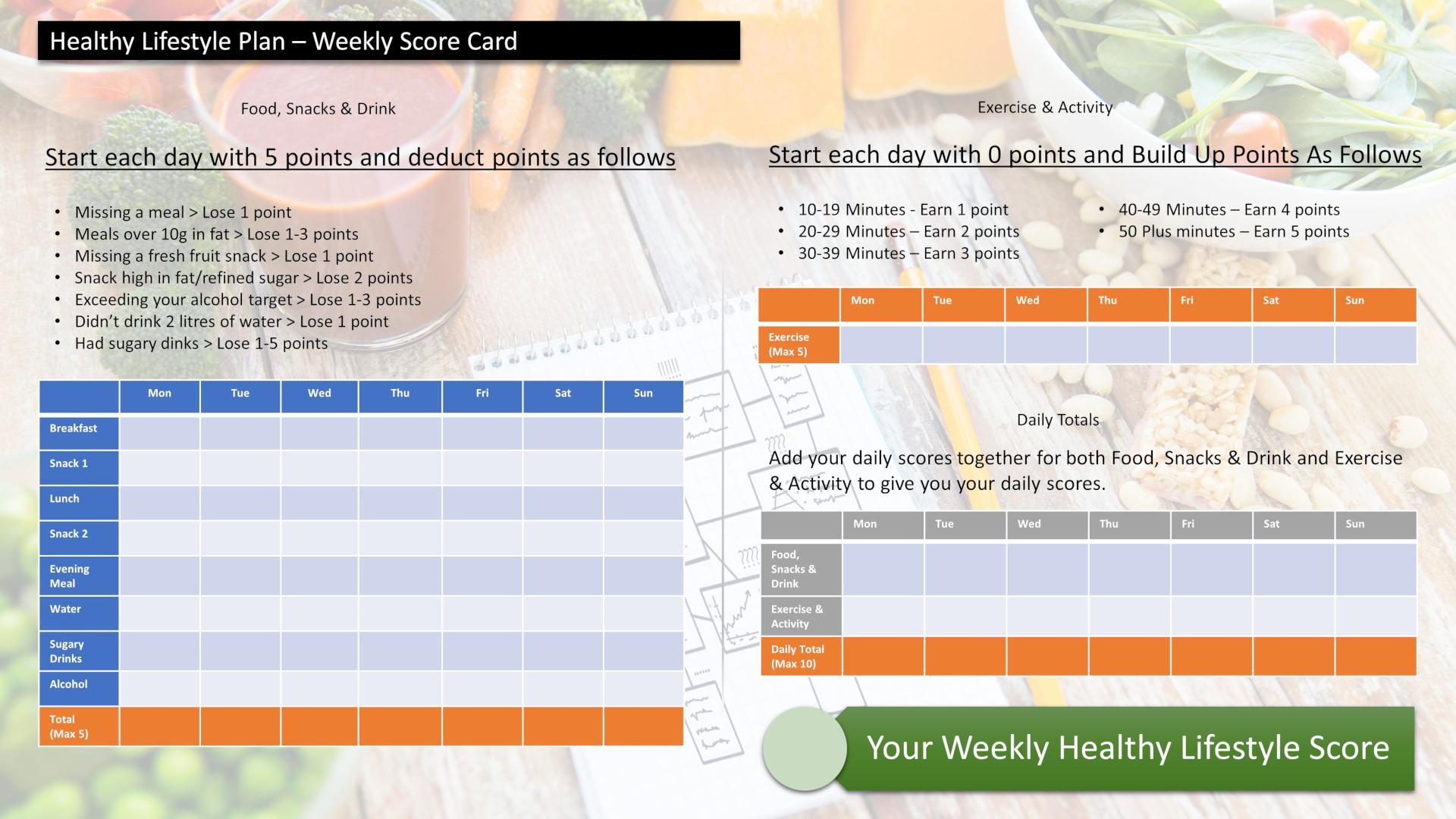 Score your way to good health with our healthy lifestyle plan and it's unique 70 point weekly scorecard!