We all need structure in our life and this can be provided by having a regular daily routine. It is of particular importance when recovering from ill health. When we are trying to get our life back up and running after a particularly difficult health problem it is important to get our days back under control and it's proven we function better when we maintain a regular daily routine.
Healthy and successful people have regular daily habits. They go to sleep at about the same time every night, and wake at the same time every morning. They eat their meals at the same time every day. Their activities and exercise fit into a regular daily schedule, and this would be of incredible benefit to anyone trying to recover after illness.
A regular daily routine will help you plan every part of your day, from the moment you wake up to the moment you crawl into bed at night.
During my recent period of ill health my normal daily schedule was almost obliterated. Firstly I was doing very little, and what I was doing had no structure. So getting back to normal wasn't going to be easy. I needed a plan to follow, a fixed schedule to help me through.
Recovery is often defined as a process in which you take an active part in getting as well as you possibly can be: accepting unavoidable limitations and focusing on the many possibilities of what you can do to lead a satisfying life.
When people first start trying to get life back on track they can feel a bit overwhelmed by their new reality. They now have to face life on life's terms, and they will no longer have the option of running away. Life can be tough initially for people in recovery, but the situation can be improved if the individual develops some type of routine early on. This will provide them with a bit of structure and that can be comforting.
A routine can be defined as a prescribed, detailed, course of action to be followed regularly. For most people a routine is a set of tasks that they perform on a regular basis. A daily routine is a plan that the individual will try to follow each day. There may be occasions where they have to deviate from their daily routine, but it will provide a general structure for their day.
"We are what we repeatedly do. Excellence then, is not an act, but a habit." Aristotle
Before I developed my written regular daily Routine, I was waking up each morning with no plan for the day. No matter how good my intentions, without a plan to follow I got very little done drifting along aimlessly, I became more and more frustrated with myself, but each day I virtually did nothing.
Once I had created a daily routine for myself it made a big difference to my life. I designed it initially to include everything, including the most basic activities like cleaning my teeth, taking my tablets and eating my breakfast. But by ticking off each item meant I got so much done, missed nothing, and soon my health began to improve.
My mind began to respond positively, I had more energy, mental clarity, and wellbeing simply by having a regular daily schedule. It made sure I got done all the things I really needed to do every day. I began to feel I was accomplishing things and this made me feel so much better about myself. This in turn boosted my self-confidence and gave me the belief that things were at last turning around and I would be able to fully recover.
It may take many months of following a routine for you to begin to see progress. But it will come, if you stick to it. Greet each day with anticipation and optimism and a commitment to doing what's best and right for you and your ongoing recovery.
When you stick to your routine, for long enough, finding that you're getting everything done without difficulty, where it becomes almost second nature, you then will start to tackle more responsibility. You will feel when you're capable of doing more, achieving more.
Each day as you move forward in your recovery by adhering to your routine you will be adding to your self-confidence. You will feel that you are better able to do what's on your daily list.
Gradually, you can add more items or activities to your daily or weekly routine
I found that even on those days where I didn't want to get out of bed, the routine gave me a spur to get myself moving not wanting to fail my plan.
As I mentioned I created my regular daily Routine to include everything I needed or wanted to do on a regular basis. Once written up I began to follow it. Day by day I did exactly what I had on the list. At first, there were many days where I struggled to keep my routine but I persisted and in time it became easier and easier. It brought stability back to my life.
I needed the predictability of knowing exactly what I was going to do each day to help ease my transition from ill health to full recovery.
My daily routine included the times where I would:
• Get up in the morning.
• Go to bed at night.
• Perform my exercise regime.
• Have a shower.
• Get dressed.
• Check my emails.
• Do my relaxation exercises (e.g. Meditation).
• Eat my breakfast, lunch and dinner.
• Clean my teeth (morning and night).
• Take my medication.
• Socialise and connect with family and friends.
• Immerse myself in an empowering goal (this for me was to write)
• Hoover and clean my house.
• Put my nightly entry into my journal.
The truth is that establishing and adhering to a routine can help someone trying to recover from ill health or make big changes to their life.
Whatever your situation you can accomplish everything you need to in a given 24-hour period by creating a regular daily routine. If you want to take command of your life from the second you get out of bed in the morning, a schedule is a good place to start. You can only benefit by creating and sticking to a schedule every day.
Everyone's routine is different, so this list isn't comprehensive, and certain things may not apply to you. When you begin writing out your routine for the day, consider all the things you need and want to do. In other words, yours is simply a list of what's important to you and what you will do about it.
Adjust your schedule as needed. Although you should try to stick to your schedule as much as possible, sometimes things happen and you need to make adjustments. For example you may have appointments or events to attend, so you need to be flexible.
Get your schedule created!
Be regular and orderly in your life, that you may be violent and original in your work. Clive Barker
Score Your Way To Good Health - With Our Healthy Lifestyle Plan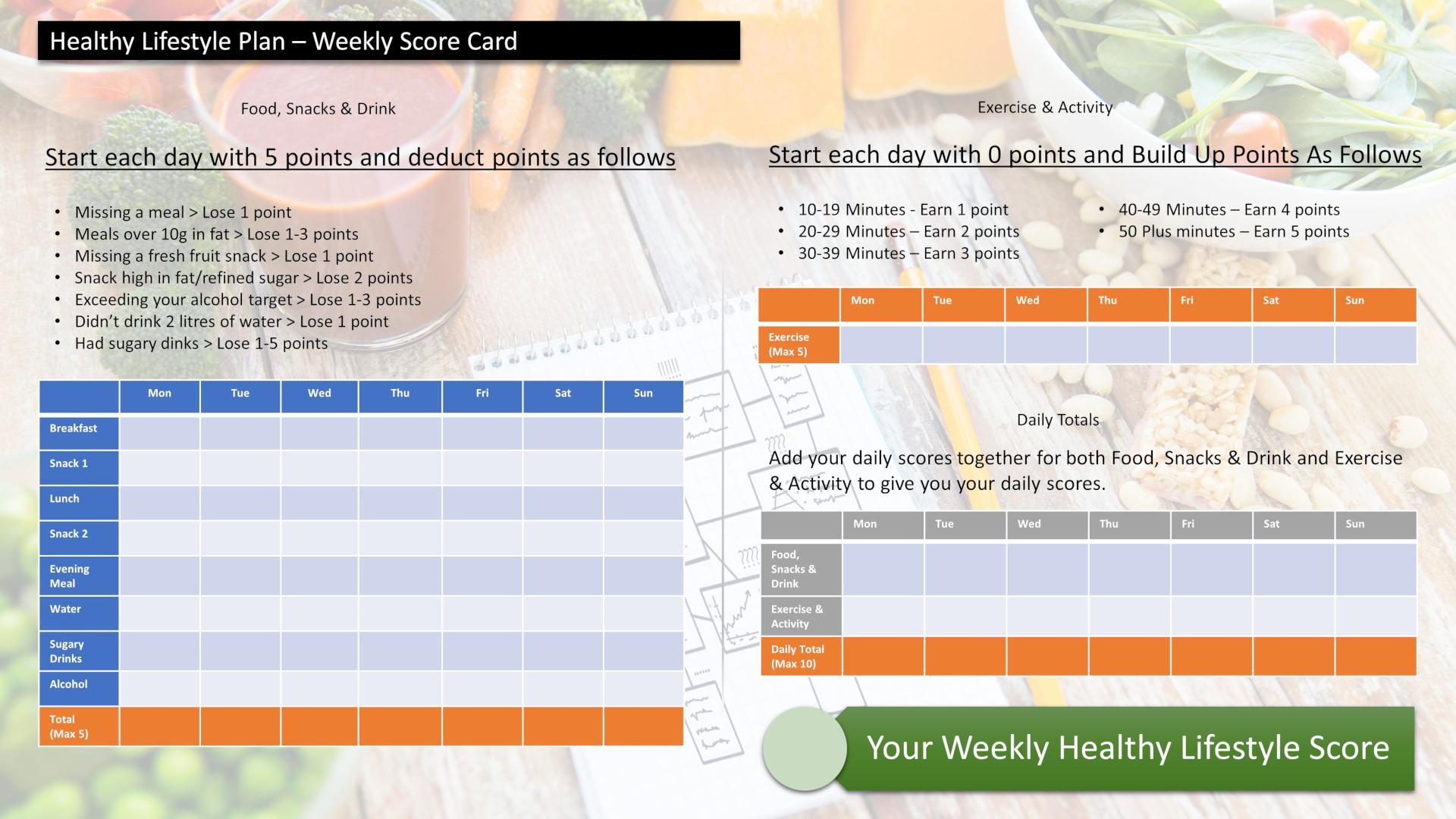 Score your way to good health with our healthy lifestyle plan and it's unique 70 point weekly scorecard!