Stopping dementia has got to become a key target for the medical profession. Having seen the effects of dementia on my own mother and on our family, as far as I'm concerned, it's probably the worst disease you can have. It has been so frustrating seeing so little being done about it.
After all it seems to be a growing problem across the world.
I was delighted to hear that at the recent G8 dementia summit, the world's richest countries committed to develop a cure or treatment for dementia by 2025. The UK has already said it aims to double its annual research funding to £132m by 2025.
They have called on the World Health Organization to identify dementia as "an increasing threat to global health" and to help countries adapt to the dementia time bomb. At last they are admitting that stopping dementia is essential, before it comes the modern day plaque.
David Cameron called on governments, industry and charities all to commit more funding. He said the G8 should make this the day "the global fight-back really started".
There seems to be very little known about Dementia. I was reading a government publication through the Department of Health – "Living well with dementia: A National Dementia Strategy." How can we, that have a loved one struck down by this illness have any confidence when we read these words at the beginning of such a report:
Dementia is an illness caused when parts of someone's brain stop working properly. We do not fully understand the causes yet. There is no cure for dementia, which gets more common with age. Once a person has dementia they will get worse over time until the end of their life.
This is not very reassuring to those whose lives have fallen victim to this dreadful disease. There are around 800,000 people with dementia in the UK, and by 2040, the number of people affected is expected to double . They really do need to find answers and help not only those suffering with this disease, but the millions in the future who are in danger of getting struck down by it. They estimate that 66 million people will suffer from dementia worldwide by 2030, unless the question of stopping dementia is answered.
I wouldn't wish on anyone what's happened to my mum. It's a dreadful thing. I have had to watch her inescapable decline. It has taken about six years for dementia to totally overwhelm her and leave her a shadow of her former self.
Her life has been stolen together with that of my sister and father. She has been robbed of most of her memories, intellect and tremendous communicative abilities while they spend every day making her meals, taking her to the toilet, dressing her, cleaning up after her, administering medication, and so much more. No night goes without having to tender for her a few times at ungodly hours. I fear for their health because of this.
In fact the 6 weeks she has been critically ill in hospital has seen both of them looking so much better. That just shows the effects dementia has not just on the person who falls victim to it but those looking after them. Even though we have all been going backwards and forwards to the hospital daily, for them the pressure physically has been eased by having her looked after by others.
I also hold on to a fear that Dementia could strike me down one day. I would hate it in fact I wouldn't be able to stand it. My brain is my most loved possession. There have to be answers found for stopping dementia!
I truly hope that all our governments keep their word and make dementia a priority.
Score Your Way To Good Health - With Our Healthy Lifestyle Plan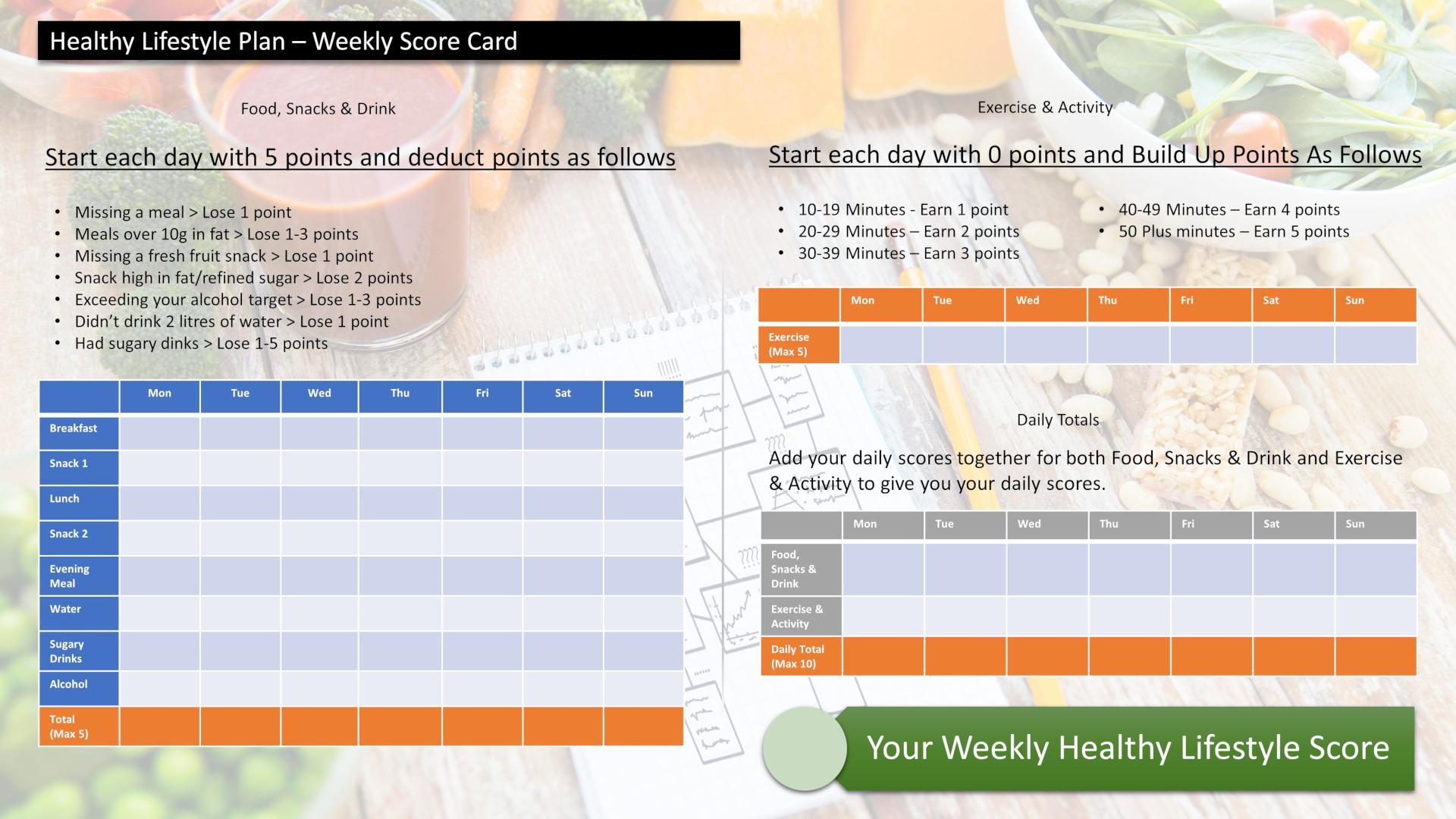 Score your way to good health with our healthy lifestyle plan and it's unique 70 point weekly scorecard!