It is essential that you begin rebuilding your life after illness. You can't allow yourself to become the victim of your condition. Illness can absorb your life and knock you so far off course you may never find your way back.
Even if you have a terminal disease, you don't have to sit down and mope. Enjoy life and challenge the illness that you have. Nelson Mandela
While recovering from illness, often we will think back to how things were, to the life we once had, and the person we once were.
It's like our past life is a building condemned after a disaster, maybe an earthquake nearly destroyed it. We may be able to rebuild it but never as good as it was originally.
It is essential to start building new dreams, new memories, basically a new life.
When you develop a long-term illness you may feel like you have entered a new world in which all the rules of life have changed and there is no obvious way forward. This situation can make you feel helpless. I know that was how it was for me.
Visual impairment changed so much in my life, and yet so few things were obvious to anyone else. The truth is beyond what we can see on the surface with our eyes. It is most often the hidden wounds that are the greatest sources of pain and loss.
It's not just your main condition or disability, it's the host of other problems that normally accompany it, such as fatigue, loss of physical strength and endurance, emotional distress, and a sense of helplessness or even hopelessness. It all combines to make you feel as if it's all a downward path and the outlook is bleak. At the moment you are victim of your condition.
Often there are many other conditions we face as a consequence of our main illness or in my case disability, things like fatigue, poor sleep, depression, anger, stress, and even memory problems.
Usually symptoms cannot be seen by others and can be difficult to describe. Each day can become a battle, fighting against our illness, as well as the fatigue and negativity we feel. Yet we try to put our best face forward when we are in company, camouflaging our problems. So it's no surprise that those around you don't understand why you struggle to cope every day. At times they feel you're being unnecessarily negative, maybe a little grumpy.
Anger and frustration are common reactions to chronic pain. The uncertainty and unpredictability of your future. After ill health it's difficult to feel hope or see the bigger picture. In fact it's more likely you're feeling vulnerable, confused, or lost. You feel as though you are carrying the weight of the world around on your shoulders and there is no light at the end of a long dark tunnel in front of you. You're down and life seems like it's giving you a kick in the gut, and has no intention of helping you too get up.
Maybe when you first became ill you thought you'd quick recover and there would be no lasting effect or long term damage. Eventually you had to accept the fact that your illness was neither a temporary interruption of your life, but neither was it a life threatening condition, just a condition that has changed you, limited you and to which you have to adjust.
It has imposed new limitations upon you, and your illness impinges on many aspects of your life. It affects your:
• ability to work,
• reduces your activity level
• overall health
• your relationships,
• your moods, your hopes and dreams for the future,
• and even your sense of who you are, your identity.
The bottom line: each person's illness is different. To treat your illness effectively, you need to understand your unique situation.
There's no doubt that I've had my share of tears. But once I was able to look past my self-pity, I was able to focus on the positive opportunities and outcomes, I began to refocus and realise the key to change was to shift my perspective from who I was, to who I was now, and who I could be.
Ill health can bring many serious long term difficulties, and many of you will be incredibly down, seeing life now in an incredibly negative way. You must use this as an opportunity to re-evaluate your life and recast it in a new way. You may not be able to restore your old life or live the life you had planned, but you can create a different kind of life than you had before becoming ill.
Adjusting to a shifted, disrupted, changed life will take effort. It will challenge you. Are you prepared to give it a shot?
Surely it is time to start the process of rebuilding. If you don't start now, when will you? If you don't shift from feeling so out of control then you'll never move into a calm place of being in charge of your life.
I intend writing through this blog articles to help people explore healthy ways to manage and live with their chronic pain condition and disabilities so they can enjoy more fulfilling, satisfying lives.
How have you dealt with coping with your illness or disability? What did you do to begin rebuilding your life after illness?Please place a comment to share your journey!
I enjoy convalescence. It is the part that makes the illness worth while. George Bernard Shaw
Score Your Way To Good Health - With Our Healthy Lifestyle Plan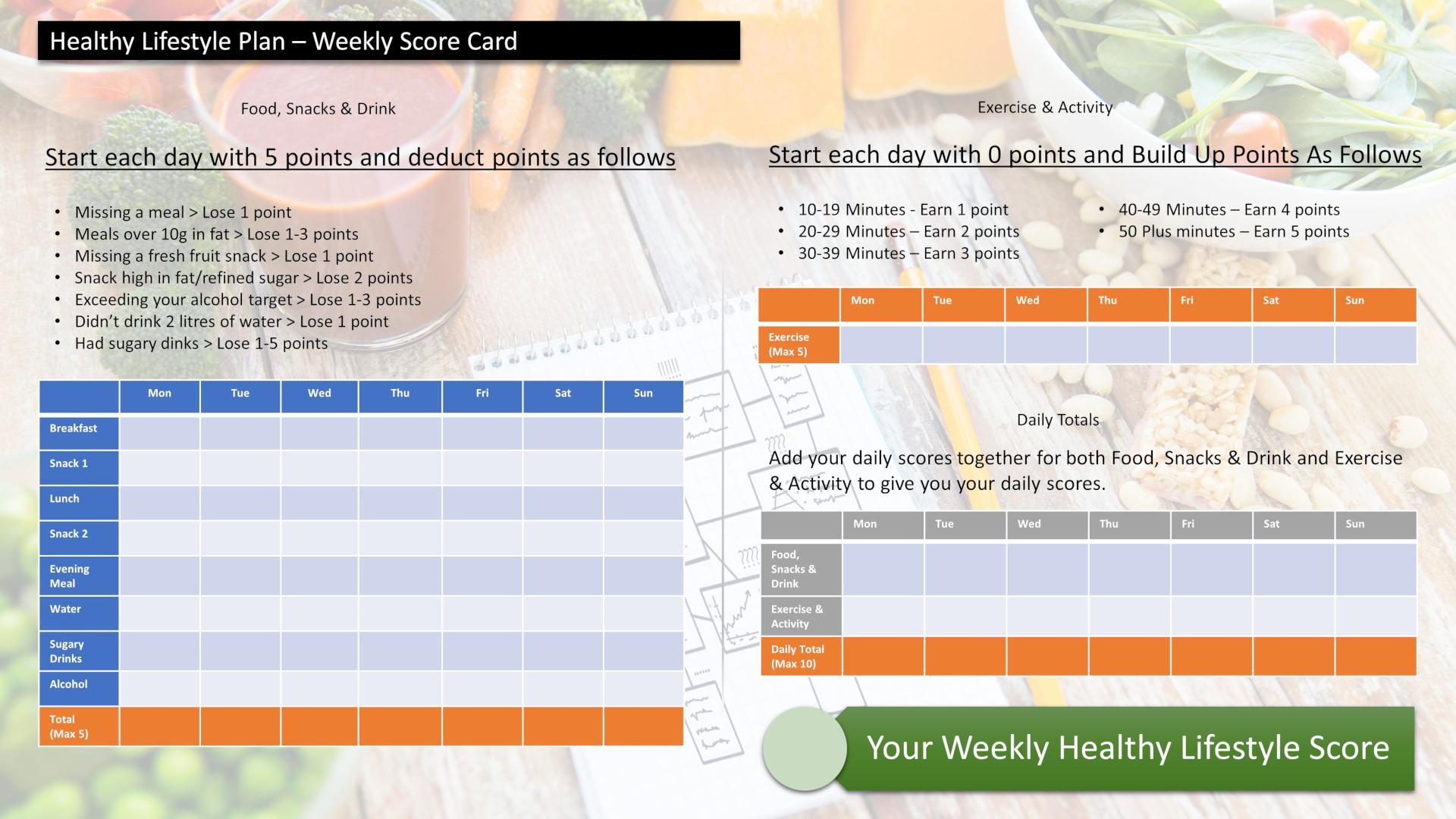 Score your way to good health with our healthy lifestyle plan and it's unique 70 point weekly scorecard!