Sometimes you have to walk away and come back later but when you have to walk away from your online business for a while what happens while you're gone? How then do you maintain your web presence and preserve your business?
So you're trying to build an online business.
I congratulate you and wish you the best of success.
But I do want to give you a warning. You should expect obstacles that will take you away from completing your projects—sicknesses, family emergencies, and dare I say hardware failures.
You've built your business by yourself. You worked hard to get where you are today. However, what would happen if you became very ill tomorrow or had a family emergency and had to step away for a little while?
This situation has happened to a friend of mine. She has been away for a few days dealing with a family illness. Although of course she is extremely concerned about the health of her loved one, in her mind also is a concern that she isn't able to put in the time to her business. She's got her lap top with her at the bedside of her father in hospital, but of course what she can get done there isn't the same. It's more of a distraction for her allowing the time to pass by a little quicker. It's her stress relief mechanism.
So I ask you, what if something happened to you or one of your family members? What would happen to your business if you had to step away even for a week or two unexpectedly
Sometimes in life things rear there head which we have no choice but to deal with. Some battles will rightly test your patience and willpower. Don't continue to bash your head against a wall. Trying to spin the bottles continuing in an attempt to do everything. Take a break, walk away and come back to the fight refreshed and relaxed. Concentrate your efforts for a time in this place where they're needed. Don't feel guilty that you've had to turn your back on these other things. After all its only temporary, and you really know you had no choice.
From a business perspective think on the positive side. Taking some time off stepping away from your business to focus on something completely different, does give you time to clear your head and focus on other things. When you come back to your work you'll return with a fresh perspective, which can make all the difference.
Sometimes maybe you're forgetting one of the key reasons most of us went down the path of setting up an online business. A lot of people are so used to working 9:00 to 5:00 in an office, working to rules and regulations they forget that we on liners have FREEDOM in our business.
If we want to get away from it, or need to, we can. A lot of what we do should be able to run on its own without our constant supervision. A key to enjoying your business is building things so that your business can run for a time without you at the helm.
Sometimes we forget that our business and our life are two totally separate things. If you have done this, go about making sure you put this right. When it is right, you'll never again find it difficult to walk away for a short time.
Once you recognize that the purpose of your life is not to serve your business, but that the purpose of your business is to serve your life, you can then go to work on your business, rather than in it, with the full knowledge of why it is completely necessary for you to do so.
So if you do have to step away from your business for a while, stop stressing. The stress of developing and publishing great content day after day, or week after week, can become overwhelming, but worse still is when you have to stop, and you know all you want to do is write a blog. Well stop it. So what's the worst going to happen. Your Alexa may slip a bit, and you may lose a few regular readers. That's not the end of the world I promise you.
This lady I mention earlier was debilitated by the desperation to write her blog post, send out her comments into the blogosphere, and update her social media connections. By her not being able to do so the world would be coming to an end if she didn't do it.
The sad fact is that no one is sitting by their computer holding their breath and waiting for her next post. So what if it's a day late this time. And if it's not possible to write anything for a week that's ok too. Your loyal readers, fans, and visitors will still be there. They may wonder what happened, they may even email you – and then you really know you matter.
Look at your business – Can it function in your absence? If not, what would it take to get it there? Get to work on your business today.
Score Your Way To Good Health - With Our Healthy Lifestyle Plan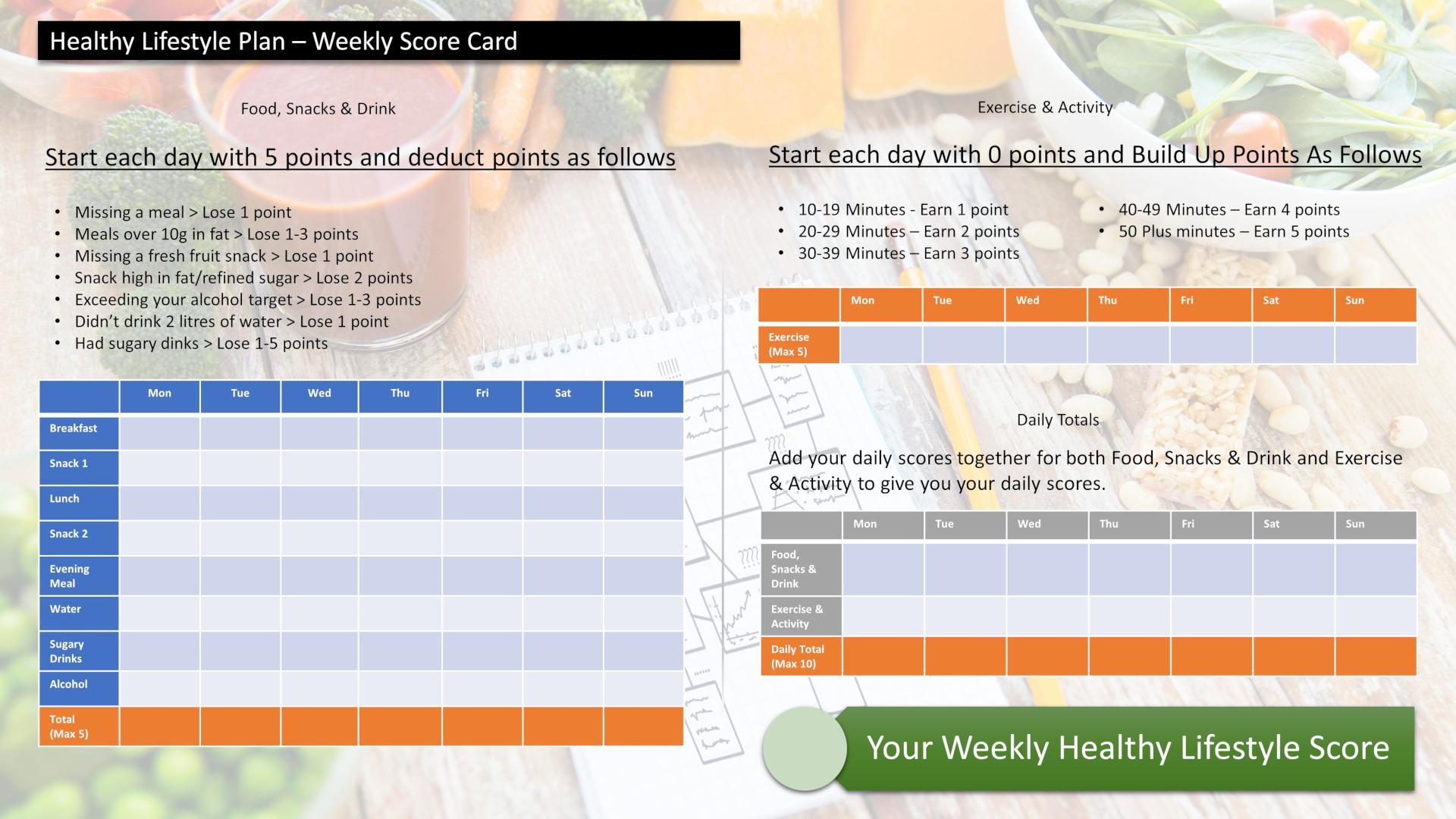 Score your way to good health with our healthy lifestyle plan and it's unique 70 point weekly scorecard!