Having gone through a couple of years of bad health, especially with my eyes problem, I decided enough was enough and it was time to once again get in control of my health. It was so easy to give myself excuses as to why I should eat badly, stay sedentary and avoid exercise and drink too much alcohol to console myself. Worse still it was far too easy to use my eye problems as a reason as to allow everything else in my life to worsen. But I knew it was doing me no good and the time had arrived where I began looking after myself once again.
My starting point was to put myself into a mindset where I would commit to self-management in order to help me get control over things. That was easy for me. I just had to look ahead 5 years and imagine how life will be if I stay as I am. Where would I end up? Alternatively if I make changes now where then could I end up? The difference I have no doubts would be amazing. One that would see me unhappy and in a bad place, the other happy and making the most of the opportunities of life.
Here are ten things you should know about self-management to help you understand it better:
What is self-management?
Self-management is defined as the personal application of behavior change tactics that produces a desired change in behaviour where you are helping yourself. Self-management can be used to live a more effective and efficient daily life, break bad habits and acquire new ones, accomplish difficult tasks, and achieve personal goals.
"The individual's ability to manage the symptoms, treatment, physical and social consequences and lifestyle changes inherent in living with a chronic condition". Barlow, et al., Patient Education and Counselling, October 2002
Self management puts you in 'the driving seat'. It supports and encourages you to access information and to develop skills that will enable you to live life on your own terms. You are taking responsibility for your own behaviour and well-being.
I made the decision to begin self management for myself after my latest operation in November 2014. My eye sight worsened, my overall health deteriorated even more. My consultant at the RVI hospital offered me no guidance or support, he was simply interested in the success of his handy work and showed no interest in me, my health or plight as a consequence of losing more vision or the after effects of this. At first I was lost and near the point of depression, but then my self preservation and personal development knowledge synergised and my route to self-management began.
You are not alone
Having lived for so many years trying unsuccessfully to deal with my health problems and its effects on my life I have found that you don't have to deal with this alone. There are people out there that can help you, you just have to look for them. It's about working with people who can provide the right support at the right time to you. They can provide the necessary tools and techniques to help you on your journey into recovery. They give you an ear to hear what you have to say, what's troubling you. They can direct you to further resources that will be invaluable.
There's things available to you
There is information, tools and techniques available to empower you to take control of your life, to put yourself back in the driving seat. The right things will enable you to get a life once again. I now have a catalogue with products available for partially sighted people that are just amazing. There are all sorts of things available to me now that would have made a huge difference, not just now but long ago, if only I'd known about them when it first happened. Being an onliner, who couldn't even read a single word on my computer monitor I now have a piece of software called Zoom Text which had made a massive change for me.
We all need goals
Goals enable you to look forward and focus on the future. A good routine of self-management involves setting goals to achieve personal hygiene; regular sleeping patterns; healthy eating plans; building relationships both on a personal and professional level; taking regular exercise; establishing a social life; gaining an understanding of how to deal with issues that effect you, seeking advice and support, basically all the things you need to bring about stability, a sense of self-worth and hope for the future with an improved quality of life and ultimate recovery.
I have come to realise that I had put my life on hold. Instead of pursuing goals I was merely trying to survive. The fight for survival is a hard struggle and brings with it no excitement for the future, only fear of what is ahead. The minute I returned to being a man driven by goals my life started to transform so much for the better,
Recovery is possible
Recovery is a journey through which an individual learns to manage their problems or condition more effectively. The key to recovery has to be around the realisation that you must learn to help yourself.
My vision loss and all the problems I experienced associated to it put me on a massive downhill spiral. I was lacking energy mainly due to the difficulties I found with sleeping, my inability to exercise and my inability to cook or do much in preparing food which led me to eating very badly. This of course had the further consequence of seeing me put on a lot of weight and for the first time in my life feeling lots of aches and pains around my body. It doesn't take a super brain to determine what I now must do. By simply returning to my old good ways of eating well, exercising, implementing my stress reduction techniques such as progressive muscular relaxation and meditation would see my health recover in a big way. Spending less time on a computer by doing much of my writing through dictation and converting it to text through software will put far less pressure on my eyes. What ever your condition there will be solutions to your problems, and even if you can't make a complete recovery, you will certainly be able to bring about vast improvements to your overall health and performance.
Never Give up Hope
Recovery begins with hope. A key principle of self-management is hope. Each of us can take necessary steps to move ourselves forward and enjoy life, in spite of the problems which we may be experiencing. Ill-health need not be the end of meaningful life. Recovery means different things for different people. When you first become ill, you can find yourself feeling fear that you will never get better, and it is essential you get back to a mindset of hope and belief that things will improve.
It's in your hands
Do you want to live a healthy, empowered, and meaningful life but feel trapped, stagnant, and weighed down? You want to wake up in the morning feeling physically healthy, energetic, confident, and empowered. Instead, you are so exhausted, depleted, and overwhelmed from responsibilities that some days you struggle just to make it through the day. If you want to stop being a slave to your physical pains or ill health you have to take charge of your own life; to become the healthy, vibrant, and confident person you can feel deep inside your soul. You need to appreciate that you must do everything in your power to help yourself. You are the captain of your ship, responsible for getting your life back on to the right course.
Make a Specific Plan of Action
Take time to sit down and work out everything you could be doing to improve the way you feel. What can you do to improve your health or improve the way you are, having gone through a period of bad health. Plan and identify the things that you need to be doing, the things you need to research, what to avoid, in order to get and keep yourself well.
Keep taking action
There are things you can do every day to help your recovery, you just have to do them and keep doing them. When implementing an action plan, start slowly and build successes. The more successes you have the more confidence you will have to keep going.
It's down to you to give yourself personal control, hope and opportunities but the challenge is that it demands a radical change in attitude to be able to successfully implement self-management. Your priority is to banish all thoughtds of having no future, feeling you are trapped and stigmatised for life, instead believe you can bring about remarkable improvements in your life.
Score Your Way To Good Health - With Our Healthy Lifestyle Plan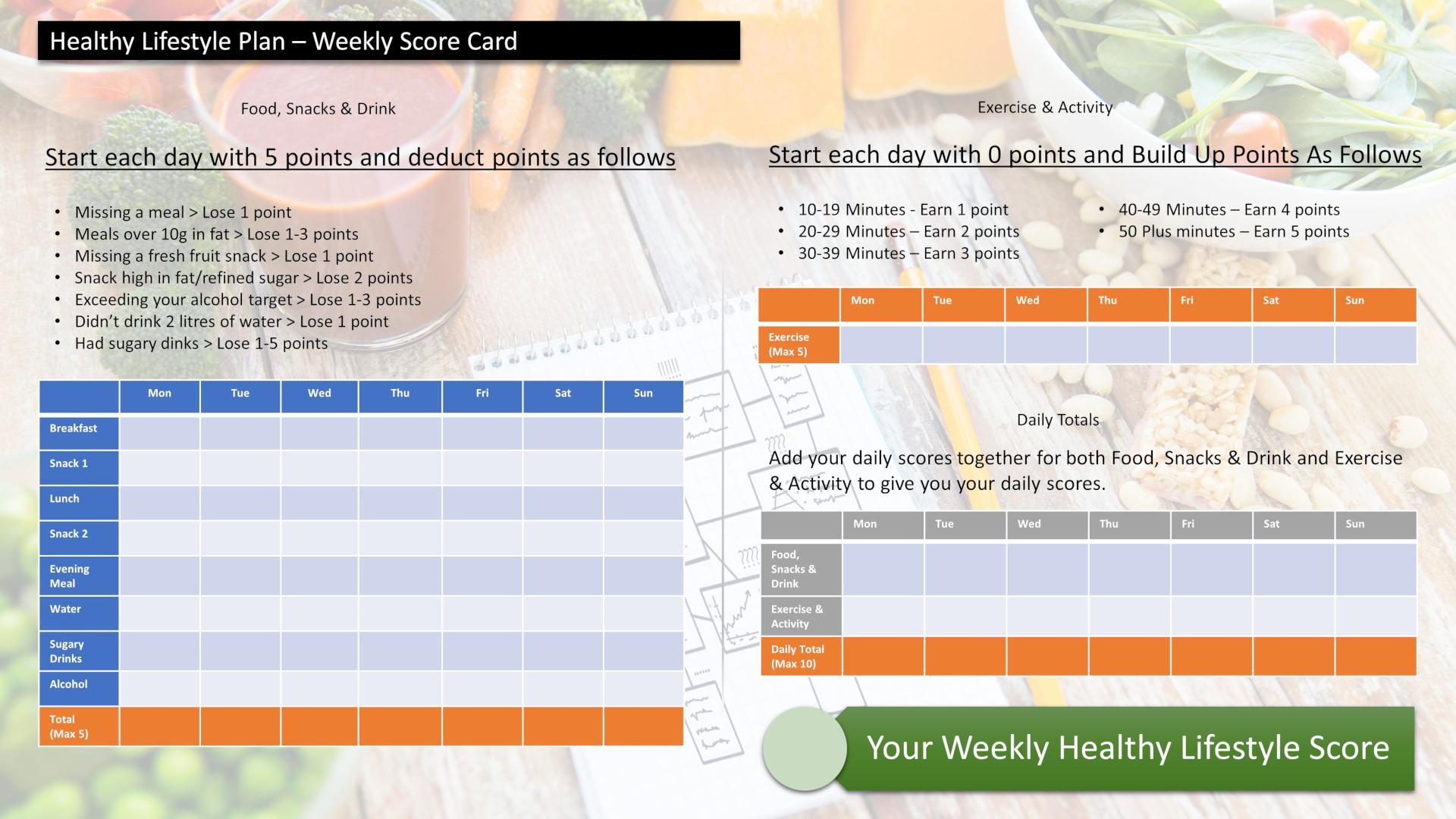 Score your way to good health with our healthy lifestyle plan and it's unique 70 point weekly scorecard!