As a fitness instructor back in the day one of my main challenges was to teach a new client how to get your five a day fruit and veg. It's boring food and we dismiss it from our daily diet. It gets worse! We are now being told to forget that you must get your 5 a day, and instead you need to eat 10 portions of fruit and vegetables a day to cut risk of early death in a study led by Imperial College London. You need to pile up platefuls of vegetables and feed from the fruit bowl every day if you want the best chance of avoiding chronic diseases or an early death.
According to their research, eating up to 800g of fruit and vegetables – equivalent to 10 portions and double the recommended amount in the UK – was associated with:
a 24% reduced risk of heart disease,
a 33% reduced risk of stroke,
a 28% reduced risk of cardiovascular disease,
a 13% reduced risk of total cancer,
a 31% reduction in premature deaths.
And not all fruit and veg are created equal. Apples and pears, citrus fruits, salads and green leafy vegetables such as spinach, lettuce and chicory, and cruciferous vegetables such as broccoli, cabbage and cauliflower were found to be best at preventing heart disease and stroke.
Most of you won't have a clue what 800g of fruit and vegetables is. Let me try and help you. An 80g portion of fruit and vegetables equals approximately one small banana, an apple, pear or large mandarin. Three heaped tablespoons of cooked vegetables such as spinach, peas, broccoli or cauliflower count as a portion.
There is certainly a green light for green vegetables.
So the current UK guidelines are to eat at least five portions or 400g per day. Most people struggle to eat three or four portions a day even though they know the health benefits. In the UK, only about one in three people eat there 5 a day, so the chances of increasing to 10 a day look slight.
There is no denying the great health benefits of eating fruit and vegetables.
We've known them for a very long time.
My mum used to urge me to eat my greens. Mum was right – eating your greens really can improve your health.
A study in 2014 showed that a diet high in leafy vegetables is also good for heart health. The NHS recommends leafy greens as part of a balanced diet. Of great personal interest to me, as someone who is visually impaired is research that found that greater intake of dietary nitrate and green leafy vegetables was associated with a 20 percent to 30 percent lower risk from regular glaucoma and up to 50 per cent for glaucoma with central vision loss.( Harvard Medical School)
All greens like spinach, broccoli, cabbage, kale and lettuce are incredibly healthy.
They can help to thin blood and cut the risk of clots, strokes and even heart attacks
Those suffering cardiovascular diseases can improve their quality of life by eating greens.
Leafy vegetables contain chemical nitrate that improves heart health and combats diabetes.
Vegetables contain an array of antioxidants and other disease-fighting compounds that are very difficult to get anywhere else. Plant chemicals called phytochemicals can reduce inflammation and eliminate carcinogens, while others regulate the rate at which your cells reproduce, get rid of old cells and maintain DNA.
Green vegetables are high in fibre, low in calories and rich in nutrients such as vitamins K and A and folate all things our bodies need.
I could go on and on with the health benefits but I really don't want to turn this into a scientific article, I leave that to the experts.
The point is your health needs you to begin eating sufficient amounts of fruit and vegetables, particularly getting enough greens.
Whilst consuming more than five portions of fruit and vegetables a day may be desirable… adding pressure to consume more fruit and vegetables creates an unrealistic expectation. Maybe there's an easier way.
There is now a very easy way to ensure you get at least your 5 a day to ensure you are getting the necessary goodness your body needs and deserves.
Introducing you to Healthy Lifestyle Livings Green Boost, a nutrient dense green superfood, a great way to get in more greens than you might be able to eat in a day. It is quick to make and just requires water. You can also add dates, bananas and pineapple to make a gorgeous smoothie.
Add to juice or shakes, or your baking. Or just add to water and drink your 5 a day in a few seconds.
Equivalent of all of your 5 a day in 1 scoop.
Enjoy all of your favourite greens in a single equivalent of your 5 a day serving.
Just 99p per day.
It is Vegetarian, Vegan, and Dairy Free.
No longer will you struggle to take in the optimal amount of greens each day.
This green superfood is easy to make and saves you the time and effort of weighing out your ingredients and adding them all together. One scoop and your good-to-go.
Green Boost contains a powerful blend of 17 delicious natural vegetables & antioxidants in one convenient blend for optimum health & nutrition. Ingredients include Spirulina Powder, Alfalfa, Barley Grass, Wheat Grass, Kale, Spinach, Broccoli, Watercress, Parsley, Celery as well as Carrot, Ginger Root, Beetroot, Alfalfa (Sprouts), Green Tea and Beta Carotene. A great green superfood blend.
Pure goodness in a scoop. It really is amazing.
Just to demonstrate by telling you a bit about a few of the ingredients.
Alfalfa is considered the richest land source of minerals. It claims vitamins C, E, A, K, B1, and B6, as well as calcium, carotene, protein, iron, potassium, and zinc; it is also an anti-inflammatory and antioxidant.
Barley grass contains four times the amount of calcium as a glass of milk, and as much protein as one ounce of steak. It also has about twenty times more iron than spinach does and is rich in vitamins A, C, E, K, and B complex. It has every amino acid that your body requires and is great for those trying to lose weight or get a good night's sleep.
Kale is rich in calcium, vitamins, minerals, and antioxidants.
Spinach shares the same health benefits and nutrients as Kale and other leafy greens and is also extremely rich in iron, which helps keep your blood healthy.
Wheatgrass is rich in chlorophyll and the nutrients found in the other types of grass. It helps to boost your energy, stabilize your blood sugar, and is great for detoxification and healing.
Then we have Spirulina, a green superfood essential. This packs an amazing 60 percent vegetable protein. It's also a great source of iron, zinc, magnesium, copper, calcium, and vitamins E and C. It has quality beta-carotene and gamma linolenic acid, an essential fatty acid. Spirulina is excellent for helping protect you from cancers, heart disease, gastric disorders, inflammatory disorders, and other diseases caused by free radicals.
Taking this product from Healthy Lifestyles Living could help:
Your skin to glow and look radiant
Boost your energy, helping you to perform at your best
Increasing your stamina
Cleanse your body
Boost immunity
So give it a try. Healthy Lifestyles living in one scoop of an amazing green superfood.
Score Your Way To Good Health - With Our Healthy Lifestyle Plan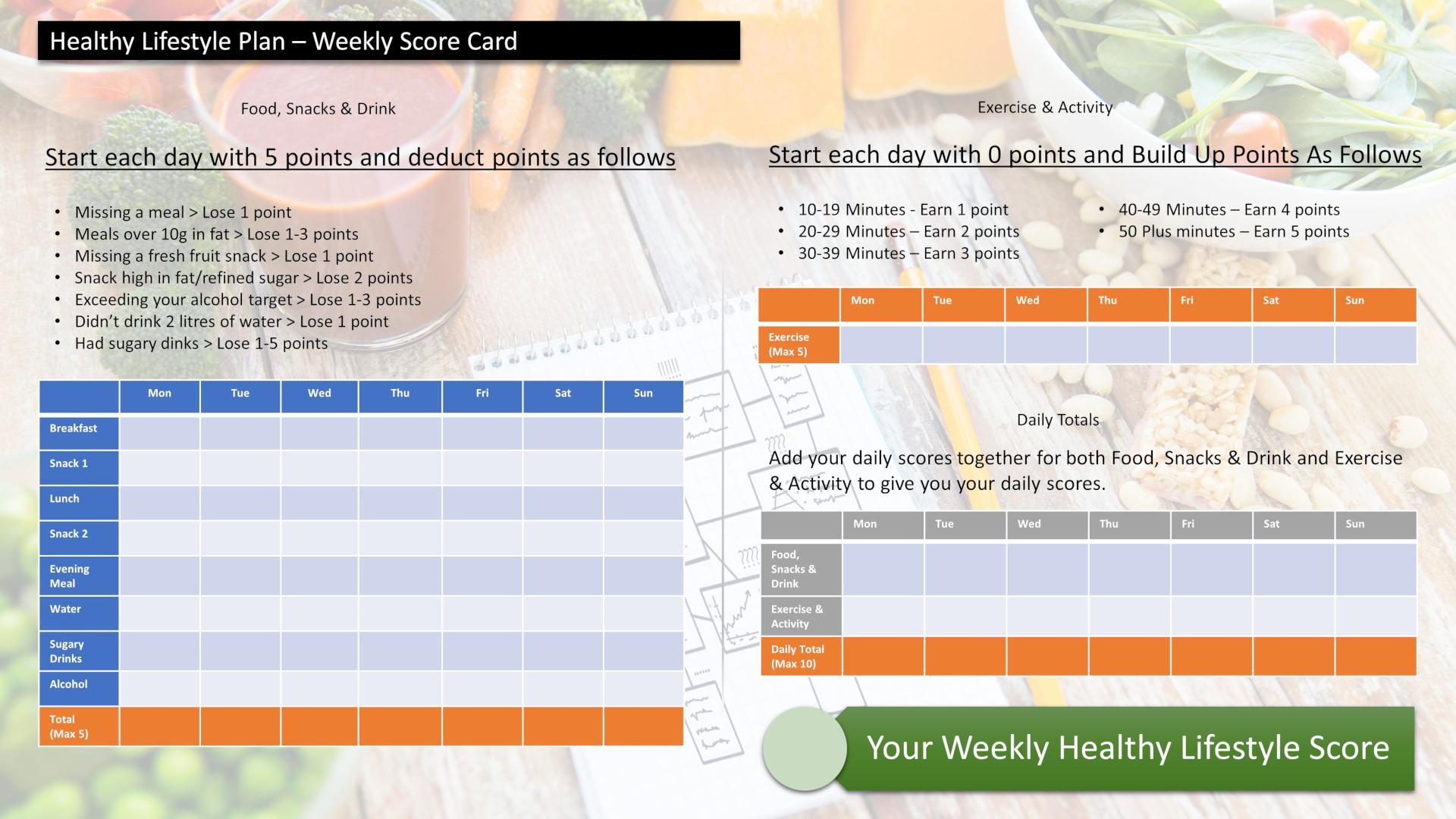 Score your way to good health with our healthy lifestyle plan and it's unique 70 point weekly scorecard!