Your health is not getting better no matter what you try, and you don't know what to do next, but you do know you are ready to take back your health, in fact you are desperate to?
CONGRATULATIONS! By being here you are demonstrating that you will not allow your illness to get the better of you, instead you will do what's necessary to take back your health. Even though your health is not getting better having tried so many things already you still hold on to the hope that there are solutions out there.
My name is Larry Lewis. I am here to help you find your answers, beginning today! I have been a life coach for many years, and before this was the owner of a chain of gyms, and a fitness trainer who helped change an incredible number of lives. I am the founder of healthy lifestyle living and contributor to the Huffington Post. As a survivor of chronic illness, myself, I intuitively understand what it means to have a chronic illness and how hard it can be to take back your health into some form of descent order. Having done this for myself I want to help others to do the same.
In this article I will go through some of the key lifestyle changes you need to implement which will help you to take back your health.
Learning to live with a chronic illness is hard, often downright impossible, right? The toll it takes on our minds, bodies, and soul is simply staggering.
Right now, you may be feeling lost, frustrated or struck down by your health, no matter how many visits to the doctors or hospital appointment you feel like you are getting nowhere just going around in circles.
Maybe you've spent a lot of time researching like crazy, trying to find that thing that you're missing.
You're fed up finding no way out of your current ill health situation and need to find a solution to take back your health.
It's time for you to take back your health and your life once and for all!
Taking back control of your health is the single most important thing you can do for yourself and for everyone in your life. However, for many people this can be the scariest, most overwhelming, and what seems like the most impossible things you've ever done.
You know in your heart that you need to make changes and you feel totally ready to embark on a journey to a new, healthier and happier you, yet you simply don't know where to begin.
The endless amounts of conflicting information confuse you to the point that you're ready to throw your hands up, give up and just continue on each day feeling less than ideal and not 100% in love with your body, your mind, your attitude and how your feel each and every day. You have probably tried so many ways to get things to change but to this point nothings worked.
That's all about to change.
Whatever your ongoing condition — diabetes, arthritis, high blood pressure, heart disease, chronic pain, anxiety, or something else, you can take back your health and your life. It's not going to be easy, you'll no doubts have to make huge changes, but it's worth it I assure you.
and since, have helped others to do the same.
Let me introduce you to the key lifestyle practices you need to implement into your daily routine in order to take back your health. Right now,
I am going to share everything that I used to totally turn my health around,
Take responsibility
First you need to take responsibility for your own health and implement lifestyle changes that will contribute to the achievement of your personal health goals. You just need to know what to do.
I know how easy it is to become reliant on our doctors and consultants to provide us with the solutions to take back your health. Alas for many this means waiting for the impossible. In my experience doctors can help us stop things from getting worse, but rarely can they provide cures. Only you can, by making changes to your existing lifestyle which may have played a part in getting you to where you're at in the first place. Accept that only you can bring about changes, and show a determination to do this. The power you will provide will make you into an unstoppable force.
30 minutes of exercise as a minimum
Physical activity is essential if you want to take back your health as it keeps the whole person—body, mind, and spirit—strong, flexible, and balanced. So right now I'm pretty sure you need to rebuild yourself and regain fitness and strength, so you must begin to do exercise.
There are many types of exercise that can be very beneficial, walking, swimming, aerobics, dancing, jumping, and so forth. Start lightly, try a 15-20 minute walk. I didn't say run, go to the gym, and take aerobics classes, simply walk. Start slowly, over time build up to a power walk, but walk. Again, to start 10 minutes a day is better than nothing, build to 30 minutes every day or even up to an hour. The more the better. You will start feeling so many benefits of this
Fasting between 16/14 hours a day
Fasting was the one change that without any doubt contributed most to me being able to get back to good health. Fasting is simply a conscious and deliberate abstaining –totally from consuming food for a predetermined length of time. Fasting puts the body in a condition where it can turn its attention to flushing out the causes of body miseries giving your overworked and overburdened internal organs ample rest and time for rehabilitation and permits them to become 100% efficient in healing your body.
I recommend 16 hours for a man and 14 for a woman. I eat my food within an 8-hour window and for 16 hours I fast, generally between 8pm and 12 noon This means taking in no calories. I sustain myself by drinking lots of water, black coffee and herbal teas. It is life changing!
Eating a Plant Based Diet
Consuming a healthy, nutrient rich diet improves the body's natural healing process. Avoiding processed foods, preservatives, artificial additives and anything that doesn't come in its natural form, as well as all foods derived from animals (meat and dairy ) is life changing by how it impacts the natural healing process.
"The doctor of the future will no longer treat the human frame with drugs, but rather will cure and prevent disease with nutrition." Thomas Edison
A Plant Based diet will see you eating fruits, vegetables, tubers, whole grains, and legumes; and I repeat excludes meat (including chicken and fish), dairy products, and eggs.
For many of you a dramatic change, but life changing too.
30 minutes of deliberate relaxation
Regular relaxation is just as important as diet, sleep, and exercise; it plays a major part in helping you feel your best, physically, emotionally and spiritually.
If you use relaxation techniques such as meditation, progressive muscle relaxation or deep breathing daily you can help your body relax and activate the natural healing process. The key to creating the relaxation response is calming your mind which encourages your mind to heal and activate the body's remarkable capacities for self-healing.
Practice positivity
Haven't you learnt by now that being down and anxious does nothing beneficial for you, and in fact can make you feel worse. I know it can be hard to be positive, but by controlling your negative thoughts and allowing yourself to think positively instead, you will build the motivation and belief that you can bring about change. There's healing power in positive thinking. Positive belief, hope, and expectation will support self-healing in your body. So let the belief that you are certain that you are now on the road to take back your health, because this belief gives you positivity and that positivity will help you on the road.
10 minutes of focused gratitude
What have you got to be thankful for, you may be saying. There is always something to be thankful for, whether big or small. The love of a child. The hair on your head. The first breath you take every morning. The beauty of nature. Find the things you are grateful for, and remind yourself every morning.
Sleeping 8 hours a night
Getting plenty of rest is probably the single most important factor to recuperating from an illness. Rest can include sleep as well as sitting and resting. Without sleep, your mental and physical processes suffer. It helps to go to bed at the same time every evening and get up at the same time every day. Aim for 8 hours. No more. No less.
Drink 2 litres of water
Hydrate yourself. Water is the unsung hero of recovering from illness. There is now virtually universal agreement that we need to drink at least 2 pints of clean, pure water daily.
There you have it. 9 lifestyle habits that are simply a must if you truly want to take back your health. These are Lifestyle Changes that can bring lasting health benefits.
Let me make this clear. While the body can heal itself naturally, it cannot do it properly if you are constantly flooding it with unhealthy choices. Time to wise up and implement these lifestyle habits.
I have to say there's no guarantee that your health will get better, but it's worked for me, for others and there's a strong possibility that it could work for you. It surely makes sense to give it a try.
After all, what's your alternative. To carry on as things have been, allowing them to probably slowly but surely deteriorate a bit more.
LET'S CHAT!
Ready to take back your health, get your energy back and come alive again? I know you are! And I can't wait to chat to you about it!
I'm happy to spend around 30 – 60 minutes together (via Skype) with you to chat about your health – what's going on, what you're goals are, what's stopping you and if you can implement the necessary changes that will make all the difference !
What I help people do is to fill the gaps that their missing, to ask the questions they've never even though of asking, to help make the connections that they can't see themselves because they're too in it to see it.
I wish I'd had someone who could have shortened my journey through illness and offered me these solutions which did in the end help me get back to good health.
So if you want to chat, you're ready to implement these lifestyle changes to take back your health then make an appointment right now, before all my available slots are gone.
Any questions fire me off a comment or hit me up through my contact form 
Score Your Way To Good Health - With Our Healthy Lifestyle Plan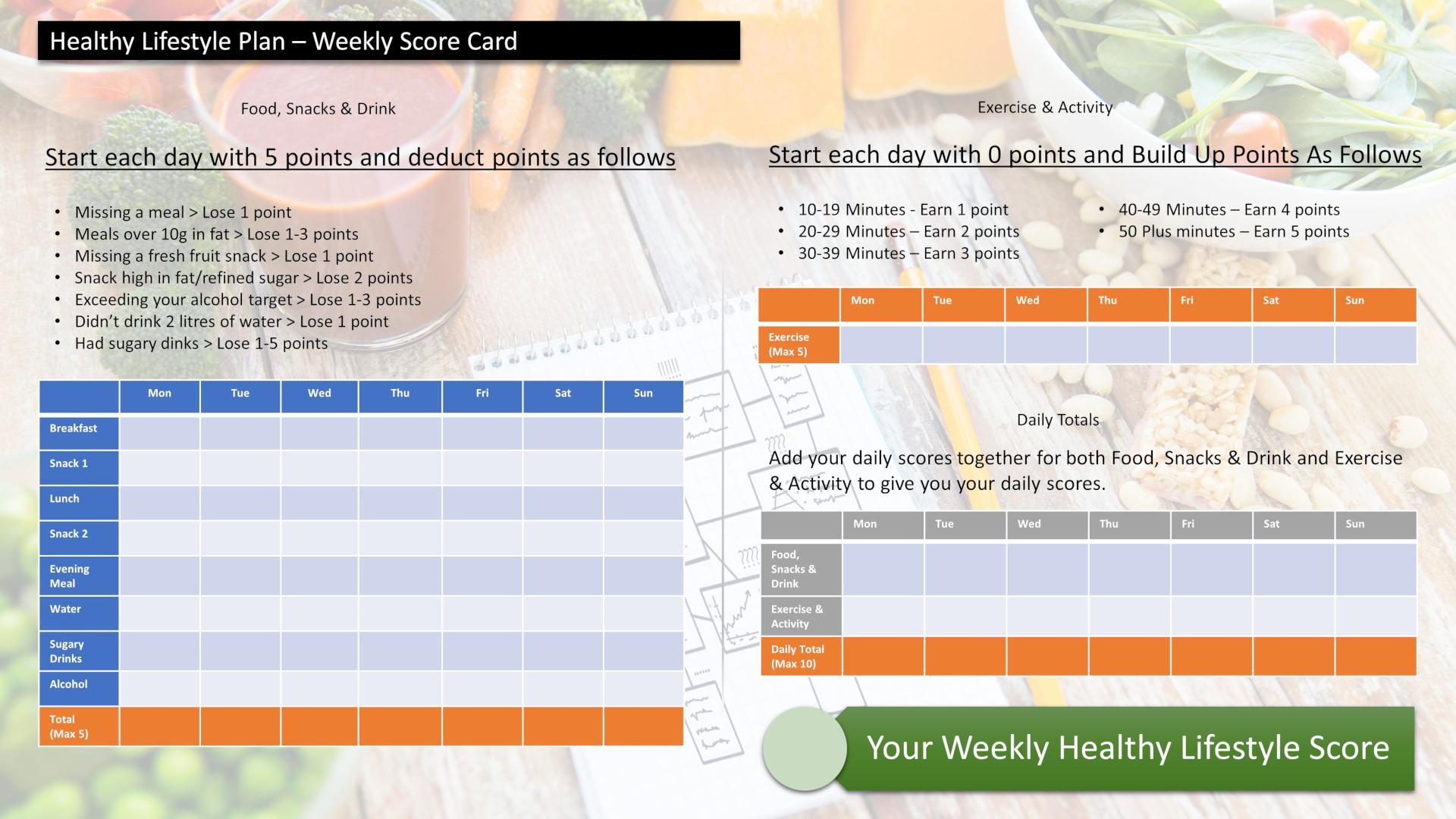 Score your way to good health with our healthy lifestyle plan and it's unique 70 point weekly scorecard!