As a blogger I enjoy spending time online and establishing my online presence. It's fun! It can also be hard work with so much needing to be done:
I speak to a lot of bloggers who would admit to living on their laptop. They get up in the morning, make coffee and check their blog and stats, respond to comments, e-mails, read the updates on other blogs and comment on them, etc. By the time they've finished it's too late for them to eat breakfast, and too early for lunch, so they just have a sugary snack, and keep pouring coffee down their throats. Things get no better throughout the rest of their day. Every time they need a burst of energy they go get a cup of coffee, and maybe a chocolate bar or some other sugar laden snack.
This type of 'blogging lifestyle' can take a toll on your body and overall quality of life – if you let it.
Long hours spent sitting in front of a computer, typing, without any break to stretch a few muscles or grab a bite keeping fuelled up with coffee and snacks is a definite no-no, if you don't want your overall health to suffer.
So today I am speaking to the blogging world to ensure that bloggers don't ruin their health while doing what we all love, and that's blog. What I must remember, no matter how much I love blogging, is that I made a pledge to help others to improve their health and well-being, so I cannot ignore the potential negative side effects of blogging to your health.
It is important to combine properly your working day and blogging regime with healthy, balanced nutrition, and time to relax and exercise.
Here are some tips and tactics to try out if you want to be a healthy blogger:
(1.) Never skip breakfast. Breakfast is the most important meal of the day as it provides you the energy you would need to do your activities for the entire day. A lot of bloggers go straight to their computers upon waking up to check their blog and stats. Missing breakfast is going to reduce your productivity, lose your concentration, and lessen your performance. So make it a 'must do' to eat a healthy breakfast every morning, within at least an hour of waking.
(2.) Stretch your muscles. Sitting on your backside for long periods of time in front of your computer will effect your blood circulation. Breaks help you to avoid stress. Everyone needs to take some time away from the desk every once in awhile. Every hour, get up and do something else. So my suggestion is for 5 minutes every hour, take a break, pick yourself up from that chair, have a walk, move that body, stretch and relax your tensed muscles a bit and then get back to work. This will help to lower stress, eliminate headaches and assist in back aches and neck pain.
(3.) Keep Hydrated. Drink at least 6 to 8 glasses of water every day. Replace your coffee with green tea, it contains caffeine as well but is also packed with antioxidants. Green tea is great, but don't forget water is even better. Keep a glass or bottle of water on your desk or table, so that you can still keep yourself hydrated when you are too lazy to get yourself up.
(4.) Protect your Eyes. You need to look after your eyes. Make sure you are not too close to your monitor. If you blog continuously for hours make sure occasionally you take your eyes off the computer screen and do some eye exercise. After my eye surgery two years ago, I really do realize how important they are to me as a blogger, so boy do I keep careful watch on the good one I've got left.
(5.) Exercise Regularly. Physical activity is essential for your health. So get your arse up and do at least 30 minutes every day. Good exercises include moderate-pace walking, running, bicycling, rowing, hiking, weight training and any other type of aerobic exercise.
(6.) Get Enough Sleep. So you get up early to check your stats, and work into the early hours of tomorrow morning chatting to your blogging mates in facebook. Relaxation and sleep are very important to your overall health. Adults should be getting seven to nine hours a sleep every night. Sleep and relaxation are important to fight against stress and mood disorders. So early to bed tonight my blogging friends.
(7.) Eat Right. Your first guideline to healthy living is to pay attention to what you eat. Build your daily diet around fresh and whole foods like vegetables, fruit, berries, whole grains, low-fat dairy products, lean meats and healthy fats. Make sure you feed your body and your brain. Eat three times a day and have two snacks between meals, with your best option being fruit.
(8.) Look after your Back. Buy yourself a descent office chair. This is so important to protect your back keeping it in a good position while spending hours in front of your computer. Make sure your desk/table is the right height and is big enough to fit your working papers, and everything else you need. Pay attention to your posture it is crucial that you don't keep forcing your body into an unnatural typing position.
(9.) Keep Calm. There is nothing more frustrating than a malfunctioning computer. Whether it is running slow, your internet connection keeps disappearing or there is a hardware issue, it is important to learn how to let it go without getting too angry. Before Internet rage overcomes you, just sit back and do some Deep breathing.
(10.) Take a day or a weekend off, away from the computer. You've got to try and spend less time working on your blog. I know how difficult it can be at first not to check your blog, reply to comments, write your new blog post, chat in facebook, and look at your stats. But you need to take a break often so that you don't exhaust yourself.
Don't forgo your health for blogging. Enjoy healthy blogging!
P.S. I am curious to know if you can suggest some more ideas on how we can stay healthy while doing this thing we love, called blogging. Let me know in the comments below.
Score Your Way To Good Health - With Our Healthy Lifestyle Plan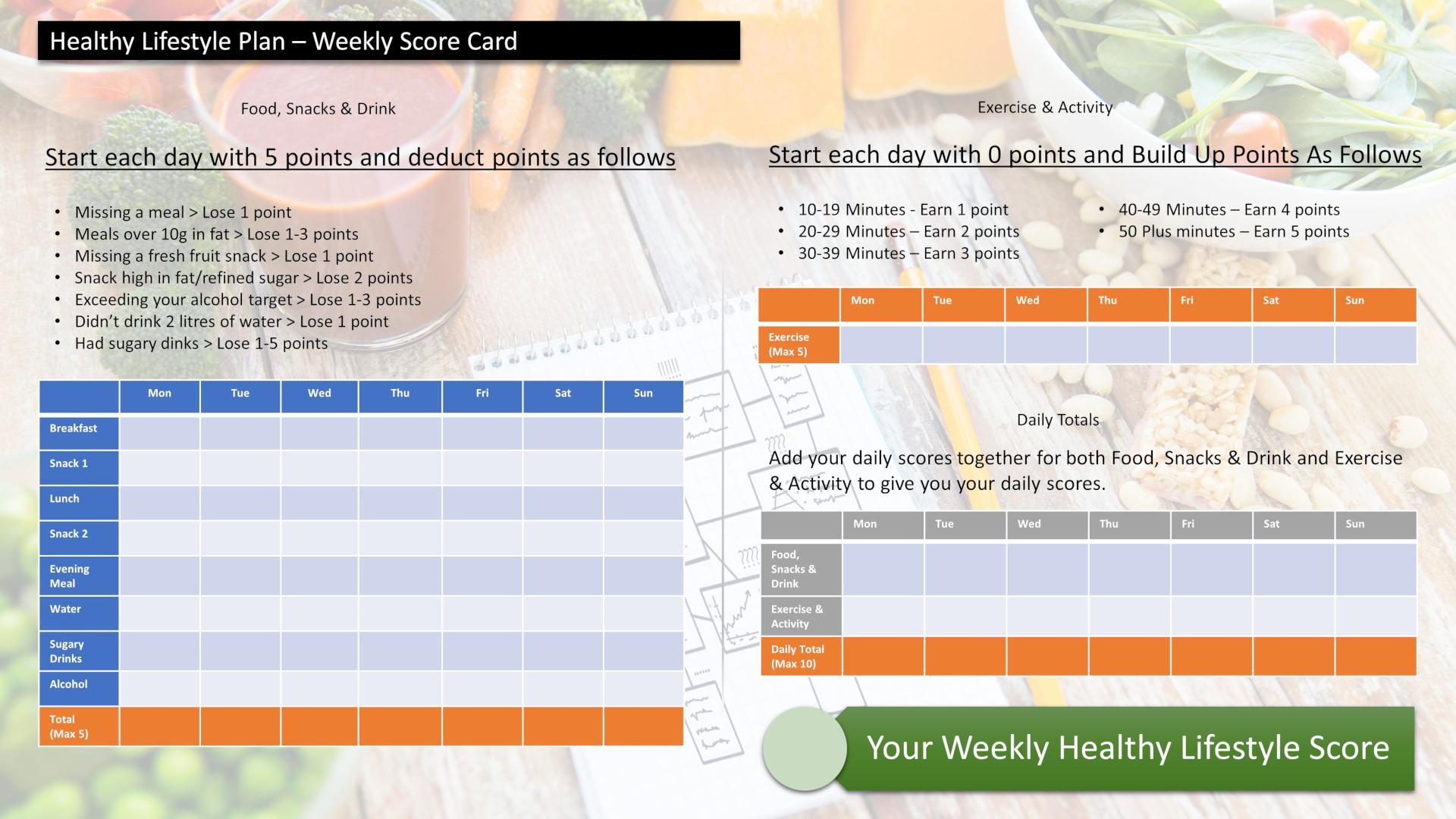 Score your way to good health with our healthy lifestyle plan and it's unique 70 point weekly scorecard!