The first question perhaps that I should ask is, are you as healthy as you should be? I am sure everyone wants to enjoy life and live a healthy lifestyle. Alas to few seem to be able to implement effective lifestyle changes, and I don't think this is a matter of whether they want a healthy lifestyle, it's just they don't seem to either be able to make the necessary changes or sustain them over the long term.
I've always been aware of the importance of having a healthy lifestyle, and as the years pass me by, although I'd rather not be growing older alas that's inevitable, it's a process in life we all will go through, but we can enjoy these years so much more if our health is good, and following a healthy lifestyle is so important in enabling this.
Having worked in gyms for many years it was of course a regular occurrence for me to hear people say 'I want to join the gym to …
Lose Weight
Get Fitter
Decrease Stress
Have more Energy
My responsibility to every one of them was not just to get them started taking up physical exercise. Of course this is an essential step for them and was a big step for them to take. So not only would I congratulate them on their decision, and highlight the benefits they would receive from both cardiovascular training and strength training, I would also offer them practical advice on what else they need to be doing to not only get the specific results they had told me but also how to improve their health generally. Of course this involved providing them with healthy lifestyle tips. When they heeded my advice, improved their diet, practiced stress management techniques, drank more water and regularly exercised the results they achieved were at times amazing.
Every one can improve their health, and adopting a healthy lifestyle is key to doing this. It's never too late to improve your health, and by establishing a healthy lifestyle now, you'll continue to reap the rewards in the future, no matter how old you are. Anyone who wants a healthy lifestyle and implements some simple healthy principles will benefit in so many ways, like having more energy, no longer suffering from those niggling aches and pains, finding you are sleeping far better, and having far more get up and go.
You don't have to make massive changes all in one go. It is often better to gradually adapt your lifestyle implementing small changes every week so that in the long term you can reap the benefits of good health. With a little thought and commitment you really can see dramatic improvements in both your lifestyle and health.
I'm sure you've all heard the expression 'our body is our temple.' So it is imperative that you take care of it. If you repeatedly abuse it with unhealthy food, drink nothing but fizzy drinks and live a sedentary lifestyle you're going to do damage to it. The answer is so obvious and in truth simple.
You need to
Exercise daily
Eat a healthy balanced diet
Drink plenty of Water
Making these three changes will go a long way to making you feel so much better. Your health will dramatically improve, you'll have more energy and plenty of get up and go.
To me it's a no brainer that everyone would want a healthy lifestyle so they'd be doing these three things. Yet a majority of people don't. So my question to you is why do so many people fail to implement these 3 habits into their lifestyle
Score Your Way To Good Health - With Our Healthy Lifestyle Plan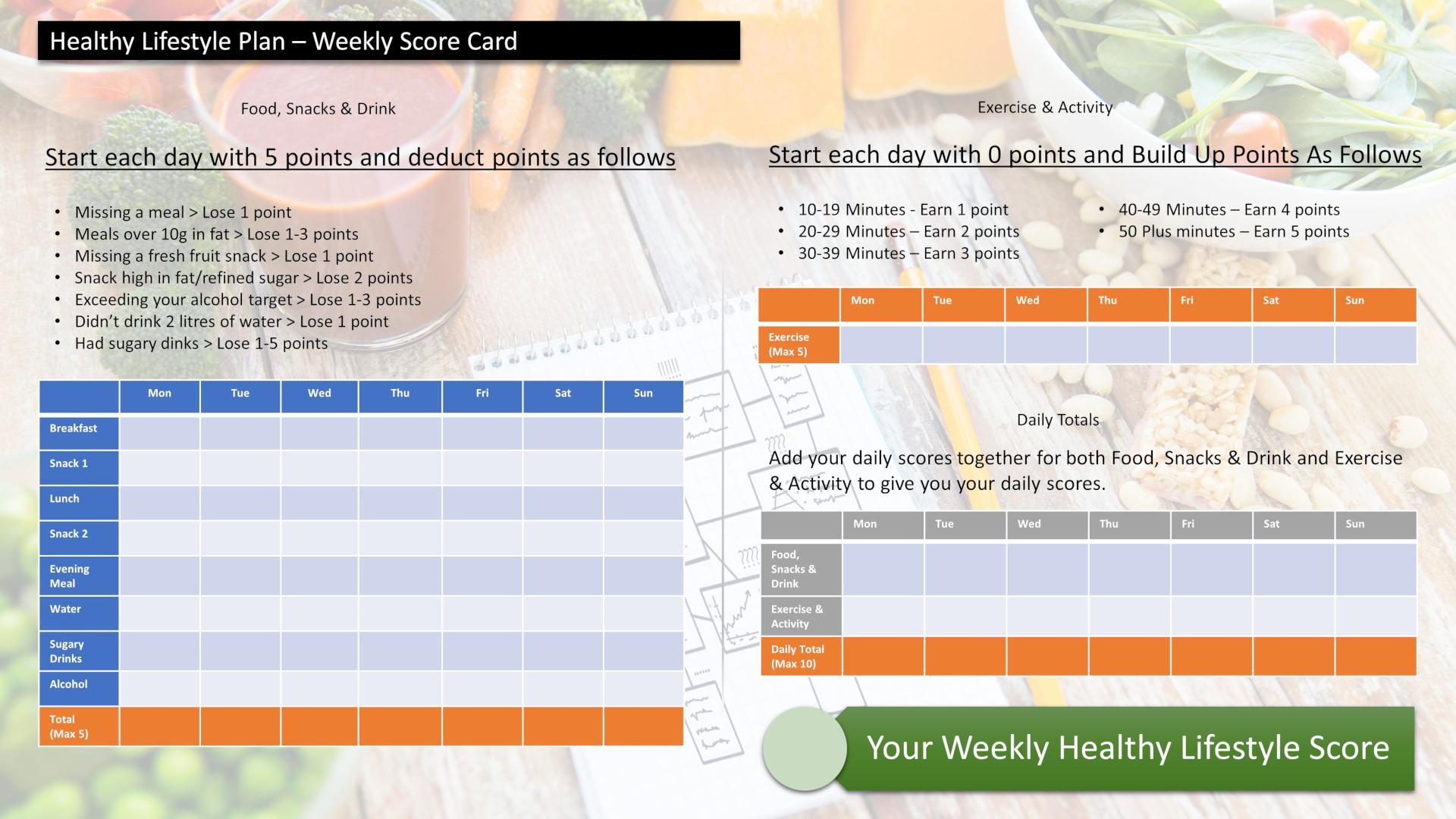 Score your way to good health with our healthy lifestyle plan and it's unique 70 point weekly scorecard!