A Healthy Lifestyle involves
• eating correctly,
• exercising sufficiently,
• using your mind effectively
• limiting the amount of unnecessary stress you experience.
There could be so many reasons that you have decided to make changes in your life, and therefore were attracted to this blog, and the concept of healthy lifestyle living. Maybe you've decided to adopt a healthy lifestyle; to lose weight; to help prevent an illness; to make more of your life; to simply just start feeling better, or to help you create a better balance in your life.
I'd take a pretty safe bet, that there's been a recent event that has now given you an extra motivation to finally make that step to implement changes in your life.
Everyone knows that eating a healthy balanced diet, exercising regularly and coping with stress are of benefit to the body and mind, and are habits necessary for a healthy lifestyle. But how do you balance work and family, and all the other areas of your life without spreading yourself too thinly and having a guilt trip when you do one thing, but think you should be doing another? The solution is to incorporate a healthy lifestyle plan that is designed to ensure you have your life in balance.
A healthy lifestyle must create personal wellbeing – or to put it another way, enable you to balance things in your daily life. All of the key areas of our lives overlap and interlink, effecting each other. Unless we create for ourselves satisfaction in each and every part of our life, we can never truly be fulfilled, or live a contented, happy and healthy life.
A key place to start is to stop beating yourself up, criticizing who you are and what you do. Loving yourself is a key to a healthy, happy lifestyle. Self-esteem is all about how much people value themselves; the pride they feel in themselves, and how worthwhile they feel. Self-esteem is important because feeling good about yourself can affect how you act. A person who has high self-esteem will make friends easily, is more in control of his or her behaviour, and will enjoy life more.
So come on let us introduce you to someone that really will impress you, and influence your growth from here on in …. Yourself.
Starting on a healthy lifestyle plan, is a new chapter in your life. The past does not equal the future. So see yourself now as someone you like and get ready to impress yourself and others.
Score Your Way To Good Health - With Our Healthy Lifestyle Plan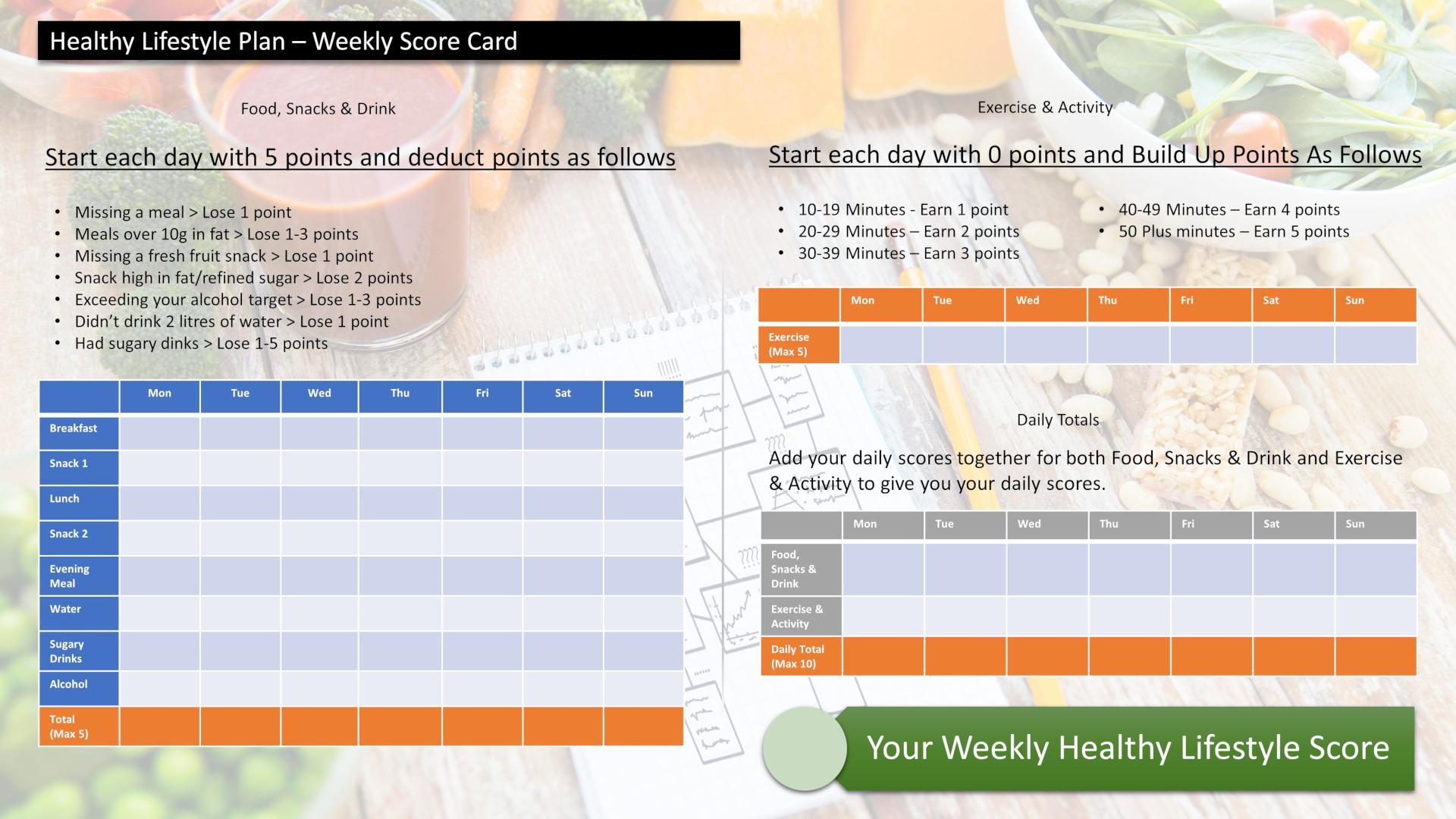 Score your way to good health with our healthy lifestyle plan and it's unique 70 point weekly scorecard!