Christmas has come and gone. The New Year has arrived. Hopefully you had a wonderful time, let your hair down and had great fun, and took a well deserved break. It's the time that we look forward to all year long knowing we will be enjoying all those extra special, mouth watering seasonal treats with family, friends and work colleagues. A time to go to every party and finger lickin' buffet that's going – without that nagging conscience!
In my case, Christmas week is my time for letting go. Where everything I follow the rest of the year is put on the back burner. I eat foods that I wouldn't normally, like chocolate, cake, crisps … and I love every mouthful. I overdo the alcohol consumption about four times in the month, and increase my portion sizes dramatically. Hey, I'm only human. I even cut back on my gym workouts, well I don't train on Christmas Day.
When the clocks struck twelve and New Years day began, I waved goodbye to not only the year just gone, but also to my excesses of the previous month. I am straight back into focus. My goals are back, and so am I.
Hands down, the most common New Years resolution, year after year is the optimistic dream that this will be the year to shed that extra weight. As 2011 began, many will have vowed that this year they would drop those extra pounds, get to the gym and fit back into their skinny jeans. Are you one of these?
How many of you in the past have made a new years resolution and by about lunch time on January 1st it has almost been forgotten about? Well why shouldn't January this year be the year that your resolution for weight loss actually comes together. Well, do yourself a favor and commit once and for all to achieving this long yearned for result, and create the new you.
Are you tired of dieting? Whether you're ready to start losing weight, need to boost your metabolism, or just want to start living a healthy lifestyle, here I offer you steps to the new you:
1. Eat several meals a day
Of course, you can't just eat something at breakfast and expect to keep your blood sugar level in check all day long. Eat at least 3 meals spread over a whole day. Even better would be to eat up to 6 small meals per day. This way the food energy can be gradually processed, Keeping constant food cravings under control is essential when trying to learn a healthy lifestyle or on a fat loss program. your glucose or blood sugar level indicates how much energy you've got readily available for use. If your blood sugar is too low, a hunger signal will go to the brain initiating food cravings. Low blood glucose levels indicate you're low on energy. Obviously, this happens when you don't eat enough throughout the day. As a result the body will send out a message saying it needs food, which in turn will trigger the cravings. The lower your blood sugar levels, the more severe your cravings could be. So instead of eating 3 big meals a day (breakfast, lunch and dinner), or eating all day all the time, spread your calories out over 6 smaller meals. Eat one meal every 2 and a half to 3 hours. Doing this will speed up your metabolism keeping the huge swings of the blood sugar to an absolute minimum.
2. Eat Low glycemic foods / complex carbohydrates
We love filling up on simple carbohydrates when the cravings kick in. Simple carbohydrates are found in foods such as pizza, pancakes, spaghetti and high fructose sodas. These simple carbohydrates are very quickly absorbed by the body, causing a blood sugar rush. Simple carbohydrates quickly supply us with that much craved carb load. After the initial high simple carbohydrates give us, the blood sugar will dramatically drop. Incorporating Low Glycemic (complex carbohydrate) foods (eg. oatmeal, brown rice, whole pasta, vegetables and others) into your diet will supply you with slowly absorbed energy and keep your sugar in balance all day long. Not only will this keep cravings away, it will make fat loss a lot easier as well. Lower the bad Carbs! Limit foods high in bad carbs. These carbs will eventually turn into fat. Foods like sugar, white bread, rice, pasta, potatoes, etc. are high in simple (bad) carbs.
3. Control the amount of fat you eat
The bad fat must go! Stay away from "bad" fat! Get rid of all the crisps and chocolate. No more fast food, nothing fried. No more biscuits, no more cake, no more of these saturated fats. Processed foods are to be avoided. There is no question about it and there is no way around it, get rid of these types of foods. Don't get me wrong, you should not be eating 0 grams of fat every day, but the only places you should be getting your daily fat intake from are lean meats (not the fried fast food kind), chicken (again, not fried!), etc. as well as the foods that contain the "healthy" types of fat, which can be found in just about every type of fish (tuna fish, salmon, etc.), nuts, olive oil and flaxseed oil. My recommendations are to aim below 10 grams of fat per main meal.
4. Include Protein in Your Meals
Eating more protein will make you feel satisfied and full faster. Foods that contain protein are needed by the body to grow and repair body cells and fight off disease. The body usually needs more protein during times of sickness and stress.
High Protein Foods are:
• Meat and Seafood
• Milk and Milk Products
• Eggs
• Nuts, Nut Products and Seeds
• Dried Beans and Peas
• Soy Products, Tofu
• Commercial Nutrition Products High in Protein
Make every effort to include high protein foods in your diet. Getting good, high quality protein will not only increase your lean mass (non fatty tissue) but it will increase your metabolism, and burn away fat. You know how sugar makes you fat? Well Protein makes you lean. Whether you want to be buff, lean, or just thin, meat is what's going to give you the body you want. And, you can get what you want out of fish and poultry too. When it comes to meat, the leaner the better.
5. Never Eat Carbohydrates By Themselves
Each meal needs to provide your body with a balance of lean (low fat) protein, low Gi (based on the Glycaemic Index), high fibre Carbohydrates and essential oils. This balance will keep your blood sugar and insulin level stable which is necessary to get your body into a fat burning mode. This balance also helps control your appetite, so you are less tempted by unhealthy foods. One way to make sure you store less food away as fat is to mix up your nutrients. That means mixing carbs, protein and fat. We get much more nutrients and efficiency out of our meals when those three nutrients are eaten together instead of separately. The oils in the fats and proteins will act a lot like the fibre does, in so far as making the carbs take a longer time to break down in the stomach., thereby reducing the effect on your blood sugar.
6. Water!
Drink water! Get rid of the soda, get rid of the beer, and get rid of the sports drinks and the cordials. Drink around a half gallon a day, more if you can. Spread it out throughout the day, just like your 6 meals. Yes that's a lot of water, but it's that water that will give you energy and speed your weight loss. Water is essential in a healthy lifestyle and it's probably the cheapest and easiest way to stop cravings. Anytime you feel hungry drink water, and I promise you that craving will disappear. Keeping a bottle of water by your side is a must do in my book. Water is 'the oil that keeps our body running smoothly all day long'.
7. Strength Training!
Yes! Lifting Weights isn't just great for muscles, it's great for losing weight. Muscles burn calories. Weight train, three times per week on alternating days with aerobic exercise three times per week is what I suggest you do.
8. Develop an Exercise Routine
Exercise is an important part of a healthy lifestyle. Fitness takes hard work and dedication but the results can include lengthening your lifespan and creating a body that you are proud to show off. Stop making excuses. Now is a great time to commit to a new you in the New Year. My clients will be aiming to do 50 minutes of exercise daily. Three or Four of those will be workouts in the gym where they will be combining their strength training with aerobics activities. The other three or four days will include a very easy activity, namely walking. A fast brisk walk is as good a fat burning activity than most others. If 7 days a week is to excessive for you, at least commit to 3 times a week. You've only got one body, so it's best to look after it!
9. Sleep!
Yes! Sleep! The easiest, yet most over looked step. Get at least 8 hours of sleep a night. Trust me, you need it!
When making resolutions regarding your health and fitness, remember that making changes to your body and lifestyle take time. You can't do it all in one day. After all you haven't got to where you are today in a week or two. Stick with it, believe that this year you will achieve your goals …to Get Fit, Stay Healthy, and Be Happy!
Make this coming year, 2011, your best ever yet!
Score Your Way To Good Health - With Our Healthy Lifestyle Plan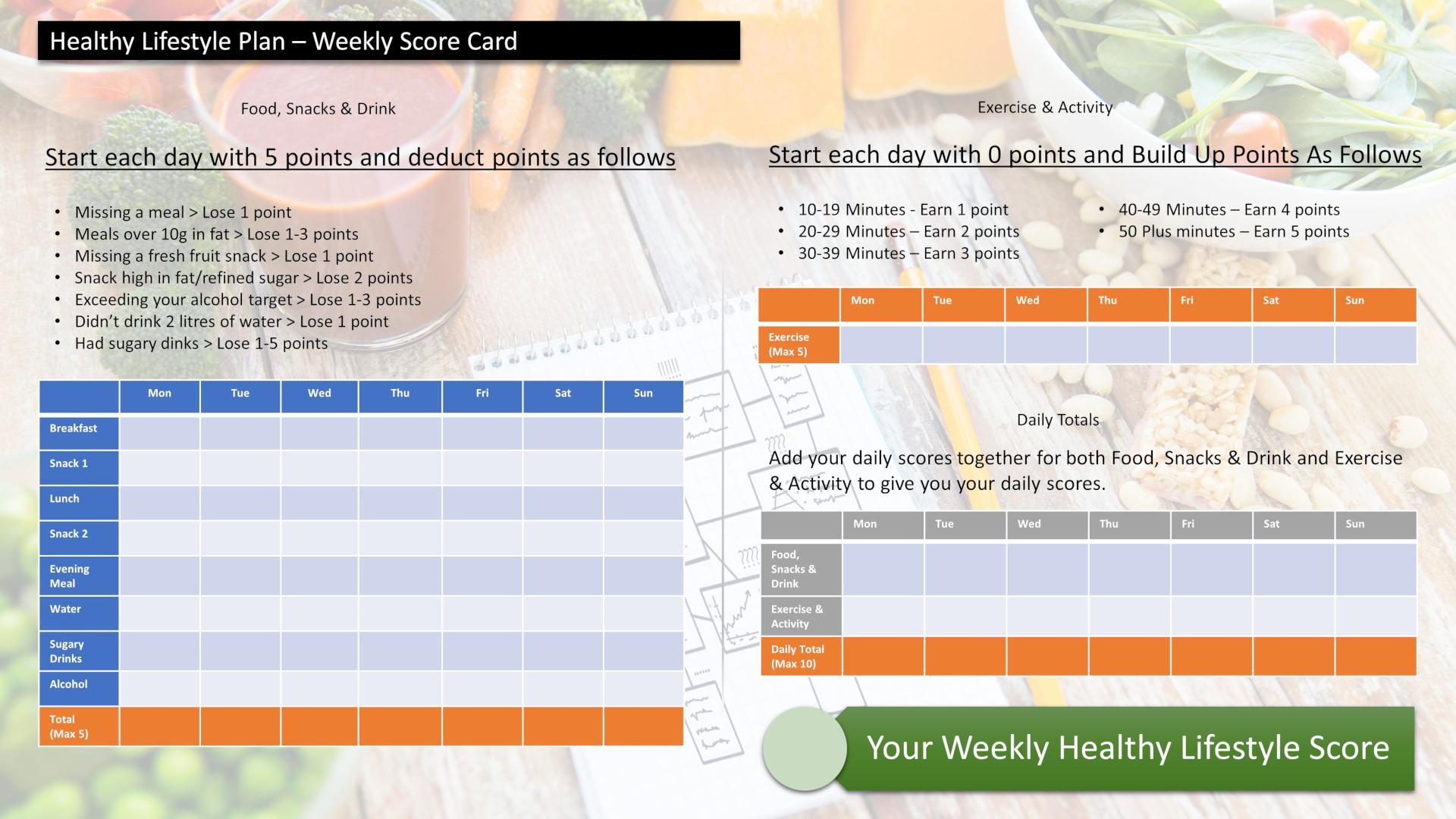 Score your way to good health with our healthy lifestyle plan and it's unique 70 point weekly scorecard!