It can be difficult but starting on the road to a healthy lifestyle is the best choice you can make! The lifestyle choices that you make every day play a crucial role in helping you to maintain your health and well-being both tomorrow and in the years ahead. Surely the reason you've arrived at a Healthy Lifestyles blog is you want to get started right now in taking the necessary steps down the road to better health. Why delay any longer in doing what's necessary to take care of your health.
Your physical and emotional well-being are largely determined by the foods you eat, your level of activity, daily habits and general outlook on life. It's you that control each of these factors by the choices you make. These choices will either be ones which can lead to you living a healthy life, or alternatively an unhealthy one.
I want you to realise that you are responsible for the quality of your life, and this is being determined every day by these very choices.
I see people struggling with illnesses that are created by preventable causes. This makes me so angry. So frustrated. We are now blessed by this wonderful thing called the World Wide Web, and through it so much wonderful information is now available at our fingertips. A few words typed into the Google Search engine can discover answers to anything you're looking for. Medical sites and health authorities are placing information that is invaluable. Passionate caring people like myself, bloggers, who want to make the difference, day after day put messages out on their blogs trying to educate and empower our readers to assist them in making healthy choices. Ignorance should no longer be an excuse.
Yet these preventable illnesses seem to be becoming more widespread year after year.
High Blood Pressure which is linked to strokes, heart disease and kidney disease.
High Cholesterol clogs blood vessels and is a major cause of heart disease.
Obesity contributes to serious medical conditions including diabetes, heart disease, high cholesterol, high blood pressure, stroke and certain forms of cancer.
Type 2 Diabetes can cause high blood pressure, blindness, kidney disease, stroke and heart disease.
Yet eating right and being physically active, keys to a healthy lifestyle are proven to reduce your risk of many chronic diseases such as heart disease, diabetes, osteoporosis and certain cancers — and increase your chances for a longer life.
Eating Right
Eating right provides the following benefits:
Maintain a healthy weight.
Have more energy throughout each day.
Prevent or control many illnesses and conditions including:
Heart disease.
High blood pressure.
Certain cancers.
Type 2 diabetes.
Improve emotional well-being.
You can feel better, look better and be healthier by following basic rules for healthy eating.
You need to be eating healthily, small and often, say every 3 hours, combining proteins, complex carbohydrates and good fats, while drinking lots of water.
Physically Active
Regular physical activity provides the following benefits:
Reduces your risk of heart disease and stroke.
Helps prevent high blood pressure and type 2 diabetes.
Improves bone health.
Lowers the risk of certain cancers.
Helps you handle stress, release tension, relax and sleep better.
Keeps weight under control.
Physical activity is anything that gets your body moving. You should do aerobic and muscle-strengthening activities to improve your health.
There is more to good health than just eating right and being physically active, but these two things are your starting point. How much simpler can I make this?
So make a start today. Make the choice to start on the road to a healthy lifestyle. Develop two incredibly important healthy habits, east right and exercise.
Score Your Way To Good Health - With Our Healthy Lifestyle Plan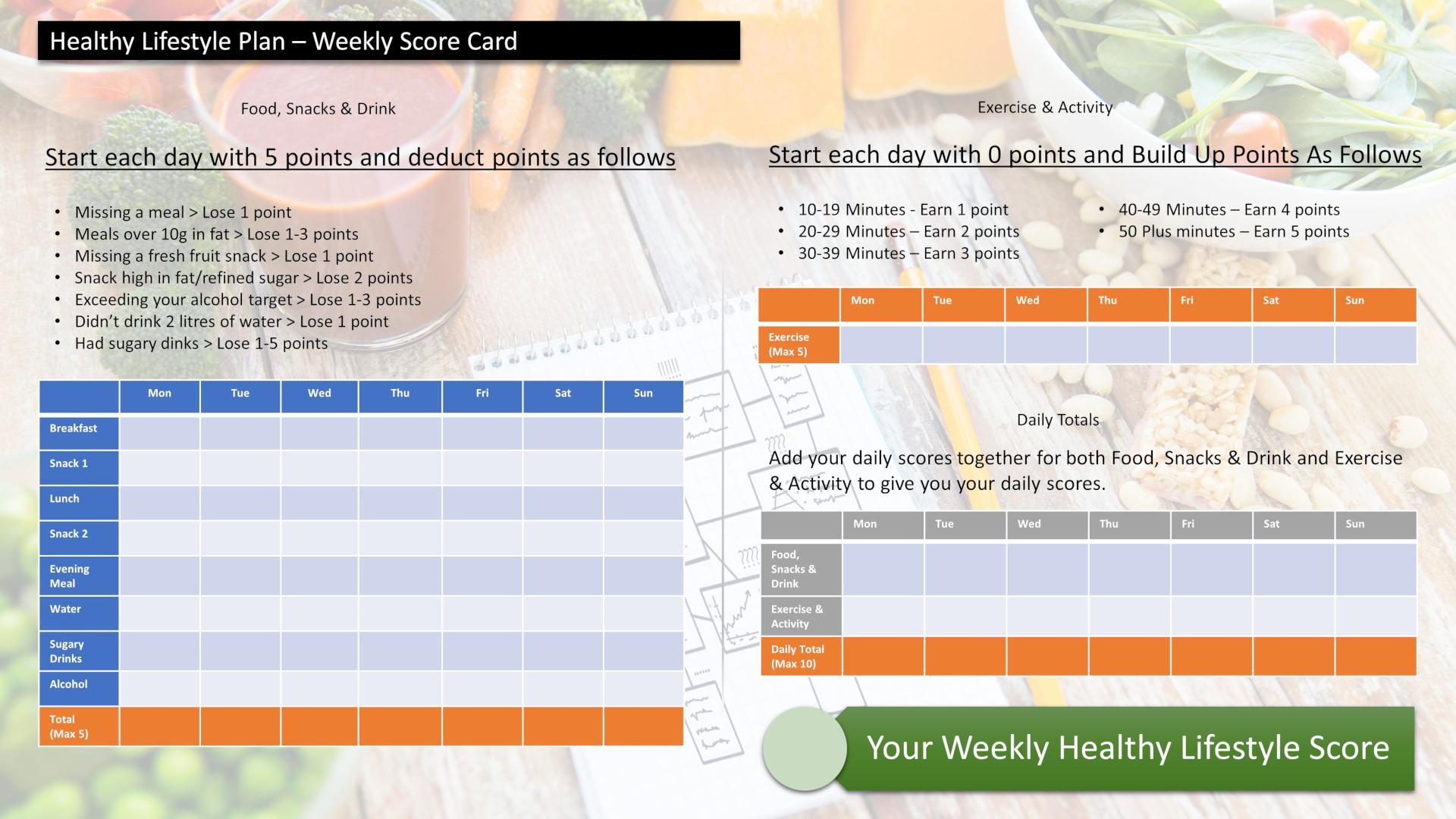 Score your way to good health with our healthy lifestyle plan and it's unique 70 point weekly scorecard!