Something I feel very passionate about is playing sports for health. A very noticeable factor that affects health which in my eyes seems to be getting more common, is the decline in the level of physical activity in people's daily lives. It's a very simple fact, physical inactivity is a major risk factor for most common non-communicable diseases.
Physical inactivity is associated with a large number of lifestyle diseases such as cardiovascular disease, cancer, diabetes and obesity. There is a very simple solution. An active lifestyle promotes good health and it is so important for people to take part in physical activity. It is a healthy lifestyle choice you simply have to make.
Numerous studies state that the more exercise you take, the healthier your body becomes. Making sure your lifestyle contains enough physical activity is an excellent way to make sure you stay in shape and are healthy. This doesn't mean you have to get yourself into the gym, for many people this simply isn't something they're ever going to be comfortable doing. There are so many other options available to you.
You can increase your physical activity through playing sport. Sport has long been used as a tool to improve mental, physical and social well-being
There is a huge body of evidence that shows physical activity and sport save, extend and improve the quality of lives. Those who are physically active have reduced risk of heart disease, strokes, type II diabetes and different forms of cancer.3 There is also compelling evidence that demonstrates the impact of exercise as a treatment as well as a preventer of ill health 4 reducing the need for expensive drugs, and potentially adding years to life. The evidence of the direct impact of sport on health is irrefutable.
So being a healthy lifestyles living resource it is only right, with the overwhelming amount of scientific evidence on the positive effects of sport and physical activity as part of a healthy lifestyle that we promote sport as a truly important part of life that every one of our readers should be participating in.
There are so many benefits of playing a sport. Playing sports helps you stay in shape, teaches you how to organize your time, boosts friendships and builds relationships with your peers and adults.
Whoever you are, there's an activity for you. Becoming fitter doesn't mean pushing yourself to the limits of your endurance and you don't have to be technically brilliant at a particular sport to enjoy pleasure and health benefits.
Some people hold back from getting fit because they feel self-conscious about their ability or body and want to find an activity they can do on their own, but organised classes and sports clubs can provide you with support and motivation, as well as a chance to make new friends.
You're never too old to learn to swim, play squash, or take up a multitude of sporting activities.
Here are some of the best, easiest and most popular ways to start getting fit.
Walking
Walking is an ideal form of exercise. It requires no equipment or expense and is one of the best ways for you to become more active. Increasing the amount we walk each day is the easiest and cheapest way to increase activity levels. It's easy to fit into everyday life. Walking improves the condition of your heart and lungs (cardiovascular fitness) and works the muscles of the lower body. Every one of you can do it, anywhere and anytime.
Running/jogging
Running might just be the ultimate way to get fit: it's cheap, can be done anywhere, at any time and, most importantly, is very effective. There's really no difference between running and jogging, although jogging is often used to describe running at a slow pace. Whatever you call it, all you need is a good pair of running shoes and a little enthusiasm. A jog round the park on a regular basis can slow the effects of ageing, so you can spot me doing exactly that trying to stop old age catching up on my 50 year old body.
Swimming
Swimming is another popular way to start getting fit because most towns have a pool, it's still relatively inexpensive and you need even less kit than you do for running. Guys just don't wear those speedos. Swimming is a great way to tone up and trim down, because to swim you need to move your body against the resistance of the water. Just swimming a few lengths involves most of the major muscle groups, giving your body a good workout. And if you crank up the pace, you'll get a brilliant aerobic workout, too.
Cycling
You need only look at the physique of cyclists to appreciate the potential effects of cycling on the body. I promise you it's not just down to the drugs some of them use. Cycling can easily be incorporated into daily life, carried out at different intensities and anyone can do it. Regular cycling can help you lose weight, reduce stress and improve your fitness. I love cycling, just be prepared it takes time for your backside to get used to sitting in a saddle.
Football
For my American readers I'm referring to what you would call soccer. The playing of the game is very healthy for you, although at the moment being a supporter of my beloved Arsenal isn't proving good for my stress levels. Playing football for one hour, three times a week has been shown to have significant benefits to health and wellbeing. Football combines periods of slow and fast movement with added bouts of sprinting. This makes the heart work at different paces and not just at an elevated level. Football may be people's passion, but it may also be the key to a long and healthy life. That's as a player not a supporter.
Dance
Dancing is largely an aerobic activity that improves the condition of the heart and lungs, as well as testing your balance. To dance for any length of time also requires muscular endurance and fitness. Now I'm no dancer, definitely having two left feet and no coordination either, but my two daughter love to dance and burn loads of calories when they do. . Closely associated to dance is organised aerobic classes. So get your dancing shoes on and move your body for health.
Golf
Although golf is often seen as a leisurely sport it's actually a great form of exercise. Golfing requires a lot of walking. With 18 holes, the average golf course is between 5 and 8 miles. If you keep a brisk pace while walking from hole to hole, you can definitely get in a good cardio workout, and swinging those clubs certainly gives you a good upper body workout. But no using those golf carts to get yourself around the course. I admit this isn't my sport of choice, but a lot of people play it and I know love it.
Racket sports
Racket sports are great for fitness. Racket games, like squash, tennis and badminton tax all the energy systems and require a combination of skill, stamina, strength, power and reaction time. Each in their own right require explosive activity and will have you charging and lunging all around the court you're playing on. Whichever you choose each is a great game and you will have somewhere local you will be able to play. .
So please take heed of my message, the joy of sport is in the taking part. It's never too late to try a new sport and there are opportunities waiting for you in your local community, and sports for health is simply one of the best things you can do for yourself.
I assure you, anyone who plays sports and does other physical activities report all kinds of health benefits, feeling better about themselves mentally and physically, it's a no brainer surely, go play a sport!
Score Your Way To Good Health - With Our Healthy Lifestyle Plan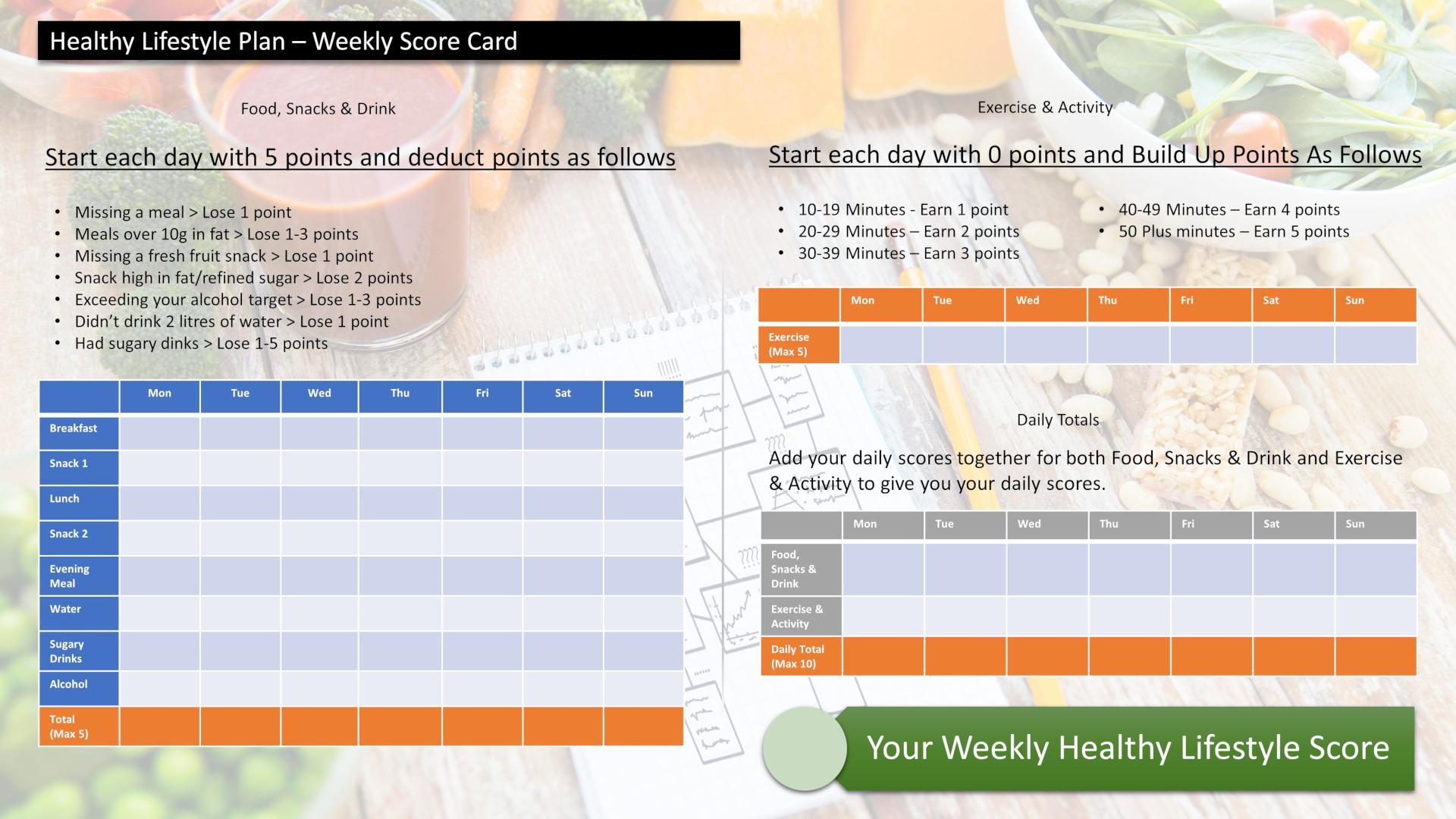 Score your way to good health with our healthy lifestyle plan and it's unique 70 point weekly scorecard!