This morning I woke up shivering. My room was freezing. With a rush of excitement, I leaped out of bed, ran to the window and threw open the curtains. Everything was white! A deep blanket of soft, fresh snow covered the whole view in front of me. The trees, the bushes, the pavements, the roads, the roof tops even the wheelie bins all looked like they had been placed under a blanket of snow.
There can be no more beautiful image, than our dreary north east town recreated into a postcard setting, those harsh streets and buildings, gleaming in layers of beautiful snow.
Normally this would be so exciting but the month is only November, a silly time to have snow. I didn't expect to see snow for a long time yet! Our local Radio Station, Bishop FM then announces it's the first time in 17 years that we've had snow in November.
I have no doubts for the children out there, today is the most exciting day of the whole year. The snow to them means fun and games, the excitement holds no fears. Many will take their toboggans out to the local Parks finding a peak that they can ride all the way down.
So now its time for young and old to warm their insides up, before they step out into the bitter cold morning. There is nothing better than eating for breakfast on a day like this a steaming bowl of porridge. You can do a lot to help yourself keep warm by eating the right foods.
Even if you skip breakfast normally, don't in this weather. Porridge is the easiest way to create some internal central heating – cheap and quick. You can jazz it up all sorts of things if you don't like it plain.
Porridge makes a perfect, healthy start to the day – it is high in fibre and packed with complex carbohydrates, a good source of slow-release energy.
There is nothing better to kick start your day than Porridge, breakfast is the most important meal of the day – and porridge gives you a tasty healthy breakfast low on the glycemic index.
Here is a recipe for you:
Ingredients
50g porridge oats
350ml milk or water, or a mixture of the two
Greek yogurt, thinned with a little milk and clear honey, to serve
Cooking Instructions
Put the oats in a saucepan, pour in the milk or water and sprinkle in a pinch of salt. Bring to the boil and simmer for 4-5 minutes, stirring from time to time and watching carefully that it doesn't stick to the bottom of the pan. Or you can try this in a microwave. Mix the oats, milk or water and a pinch of salt in a large microwave proof bowl, then microwave on High for 5 minutes, stirring halfway through. Leave to stand for 2 minutes before eating.
To serve. Pour into bowls, spoon yogurt on top and drizzle with honey.
Making it easy
If you don't want to bother getting the scales out in the morning, you'll need 1 mug of oats and 2¼ mugs of liquid. (Any mug will do, as long as you use the same for both measurements)
Per serving
175 kcalories, protein 10g, carbohydrate 25g, fat 5 g, saturated fat 2g, fibre 3g, salt 0.24 g
If you want to add some extra taste, try adding , sliced banana and roughly chopped hazelnuts.
Score Your Way To Good Health - With Our Healthy Lifestyle Plan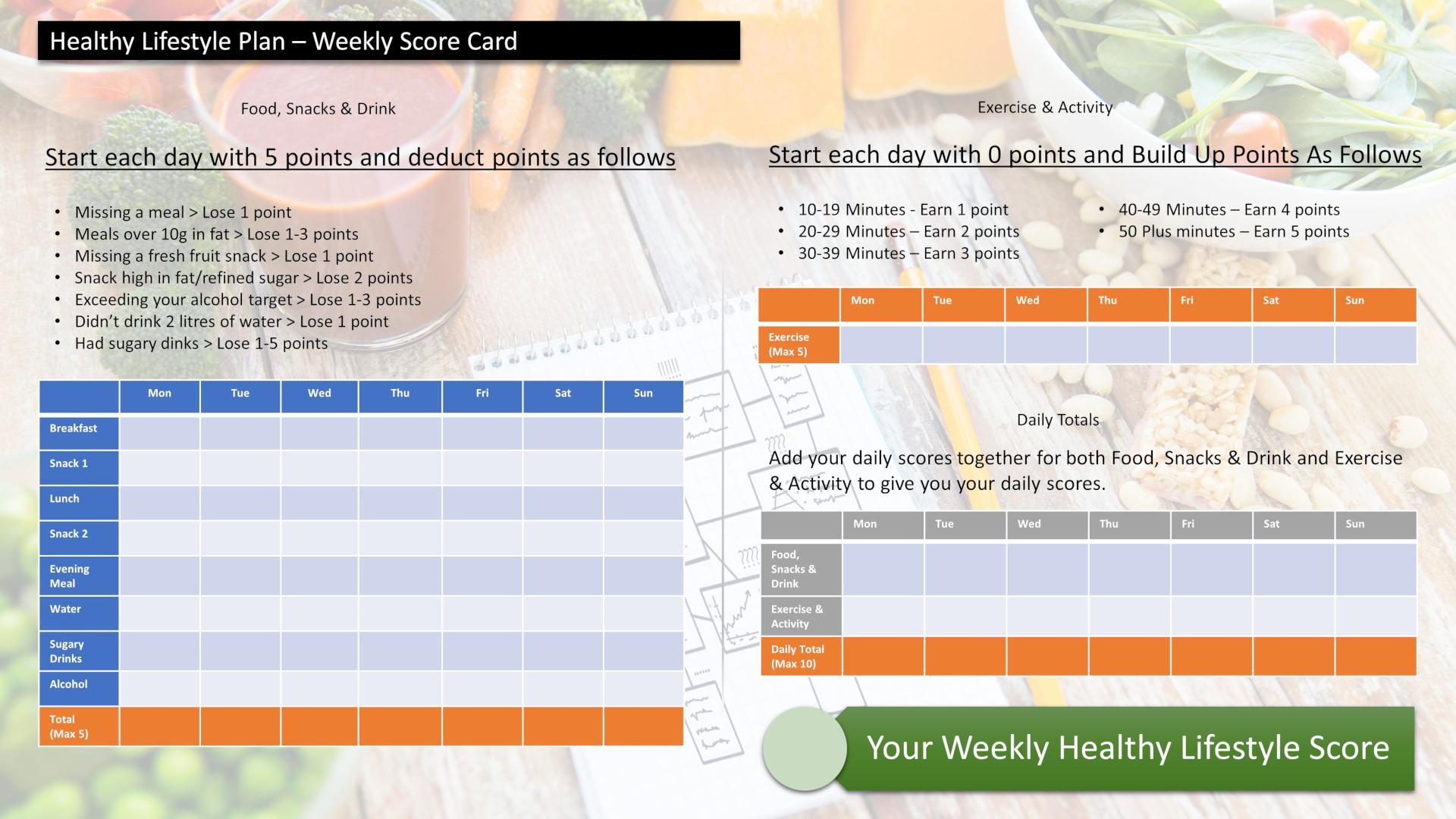 Score your way to good health with our healthy lifestyle plan and it's unique 70 point weekly scorecard!