Over the last several weeks I've come to realize that, while I may spend 12 hours a day at work during the week, I do tend to make the most of my weekends, and I am getting myself away from all my pressing obligations and in particular I'm taking myself away from my lap top.
For longer than I care to admit to I've found myself caught in The Busy Trap. I defend myself by the fact that I love my job, and I don't even see any of it as work. I'm doing stuff I enjoy and that I'd do even if I wasn't making money from it. But facts are facts, I was finding myself at the computer for stints of anywhere between 12 to 18 hours a day.
But no longer. So what changed? Was it a deliberate healthy lifestyle strategy? The qualified life coach, physical fitness instructor using his own knowledge and learned skills and applying them to his own life. I'd love to say yes. But this life coach tells no lies. An honest man to the end.
The change was created by me bringing a Border Collie Puppy into my life.
My partner Rachel is not a doggy person. No I correct myself. She wasn't until she came under the magical spell of 'Buster' the name I gave him. We committed to spend most of our weekends with me away from my laptop and therefore my business and use this time to visit places together with our four legged friend. Mind you, I can't wait to the time when his back legs work together with the rest of him.
This time away from my normal routine has been the best thing that's happened to me in a long, long time. We spent hours just talking with each other, playing with buster, and taking some long, quiet walks in really beautiful areas.
This Saturday was a perfect example. I admit I popped into the office for 2 hours first thing. But I was back by 12, and we jumped into the car and drove of to a place called High Force.
The High Force Waterfall on the River Tees in County Durham is one of the highest waterfalls in England. Though not as tall as some waterfalls in other parts of the world, the sight of the River Tees suddenly and dramatically dropping almost 70 feet instantaneously over the volcanic rock of the Whin Sill is spectacular indeed. The walk up to it along a path surrounded by millions of year old rock on one side and running water on the other was spectacular and energising. The steps up to the top to enabling you to look over the waterfall was interesting particularly trying to hold on to a puppy all the way up trying to wriggle free to discover what this strange noise was being caused by.
Our journey then continued along a lovely footpath to Gibson's Cave and Summerhill Force, one of the smaller waterfalls that feed High Force. Gibson's Cave is named after a 16th Century outlaw who lived there in hiding. Buster wasn't to keen when Rachel climbed over to walk into the cave under the waterfall, in fact alas he stopped her on her journey. She tried to persuade him to continue, but he wasn't having any of it.
Anyway walking is the greatest exercise we can do. On this journey we walked for 2 hours. How great that is for our health, our weight and our relaxation. But how crazy it is that it's taken a little puppy dog to get us doing this.
So my suggestion to you is get outdoors and start investigating the beauty that surrounds you, and breathe in the fresh air, and use those legs for what they were designed for … walking.
Because guess what, since I've been doing it I return to my business on a Monday morning more relaxed, more productive, and even more creative than I have been many months.
And even though I'm going out into areas where my mobile phone and my internet doesn't work, I really don't care, they can live without me for a day or two
I'm hardly the first to offer this kind of advice, but I think it's time for all of us who are rushing helter-skelter into the future to slow down, smell the flowers, and take a walk down natures path. I'll continue mine with Buster in tow.
Thanks for reading me and enjoy your walk!
Score Your Way To Good Health - With Our Healthy Lifestyle Plan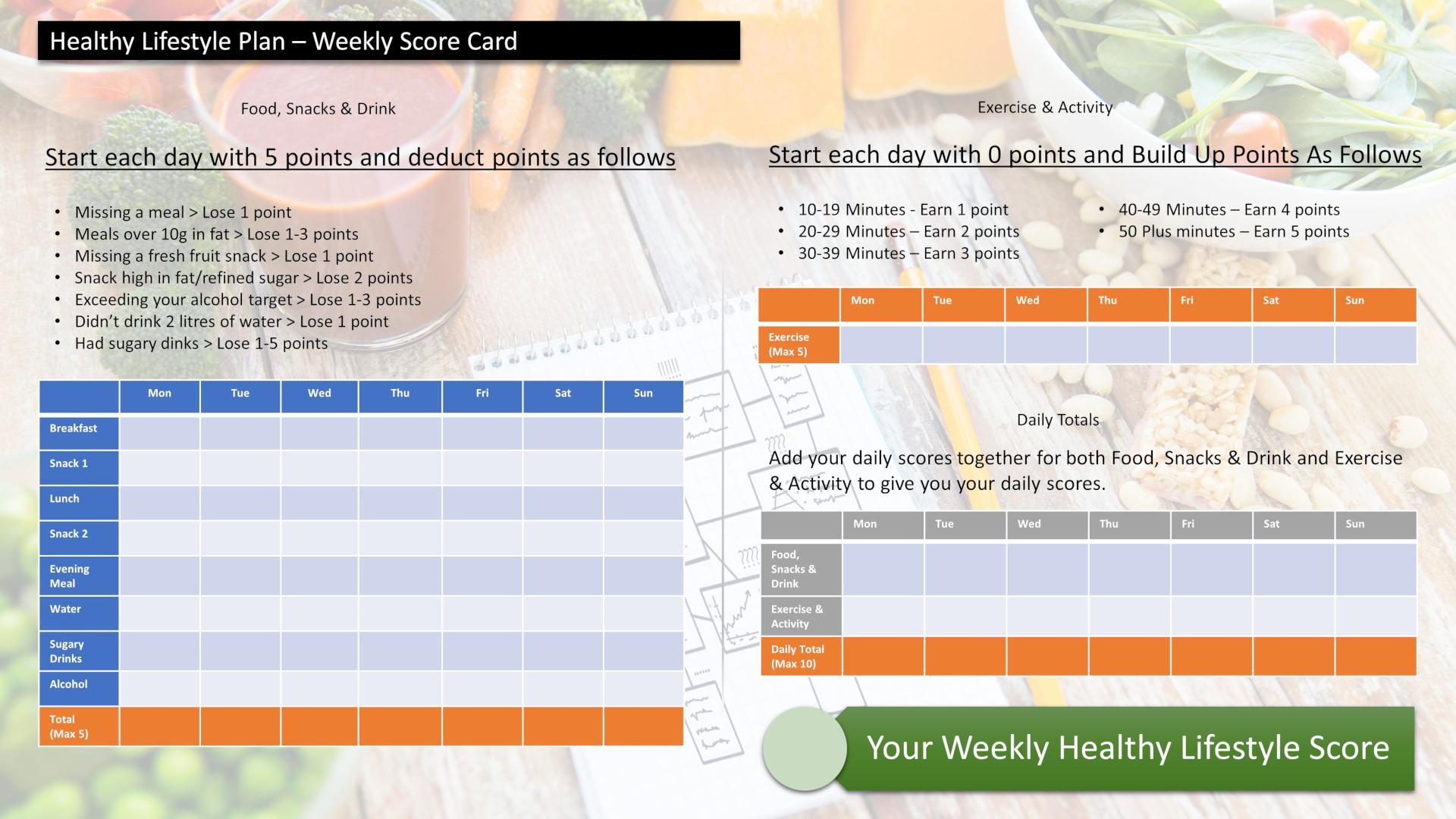 Score your way to good health with our healthy lifestyle plan and it's unique 70 point weekly scorecard!