80% of men and nearly 70% of women in the United Kingdom will be overweight or obese by 2020, based on data from the Health Survey for England.
The statistics from the National Heart Forum showed that 41% of adult men will be obese while 40% will be overweight by 2020. With women, 36% will be obese with 32% overweight by 2020. Obesity is the heavy accumulation of fat in your body to such a degree that it rapidly increases your risk of diseases that can damage your health and knock years off your life, such as heart disease and diabetes. Currently About 46% of men in England and 32% of women are overweight (a body mass index of 25-30 kg/m2), and an additional 17% of men and 21% of women are obese (a body mass index of more than 30 kg/m2 ).
The UK diet which is saturated with an abundance of calorie-dense foods, combined with an increase in sedentary lifestyles, are the leading causes of obesity.
The research, used to predict future obesity in England, is based on figures from 1993 to 2007. The body mass index (BMI) is the most commonly-used way of classifying overweight and obesity in adult populations and individuals. BMI is defined as a person's weight in kilograms divided by the square of their height in meters (kg/m2).
Obesity is defined as having a Body Mass index (BMI) over 30. Are you obese. Use this test to find out.
·You are in the normal range if your BMI is between 18.5 and 25 (kg/m2).
·You are overweight if your BMI is between 25 and 30.
·You are obese if your BMI is 30 or higher.
·You are morbidly obese if your BMI is 40 or higher.
To calculate your bmi , take your weight (kg) and divide it by the square of your height (m).
For example, if you weigh 80kg and are 1.7m:
1. Multiply your height by itself 1.7×1.7=2.89
2. Divide your weight by this figure.
3. 80 ÷ 2.89= 27.7kg/m2.
27.7 is the BMI.
Around one in four men and one in three women in the UK are overweight, according to government statistics. While slightly more women than men are obese (24 per cent versus 23 per cent), in the last ten years there has been a greater increase in the number of men who are obese. The Department of Health predicts that if this trend continues, by 2010 around 6.6 million men will be obese compared to 6 million women.
Stomach obesity, where weight is concentrated on the tummy, is the most common type of obesity and affects 30 per cent of adult men.
Around one in three children between the ages of 2 and 15 are overweight. While in total more girls than boys are overweight, a greater number of boys are obese.
·14 per cent of boys are overweight.
·17 per cent of girls are overweight.
·19 per cent of boys are obese.
·18 per cent of girls are obese.
Government statistics show that children are more likely to have a weight problem if one parent is overweight, and this risk is increased if both parents are overweight or obese.
The number of people admitted to hospital for obesity-related illnesses has shot up by more than 10 times in the past decade.
No matter how much excess weight or fat you have, if you want to lose weight permanently, your diet needs to be directed toward a slow, steady weight loss. According to official government dietary guidelines, unless your doctor feels your particular health condition would benefit from more rapid weight loss, you should expect to lose no more than 2 pounds of fat a week, although initial loss (mainly water) may be greater.
So if you are overweight, take control of your health and avoid future health complications by committing to a healthy lifestyle with proper nutrition and exercise.
Score Your Way To Good Health - With Our Healthy Lifestyle Plan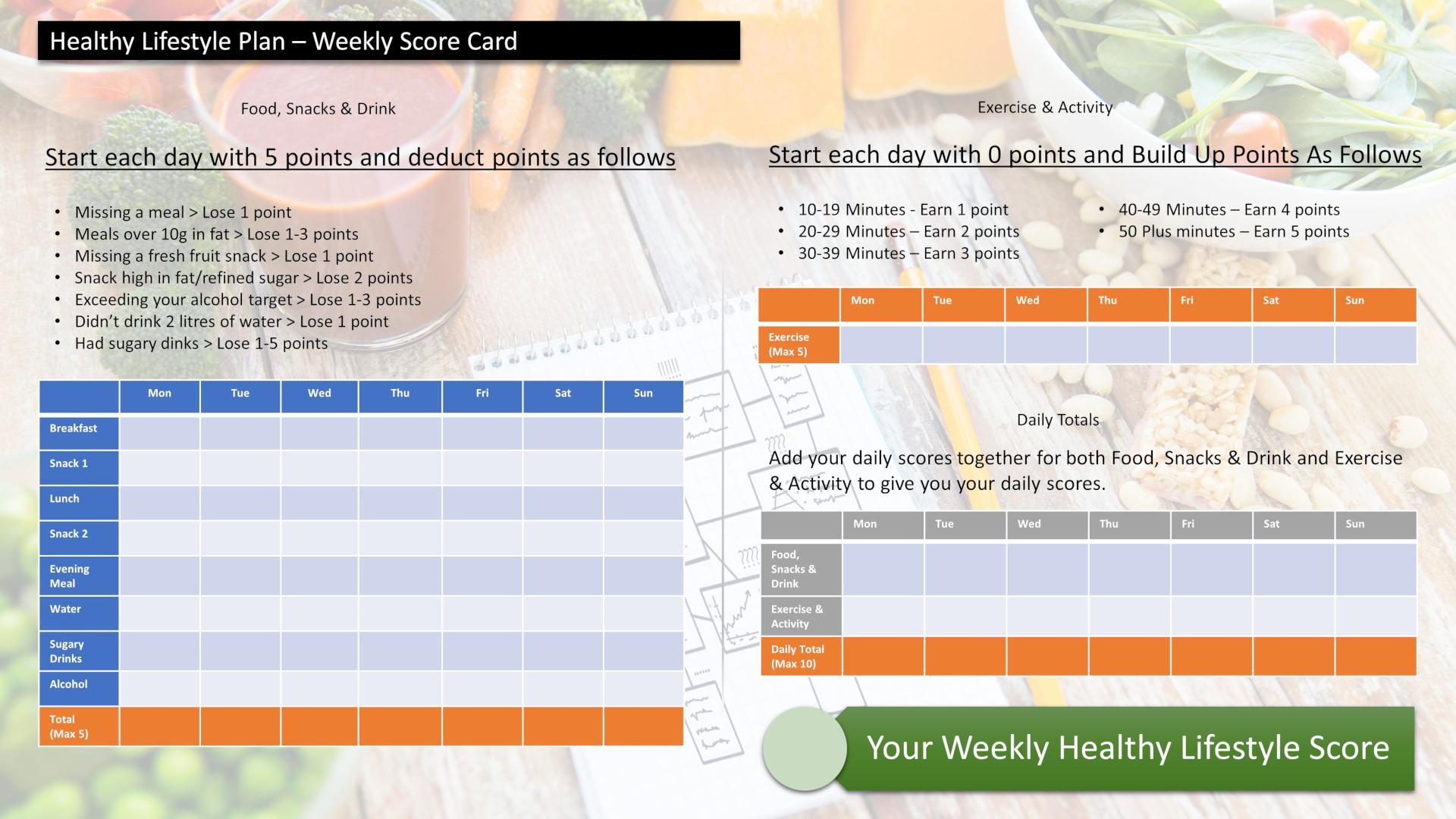 Score your way to good health with our healthy lifestyle plan and it's unique 70 point weekly scorecard!